Today sees the start of national dragonfly week, so to celebrate I thought I would do some reading up on these fantastic aerial hunters and share some of my finds with you.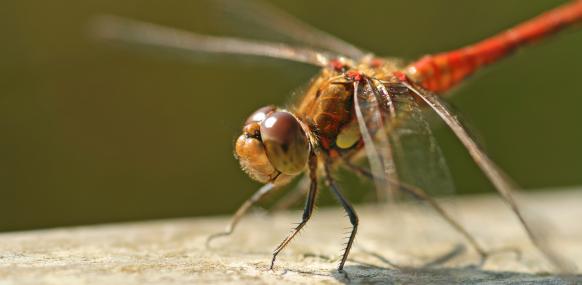 The Common Darter (Sympetrum striolatum) can be seen hunting over the river during the height of summer © Rachel Scopes
Dragonflies (order Odonata) are divided into two sub-orders, the Damselflies (Zygoptera) and the Dragonflies (Anisoptera). With their shorter and thicker abdomens, joined eyes and wings spread out when at rest, they are fairly easy to distinguish from the similar though slimmer damselflies.
Dragonflies spend the majority of their lives underwater in their larval stage. In most species larval development usually takes one or two years, though this can vary with weather and water temperatures. After hatching the adult will hunt away from the water source for around a week, but will return in order to secure a territory for mating. From then on they can be seen hunting over areas of freshwater for the remainder of their adult lives. Though this a fast paced life of hunting on the wing and laying eggs under the surface of the water, typically adults only live for a few weeks.
Here on the reserve we have a few different species of dragonfly which can be seen in large numbers at this time of year. Many species of Hawker and Darter Dragonfly can be found on the reserve, including the Common darter and Azure hawker which are  two of the species most likely to be spotted flying around. The best places to see them are along the board work at the start of the reserve, but they can be seen the whole length of the river, as well as at both the ponds.
Keep an eye out for a flash of colour flying past next time you visit the reserve!
Bye for now!
Alex Kekewich – Falls of Clyde Ranger
Help protect Scotland's wildlife
Our work to save Scotland's wildlife is made possible thanks to the generosity of our members and supporters.
Join today from just £3 a month to help protect the species you love.
---
Preface
Today sees the start of national dragonfly week, so to celebrate I thought I would do some reading up on these fantastic aerial hunters and share some of my finds …