After last weekends fiasco with the missing falcon. Its the tiercel who is keeping me guessing this week. Despite it being June tomorrow, a month when we would normally be getting excited about the first flights and eventual fledging of the young eyasses. The tiercel seems to have his mind on other things.
He first got my curiosity going yesterday when I could hear both birds "chupping" and calling to each other excitedly, surely it was the moment we'd all been waiting, and waiting for. I checked the eyrie expecting to see a glimpse of a white downy new arrival, but the eyrie was empty.
It took me a little while to spot the adults, fortunately the tiercel took to the wing and flew from behind the broken topped oak tree, a tree that helps improve our peregrine spotting skills by getting in the way of our telescopes, a lot. He had flown from the nest ledge last used in 2008. A really high and fairly small ledge but well shelter and protected by large protruding overhang straight above it. A notoriously difficult ledge for human access and least favored by George the ringer, who we will hopefully be swinging off the top of gorge to ring our expected eyass in a few weeks time.
I checked the 2008 ledge and sure enough, partially obscured by the vegetation, the falcon was there eating a unidentifiable prey item just out of my sight. Now Ive never seen the birds use this ledge at all this season. Now, it is possible they have been really sneaky and been there before and the broken topped oak tree has got the better off me, and hinder our viewing pleasure, but to me this behavior was new.
What made it more interesting was when the falcon finished eating, she appear to start nest scraping, now if it was late February to early March or 2008 this would all make sense. Then I would been telling you, that this was the tiercel enticing the falcon with prey onto one of his desired nest site for her approval, she has the final say of course.
Ok, this could the sun getting to me and the behavior could be attributed to a one off or simply the pair having an exchange over prey when the tiercel had tried to cache it on the ledge. However, today the plot thickened, when this time the it was the tiercel, not once but twice appeared to lay down and started to scrap away at 2008 nest ledge. He was there for an hour from 10am to 11am before he left and resumed more or less normal behavior, for a peregrine at least.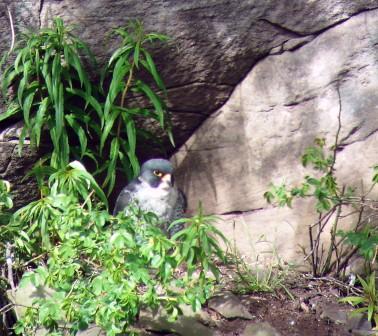 During this period the falcon was incubating on this years ledge. I'm really not sure what to make of this, are the pair looking to start again or thinking ahead for next season? Perhaps they suspect something is wrong with the egg. After all they have been stuck at the incubation stage for nearly 2 months now. Although you could argue they are still sitting on it, so they haven't given up completely.
I certainly haven't given up hope on the egg hatching in the next few days. It could be blind faith but I really am looking forward to seeing if this egg will hatch and watching the eyass steal the show as it develops over the next 6 weeks, but it the mean time the adults are certainly providing to be very interesting watching indeed.
Hope to see you soon.
Adam Murphy – Peregrine Ranger
Help protect Scotland's wildlife
Our work to save Scotland's wildlife is made possible thanks to the generosity of our members and supporters.
Join today from just £3 a month to help protect the species you love.
---
Preface
After last weekends fiasco with the missing falcon. Its the tiercel who is keeping me guessing this week. Despite it being June tomorrow, a month when we would normally be …