What a difference a week makes
Its all gone quiet on the peregrine blog the past few days whilst Ive been away, but in this case I am very pleased to tell you that no news is good news. Since the tiercel berated the falcon for her poor approach to incubation and general lack of commitment to her only egg things have been going rather well. Since the events of the 28th April, it seems the male, has adopted the dominant role in the pair and had been dictating when the female should take her break from incubation, by landing on the eyrie and gently calling for her to leave and again calling, not so gently, when he was ready to have a break from incubation himself.
The falcon has also been less aggressive towards him when he has brought in prey. She has started wait until he has moved away from the prey before she takes it form him  and even managed to refrain from clasping the prey in her talons and calling loudly for a few minutes before eating. This is usually a sign of her trying to reaffirm her dominance and to display that the prey now belongs to her.
At least that's the way it was went I left on Tuesday. So do you think our pair were still behaving themselves when I returned today? Well I'm very pleasantly surprised to tell you that the tiercel is no longer dictating incubation duties but for a very good reason. The falcon is now sitting tight on the egg and has been for most of the day and even refused the tiercels offer to take over, not once but twice. A good indication that she feels the egg may well hatch within the next week or so, it may be a bit later due to the slower approach to incubation this season. However, I think if we've got a good egg we can expect a tiny white downy new addition to the peregrine watch by the middle of May (at the latest).
Although as I write this the tiercel is having an extended evening incubation. I imagine this is to allow the falcon a decent spell off the eyrie before she settles down on the egg for the night shift. She is due a break having  has not left the egg unattended and been incubating for a total 5 hours and 22 minutes so far today and only leaving briefly to feed when the tiercel returned with prey.The first prey item he returned with was a starling at 13:30, about dinner time. Again later on with what I suspect was either a well plucked starling or remains of a, already more than half eaten, pigeon at around 15:50, not quite tea time.
Ive just about mastered taking pictures using my mobile phone through peregrine watch point telescope, here a slightly blurred photograph of the falcon eating the unidentified prey. Can you identify what shes grasping between her talons? Answers on a postcard or even better come along and have a look at the peregrines and tell me.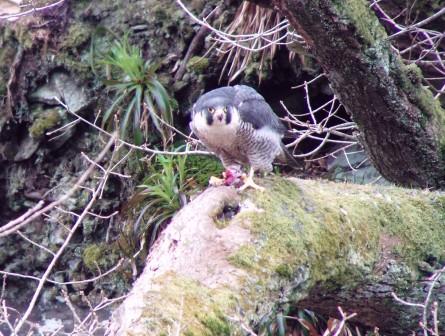 Hope to see you soon.
Adam Murphy – Peregrine Ranger
Help protect Scotland's wildlife
Our work to save Scotland's wildlife is made possible thanks to the generosity of our members and supporters.
Join today from just £3 a month to help protect the species you love.
---
Preface
Its all gone quiet on the peregrine blog the past few days whilst Ive been away, but in this case I am very pleased to tell you that no news …