At the beginning of the month we had a volunteer out on the reserve doing an otter survey. On her travels she came across a lovely pile of feathers. I'm not sure what you would call a person who collects feathers… mad? But that is what I am currently doing! Now feathers can seem quite boring to the untrained eye, especially if all you see are pigeon feathers blowing in the wind (although saying that; pigeon feathers are quite interesting too!).
I became rather excited when she wandered into the office with a bag full of beautiful brown and grey feathers. She had found a large clump of them together which means unfortunately it is now dead. You can tell just by looking at a feather if it is from the left wing, right wing or the tail. Most of the feathers that were found came from the left wing. They were flight feathers that were primarily grey but on the front leading edge and on the back there were little golden brown triangles. From this seemingly common looking feather I was able to figure out that our feathers were from a woodcock.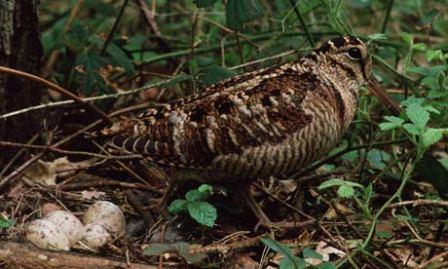 The woodcock is the only species of wading bird in Britain and Ireland that is adapted to breed in woodland. Its plumage is superbly camouflaged to blend in with dead leaf litter and ground vegetation, where it may roost or make its nest; remaining motionless unless approached at very close quarters' – BTO. The BTO are currently asking people to get involved in a woodcock survey. Please visit their site if you're interested – http://www.bto.org/volunteer-surveys/woodcock-survey.
Laura Whitfield – Falls of Clyde Ranger
Help protect Scotland's wildlife
Our work to save Scotland's wildlife is made possible thanks to the generosity of our members and supporters.
Join today from just £3 a month to help protect the species you love.
---
Preface
At the beginning of the month we had a volunteer out on the reserve doing an otter survey. On her travels she came across a lovely pile of feathers. I'm …