Peregrines still not getting any peace!
The tiercel was on defensive duties again this morning. We had what looked to be a 2 year old female over (or as ornithologists call them a 'second summer'). This is the fifth intruder we have had since the watch began!
The falcon called from the nest, but the male managed to chase off the invading female after a couple of minutes. I think when the day comes that one of pair is no longer with us, it won't take very long for a replacement to come in!
Although peregrines pair of life of one of the partnership dies, they will take another partner so they can continue breeding. If it's the female who remains, the new male will have to impress her with his condition and hunting skills. I doubt there is any other peregrine out there who could rivals our current male for looks!
There is cases where a pair will 'divorce' if they have had one or 2 unsuccessful breeding attempts. As the female is bigger it is often the tiercel who is persuaded to leave! In 1999 we had someone come in and destroy our chicks (this sparked off our 24 hour watch!) and the following year we had a new male (the current tiercel). So it is always possible that the failure to fledge young was the reason for this.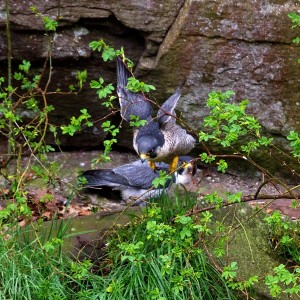 The falcon judged that the male was not good enough at defending the chicks and/or providing for them. This would have been very harsh in the 1999 case! This just goes to show the possible additional effects of any tampering with a nest. This would be a particular problem if the falcon fails to find a new male or the new tiercel is inexperienced.
There has been a few strange cases around the country where males have been polygamous (had more than one female). This would put a lot of strain on a tiercel as he would need to provide some of the prey for both nests. Also both nests could not be that close to each other (falcons do not tolerate other females close by), so there would be quite a lot of travelling around. Polygamy only occurs when there is an exceptional amount of prey, somewhere like a well feral pigeon populated city!
Tom Wells – Peregrine Protection Officer
Help protect Scotland's wildlife
Our work to save Scotland's wildlife is made possible thanks to the generosity of our members and supporters.
Join today from just £3 a month to help protect the species you love.
---
Preface
The tiercel was on defensive duties again this morning. We had what looked to be a 2 year old female over (or as ornithologists call them a 'second summer'). This …