Making your own paper daffodil is a great craft to get children in the mood for spring. It requires very little in the way of resources and is a perfect indoor activity for when those spring showers dampen the day!
Note: For instructions with pictures, download the PDF below.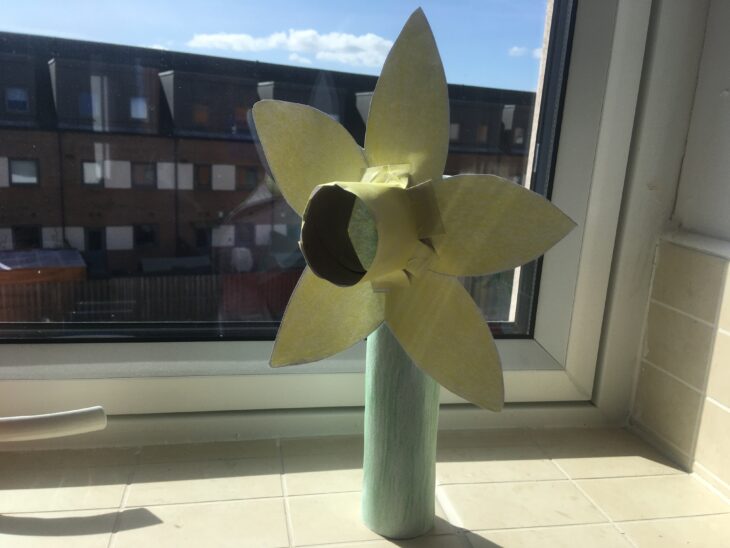 ---
What you will need:
Toilet roll tube x1
Kitchen roll tube x1
A4 plain paper x 3 sheets
Glue or tape
Scissors
Pencil
Ruler
Crayons, colouring pencils or felt tips (1 yellow, 1 green)
---
How to make your daffodil:
Cut the toilet roll tube in half (this will be the centre of your daffodil) and place into the centre of a piece of plain paper.
Draw petal shapes all the way around the toilet roll tube. Then cut out the whole shape of the flower (not individual petals) and colour in yellow.
Take the second sheet of paper. Cut a strip that is the same width as the cut toilet roll tube and colour the strip in yellow.
Measure the amount of the paper strip needed to wrap around the tube and cut off the remainder, then glue the strip around the cut toilet roll tube.
Make some small cuts along one edge of the yellow paper tube and fold these sections back to make tabs.
Apply glue to the tabs and stick to the centre of your petals.
Take a kitchen roll tube and the last piece of paper, and cut a strip of the paper large enough to wrap around the tube.
Colour the paper in  green and glue this around the kitchen roll tube to make your stem.
All that's left to do, is to stick the flower to the stem. Then place in a sunny spot and admire!
Share your photos using #DiscoverLearnPlay