Pine cones are the reproductive organs of pine trees – the male cones contain the pollen, and the female cones (once fertilised) produce the seeds. In the autumn, the trees drop the cones, and they provide a handy food source for all sorts of animals, from birds to squirrels!
The texture of the scales of pine cones, and the different shapes of the cones themselves, makes them perfect for tactile play and crafts. Pine cone people are the perfect craft activity for autumn events like harvest, Halloween and bonfire night!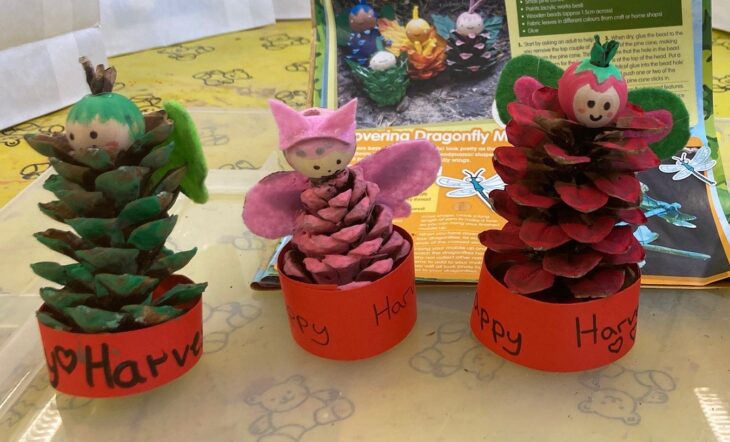 ---
What you will need:
Pine cones
Acrylic paints
A paintbrush
Water
Wooden beads (around 1.5 cm diameter)
Fabric leaves (optional – could use real leaves, or paper shapes)
Glue
---
How to make pine cone people:
Remove the top layer of scales and put them to one side for later.
Paint each cone in your chosen colours.
Paint the bead cone in a pale base colour (for its face).
Once dry, glue the bead to the top of the pine cone. Make sure the hole of the bead is at the top.
Take a couple of the scales that you removed at the start, and glue these into the hole on the top of the bead.
Use paint to add the face and hair.
Glue the fabric leaves, real leaves, or paper, to the back of the pine cone to make wings.
Your pine cone people are complete!
Once you're ready, why not use your pine cone people for storytelling and imaginative play?
Share your photos using #DiscoverLearnPlay
This activity was designed for The Wildlife Trusts by Daisy Fox. Check out some more of Daisy's work, on her Instagram @pool.of.rock