One of the best moments during Christmas preparations is decorating the tree with the family. But so many Christmas tree ornaments are made out of plastic, which is harmful for wildlife and the environment. As well as sourcing decorations made out of recycled or biodegradable materials, you could try making these festive fruity decorations. It's simple and fun, and smells great too!
Oranges have a traditional link to Christmas – it's traditional to leave an orange in each person's stocking. This not only came about because oranges were considered special tasty treats, but they also link to the story of St Nicholas (who is, of course, the origin of Santa Claus / Father Christmas).
According to the story, St Nicholas felt sorry for a poor father who couldn't afford the dowries for his three daughters. So he left the man three bags of gold, one for each daughter. He delivered the bags of gold by throwing them down the chimney, from where they fell into the daughters' stockings, which were drying by the fire!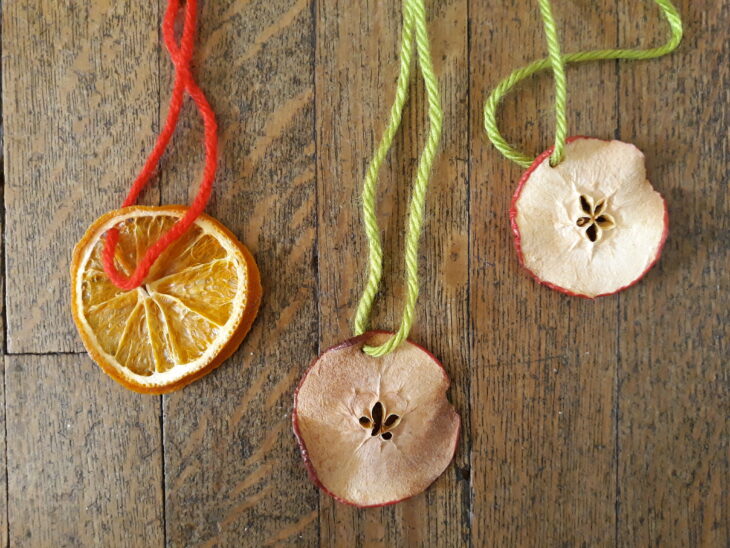 ---
What you will need:
An apple and an orange
A baking tray and baking paper
An oven
A knife
Lemon juice (2 cups)
Salt (3 tablespoons)
Kitchen paper
Some string or twine
A Christmas tree!
---
How to make your dried fruit decorations:
Thinly slice your apple and orange – around 1/4 inch thickness should work well. Remember to slice the apple horizontally, as this will leave a star shape in the middle of each slice.
Squeeze as much juice as you can out of the orange slices.
Dip the apple slices into the salt and lemon juice mixture – this will stop the apple from oxidising and turning brown. Leave them in the solution for 15 minutes.
Take the apple slices out of the solution, and dry them by dabbing with kitchen paper.
Lay out the orange and apple slices onto a baking tray lined with baking paper.
Make a small hole in the top of each slice.
Place in the oven at 150°C for 4-6 hours. Keep the oven door slightly open, to allow the air to circulate.
If the pieces start to curl, carefully turn them over.
Remove from the oven and leave to cool.
Attach the string.
You could add some eco glitter to give your decorations some extra sparkle.
Your fruity decorations are ready to hang on the tree!
Share your photos using #DiscoverLearnPlay