This fun baking activity is a simple way to get the whole family into the festive spirit.
Tie this activity in with learning about robins and winter birdlife for a more informative session. Or simply use it as a way to reduce your plastic use – baking saves you buying biscuits, and the packaging that comes with them.
Less plastic is good for the planet – so get baking and have fun!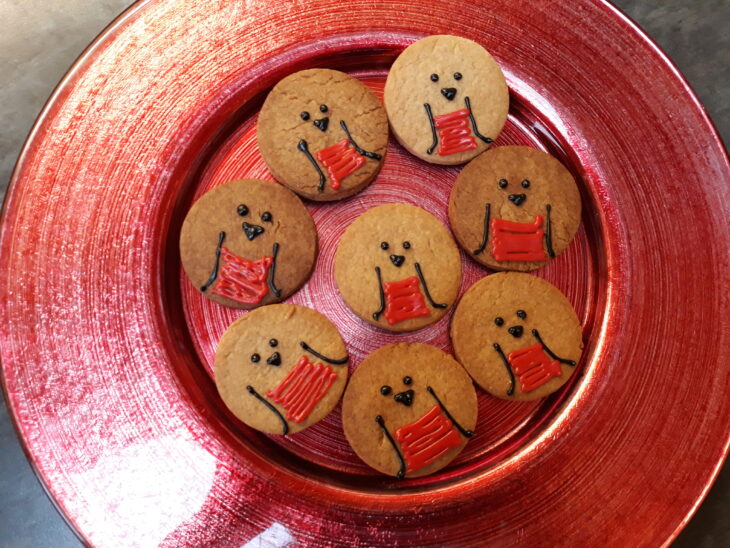 ---
What you will need:
Butter (110g)
Sugar (110g)
Plain flour (250g)
Bicarbonate of soda (1/2 tsp)
Ground ginger (1-2 tsp)
Syrup (2 tbsp – warmed)
A mixing bowl
A wooden spoon
A glass (or circular cutter)
A baking tray
Baking paper
An oven
Fondant icing tubes (writing icing)
---
How to bake gingerbread robins:
Mix together the butter and sugar until it is soft and smooth.
Add the flour, bicarbonate of soda, ginger and warmed syrup. Mix until it forms a dough.
Knead the dough and roll it out onto a floured surface.
Use a glass, or circular cutters if you have them, to cut out circles from the dough.
Place the circles onto a baking tray lined with baking paper.
Bake in the oven on 180℃ (gas mark 4) for 10-15 minutes.
Allow to cool.
Use the fondant icing to decorate your biscuits as robins – use black for the eyes, beak and wings. Use swirls of red for the red breast.
Your biscuits are ready to share and eat!
Share your photos using #DiscoverLearnPlay