The resident ospreys at Loch of the Lowes Wildlife Reserve in Perthshire now have two mouths to feed. The second chick of the 2018 season broke out of its egg just before 1 pm this afternoon.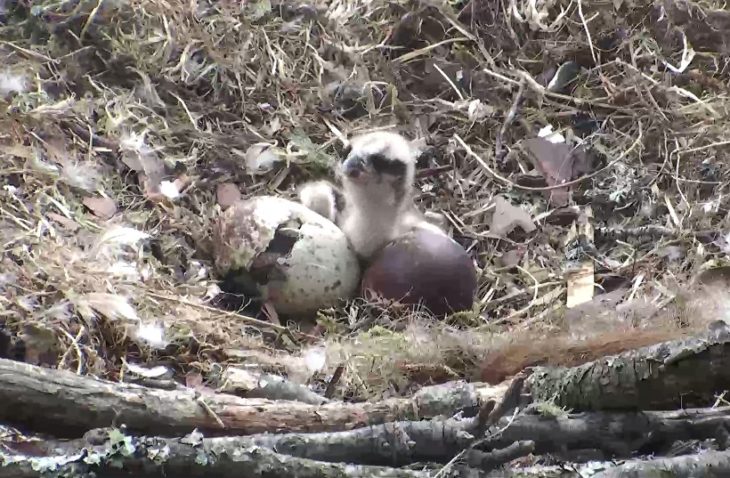 Perthshire Ranger Rachael Hunter said: "We're thrilled to see a second chick in the nest and we wouldn't be surprised to see the third this weekend.
"The first chick is feeding regularly and so far LM12 is keeping up with the demand for fish so all the signs are good. Thanks to players of People's Postcode Lottery we can also make sure that these birds are kept safe from human disturbance to give them the best chance of a successful season.
"Our Visitor Centre is getting very busy now as people are coming from far and wide to catch a glimpse of the growing brood!"
Sanjay Singh, Senior Programmes Manager, People's Postcode Lottery said: "It's great news that there are now two osprey chicks at Loch of the Lowes and we're sharing the Scottish Wildlife Trust's hopes that the third will hatch successfully.
"Our players are proud to support the Osprey Protection Programme that ensures these magnificent birds of prey are guarded from human disturbance."
Since the first chick hatched on Tuesday 24 May eight fish have been delivered to the nest. The third chick is expected to hatch out by Saturday 26 May.
Chicks are initially covered in down, but start to grow new feathers within days, and will begin to stretch their wings in preparation for migration after just a few weeks. They grow very quickly thanks to a high protein diet of pike, trout and other fish brought to the nest by their parents.
Loch of the Lowes Visitor Centre is open daily from 10am – 5pm with 24-hour access to the reserve hides. The Trust's live osprey webcam ensures people from around the world can follow events as they happen.
Ospreys were extinct in Britain for much of the 20th century. They began to recover in the 1960s and around 260 pairs of ospreys now breed in the UK each summer.
Our Osprey Protection Programme at Loch of the Lowes is supported by players of People's Postcode Lottery.