Male osprey LM12 has touched down at Loch of the Lowes Wildlife Reserve after a long migration.
LM12 arrived just after 5pm on Thursday 16 March, the earliest appearance of a resident bird in the nearly 50 years that ospreys have occupied the reserve.
Because LM12 is not ringed it took detailed observation of his features and behaviour to confirm his identity.
Staff and visitors to the wildlife reserve are now waiting for the arrival of his mate LF15, who could arrive any day. The pair fledged three chicks in both 2015 and 2016. The Scottish Wildlife Trust is hoping that 2017 will see similar success.
Earlier on Thursday an unidentified young male osprey briefly occupied the nest before flying off.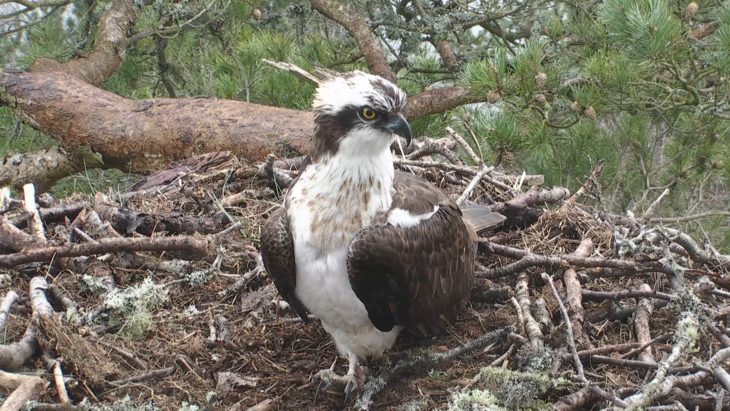 Charlotte Fleming, Perthshire Ranger, Scottish Wildlife Trust said: "One of our eagle eyed volunteers spotted LM12 just after 5pm. He spent several hours in the nearby trees but didn't touch down on the nest until early this morning when he appeared carrying his breakfast.
"From the views we've had of his distinctive chest pattern and long wing tips we are as sure as we can be that it is LM12. He has also made himself well and truly at home, bringing in sticks and preparing the nest, which is further proof that he is the resident male.
"We're now eagerly awaiting our female osprey LF15's return to see whether our new pair will repeat the successes we have witnessed in the last two years. People can follow the progress of our ospreys by visiting Loch of the Lowes Wildlife Reserve and Visitor Centre or by tuning in to the Trust's live osprey webcam."
Clara Govier, Head of Charities, People's Postcode Lottery said: "LM12's return to Perthshire marks another exciting summer for the ospreys at Loch of the Lowes. The recovery of these remarkable birds of prey is a conservation success story, and our players will be delighted that their support helps people to discover more about their lives."
Osprey were extinct in the UK in the early 20th Century but there are now around 240 breeding pairs thanks to the efforts of conservationists. Our Osprey Protection Programme is supported by players of People's Postcode Lottery.
Two fun days are being held at Loch of the Lowes Visitor Centre on Saturday 1 and Sunday 2 April where families can build an osprey nest and discover fascinating facts about these amazing birds of prey.
The visitor centre is also open daily from 10am – 5pm. For more information see our Events and Activities guide.