The first osprey has arrived at Loch of Lowes Wildlife Reserve in Perthshire, as the Trust celebrates 50 years of osprey conservation at the reserve. LM12 touched down on the nest at around 5:30 pm on Friday 15 March.
 Staff, visitors and volunteers as well as webcam viewers around the world, are now eagerly waiting to see if he will be joined by mate LF15 for a fifth season – and if the pair will add to the ten chicks they have successfully fledged since 2015.
Our Perthshire Ranger Sara Rasmussen said: "LM12's arrival after his long journey is an exciting moment and it marks the start of our 2019 season. We're now keeping our eyes peeled for the arrival of his mate LF15, which may come any day now.
"2019 is a particularly special year for the Trust because it marks 50 years since ospreys first appeared on the reserve. At that time Loch of the Lowes was one of only a handful of places where ospreys could be seen, and we're proud to have played a small part in inspiring their wider recovery in Scotland.
"The best way to stay up to date with events here at Loch of the Lowes is to watch our live osprey webcam or to come in to the visitor centre to find out the latest news."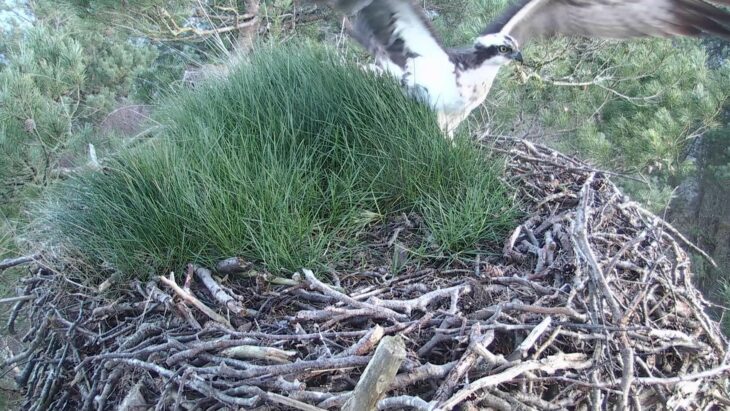 Sanjay Singh, Senior Programmes Manager, People's Postcode Lottery said: "The recovery of ospreys is a true wildlife success story. We're pleased that our players' support allows the Scottish Wildlife Trust to keep a careful eye on these magnificent birds of prey during a critical part of their breeding season."
Loch of the Lowes Visitor Centre is open daily from 10:30 am – 5 pm with 24-hour access to the reserve hides. The Trust's live osprey webcam ensures people from around the world can follow events as they happen.
Ospreys were extinct in Britain for much of the 20th century. They began to recover in the 1960s and around more than 200 pairs of ospreys now breed in the UK each summer.
This recovery is thanks to the efforts of conservation charities including the Scottish Wildlife Trust, whose Osprey Protection Programme is supported by players of People's Postcode Lottery.
Read more