Osprey Diary at Loch of the Lowes – Week 14
The not-so-small osprey chicks at Loch of the Lowes are showing incredible progress, regularly practicing using their wings and getting ready to fledge. We expect it will only be a a week or two before they start soaring over the Loch, getting a feeling for flight and preparing for their long migration south.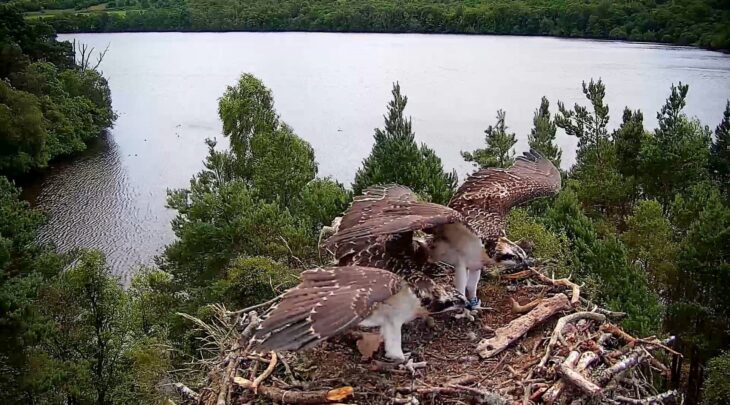 In order to quickly grow and pile on the muscle and fat required for their first migration, the youngsters' demand for fish is high, and NC0 has stepped up to help her partner LM12 meet the protein needs of the ever hungry osplets. She has been spotted diving from her favourite split birch on the Loch at least seven occasions this week, behaviour not usually seen in such frequency by a breeding female osprey. She even brought in a perch in each talon at one point! Clearly NC0 loves to live outside the box.
When she's not diving for her own fill of fish, NC0 waits impatiently for LM12 to bring in some larger hearty trout for meal times. With the chicks now being almost full sized, NC0 has had to become far more protective each meal. She barely gives LM12 the chance to let go of the fish before she's mantling over it, preventing the chicks from gaining access and losing it over the edge of the nest. The poor boy has even been dragged across the nest by a particularly 'hangry' NC0. On several occasions in order to reach the fish before the chicks, she has barreled across the nest and knocked the youngsters off their feet.
There are times when fish has been delivered and NC0 is absent from the nest, that the oldest osplet LP8 has taken matters into their own talons. LP8 is already mastering the technique of tearing up a fish on their own, mimicking NC0 by pinning their meal down with their talons and feeding themselves. On one occasion when LM12 brought back a live pike and even with NC0 present, LP8 eventually managed to dispatch the fish on their own – after a considerable amount of flailing on the fish's part. These chicks are learning fast!
We look forward to watching more incredible moments from our beautiful osprey family at Loch of the Lowes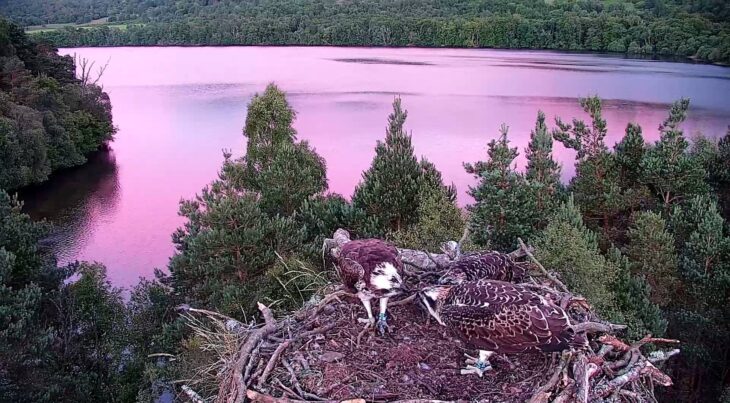 Stay tuned to the webcam to keep up to date with the young brood's development. Or follow us on Twitter or Facebook for regular updates.
Charlotte Needham, Jackson Middlemast and Emma Marriott
Seasonal Assistant Rangers
The Trust's Osprey Protection Programme at Loch of the Lowes is supported by players of People's Postcode Lottery.
Help protect Scotland's wildlife
Our work to save Scotland's wildlife is made possible thanks to the generosity of our members and supporters.
Join today from just £3 a month to help protect the species you love.
---
Preface
The not-so-small osprey chicks at Loch of the Lowes are showing incredible progress, regularly practicing using their wings and getting ready to fledge. We expect it will only be a …