Osprey Diary at Loch of the Lowes – Week 13
This week saw one of the most anticipated events concerning our ospreys finally take place: the chicks were given their rings! Overall the process went very smoothly and was undertaken by experienced and licensed bird ringer Keith Brockie, who provided us with some beautiful photos of the young ospreys in the nest.
Each year during the ringing process, the wing length, weight and sexes of the chicks are also determined where possible. The eldest chick (aged 39 days) was ringed LP8 and had a wing measurement of 360 mm and a weight of 1.5 kg, whilst their younger sibling (37 days) was ringed LR0 and had a wing measured 315 mm and weighed 1.44 kg. These are all healthy measurements for the youngsters at this age, a sign of excellent parenting from NC0 and LM12.
Usually indicators such as how snug, or loose the Darvic colour ring is on an osprey's leg can point to whether the youngster is male or female, with the females having thicker lower tarsus than the male. Both rings were slightly loose, suggesting the chicks could possibly both be male, however, it was too close to call and definitively sex the chicks with certainty this year . We will have to wait until they mature to have a clearer indication of being male or female.
You can read more about the ringing of the chicks here.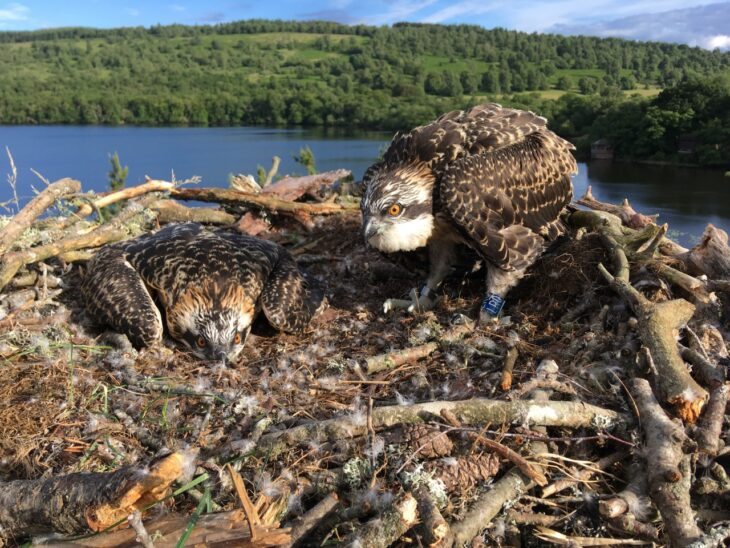 You can help keep an eye out for any coloured ringed ospreys by reporting any sightings to the Roy Dennis Foundation. This helps track the dispersal and breeding territories of UK ospreys. It is worth noting that in the UK, Scottish ospreys are ringed on their left leg, whilst Welsh and English youngsters are ringed on their right.
It took a while to find a suitably calm and dry weather window for the ringing to take place, with changeable conditions resulting in prolonged periods of heavy rain and wind, often leaving the now 6-week-old osprey chicks looking disheveled and rather displeased. Despite this, they've been showing incredible progress adapting to the life of a piscivorous predator, with both chicks demonstrating their use of their talons to grab fish for themselves within the nest and begin to attempt to feed themselves!
The weather seemed to play a role for a period in a drop in the number of fish coming into the nest, with LM12 slightly off his usual sparkling 8-10 fish a-day form, seeming to favour smaller perch and young pike that often dwell close to the surface of the loch. This new trend resulted in some slightly more aggressive behaviour between the chicks, as they once more become competitive for food.
Over the last few weeks, an increased number of intruders have also been seen on the loch, perhaps accounting for LM12's slight decline in large fish deliveries as he works hard to defend NC0, his brood and the wider territory. It has been encouraging to see larger trout being brought into the nest again in the last few days.
Meanwhile, NC0 being the independent female that she is, has already started fishing from her favoured spot on the split birch, and has been seen swooping down on at least 4 occasions for a perch, either for her to eat in situ, or to be brought back to the nest for her youngsters. This was a behaviour that we observed around the same time last season, coinciding with an increase in the number of perch rising to the surface of the loch.
Usually female osprey leave all the hunting to the male, but clearly NC0 likes to do things a little differently. Whilst she often favours a quick, easy catch of smaller perch, she has also been observed carrying a monstrous pike to the nest – perhaps she's showing LM12 how it's done.
It won't be long now until we can expect the chicks at Lowes to make their first tentative fledging flights. They certainly appear to be raring to go, flapping their wings and strengthening their flight muscles, especially when a steady breeze helps provide the sensation of lift. Before long they will be hovering over the nest and looking to start soaring over the loch, preparing for their long migration to the south of Spain, or further afield to the traditional wintering grounds of West Africa.
Stay tuned to the webcam to keep up to date with the young brood's development. Or follow us on Twitter or Facebook for regular updates.

Charlotte Needham, Jackson Middlemast and Emma Marriott
Seasonal Assistant Rangers
The Trust's Osprey Protection Programme at Loch of the Lowes is supported by players of People's Postcode Lottery.
Help protect Scotland's wildlife
Our work to save Scotland's wildlife is made possible thanks to the generosity of our members and supporters.
Join today from just £3 a month to help protect the species you love.
---
Preface
This week saw one of the most anticipated events concerning our ospreys finally take place: the chicks were given their rings! Overall the process went very smoothly and was undertaken …