Eldest Osprey Chick LP8 Fledges!
The moment we have all been waiting for has arrived!
55 days after hatching and at 10:06am this morning, our eldest chick LP8 spread their wings and fledged the nest.
This youngster has been keeping us on our toes by not only wing flapping and hovering above the nest, but also perching on top of the camera both last night, and this morning just a few minutes before they took their first flight.
LP8 chose the perfect time to fledge with just the right level of breeze to help with their lift off, drawing excited intakes of breath from staff and volunteers alike!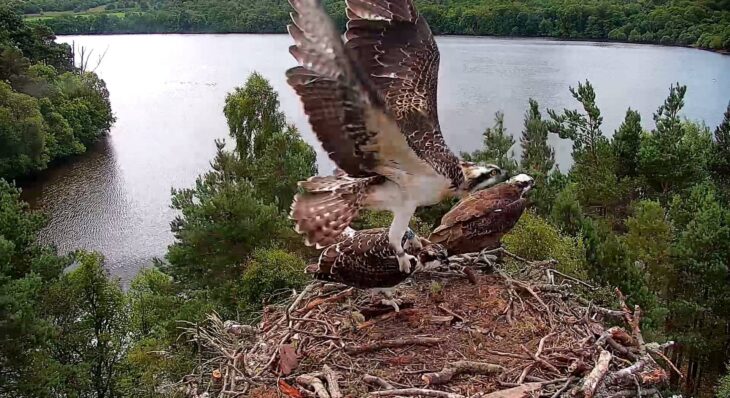 We had quite a show from the hide as LP8 took off over the loch and into the distance above the trees, gaining quite some height for their first flight. NC0 took a short flight around the loch before perching on top of the camera to watch her offspring learn to use their wings.
As with most young ospreys when they first fledge, LP8 looked a little unsteady with a wobble here and there, whilst occasionally kicking their legs out below them for some stability. They certainly had a good breeze to help them along their way.
After three attempts to land back on the nest, LP8 landed safely to join their sibling LR0 for some breakfast.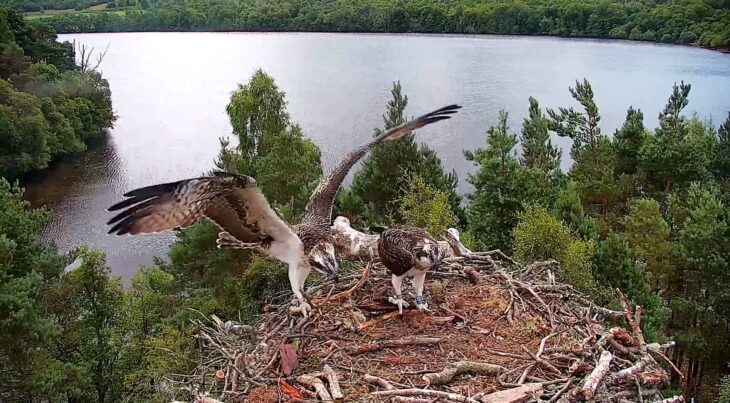 Perhaps both parents were able to see LP8's first flight as just minutes later, LM12 brought in a celebratory fish before taking off again and leaving NC0 with her offspring.
Hopefully, we won't have to wait too long before the younger osprey, LR0 fledges. We are certainly looking forward to watching these two youngsters becoming more confident in gaining 'their wings' before they start their long migration south later in August.
Stay tuned to the webcam to keep up to date with the young brood's development. Or follow us on Twitter or Facebook for regular updates.
Amy Bastow
Visitor Centre Assistant
Thanks to players of People's Postcode Lottery for supporting the Trust's Osprey Protection Programme at Loch of the Lowes
Help protect Scotland's wildlife
Our work to save Scotland's wildlife is made possible thanks to the generosity of our members and supporters.
Join today from just £3 a month to help protect the species you love.
---
Preface
The moment we have all been waiting for has arrived! 55 days after hatching and at 10:06am this morning, our eldest chick LP8 spread their wings and fledged the nest. …