Osprey Diary at Loch of the Lowes – Week 9
Our young brood of osprey chicks have been enjoying the perfect weather for the serious business of eating, sleeping, growing and of course practicing their well aimed 'over the edge of the nest' pooping! We really couldn't have asked for a better weather window to get them off to a great start – it just goes to show how much poor weather played a part in the survival rate of last year's young.
NC0 really is showing her worth as an attentive, protective mother, not only tenderly (and fairly) dishing out fish at feeding time, but sheltering the chicks from powerful sun and seeing off any heron or crows that stray too close to the nest! She has also been taking extended bathing and preening breaks from the nest, giving the chicks space to start building up their 'shuffling' and wing stretching strength.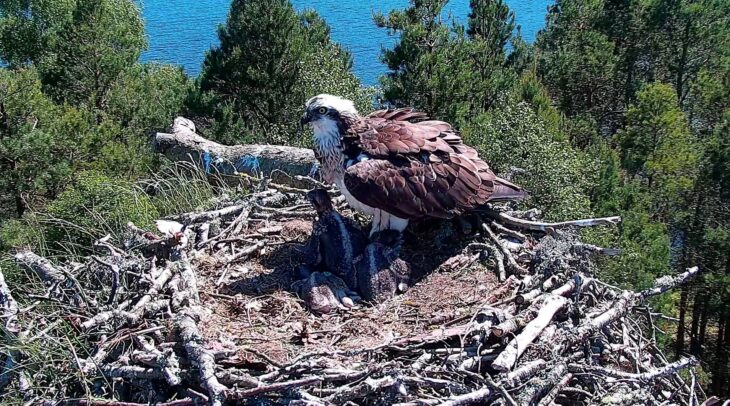 NC0 shelters her rapidly growing brood from the sun © Scottish Wildlife Trust Osprey Webcam
Of course the success of any nest is down to the fishing prowess of the male osprey, and we are fortunate to be able to observe the experienced eye and hunting skills of LM12. He has been wowing visitors of late with frequent plunges into the Loch, pulling out the young perch and pike which are beginning to shoal and rise closer to the surface.
When that doesn't satisfy the growing appetites of his brood (and the persistent calls of NC0), he has been turning his talons to fishing for brown trout and even salmon.  Even by LM12's standards he outdid himself on Saturday, catching nine fish in one day – which is quite something given 5-6 fish would normally be more than enough. He is certainly stepping up to the challenge and proving himself not only to be an excellent provider, but doing his fair share of defending the nest from intruding osprey and even the odd buzzard.
As with all ospreys, whilst the male's duty is to hunt, the female's responsibility is to protect her young from the elements and of course prep each meal – sushi style; raw, live and very much flapping!
Despite her powerful talons and sharp beak designed for ripping up prey, look how tenderly she presents food to the young chicks, offering and sharing out each piece, often with a gentle contact call.
All this eating and growing is exhausting work for the young ospreys, who will grow to almost their full adult size within the first five weeks. The changes in them can literally be observed overnight – so plenty napping is very much in order.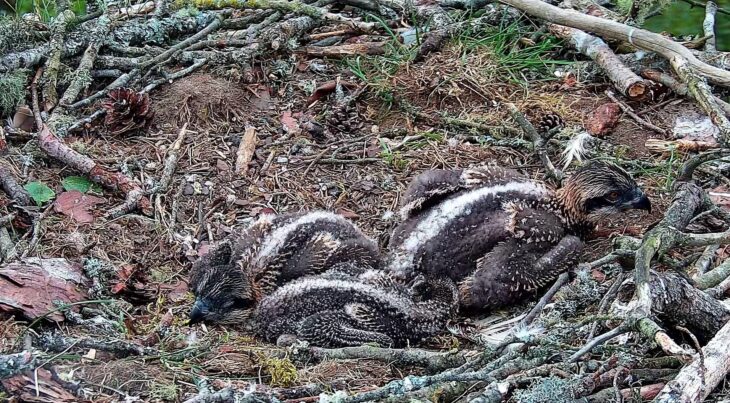 Even baby dinosaurs need to sleep © Scottish Wildlife Trust Osprey Webcam
The young ospreys are already beginning to explore the boundaries of the nest, learning to preen, stretch their wings and shuffle about. It won't be long before their feathers really start to push through and they start to pass through the baby dinosaur stage!
Sara 'Raz' Rasmussen
Perthshire Ranger
Stay tuned to the webcam to keep up to date with the young brood's development. Or follow us on Twitter or Facebook for regular updates.
The Trust's Osprey Protection Programme at Loch of the Lowes is supported by players of People's Postcode Lottery.
Help protect Scotland's wildlife
Our work to save Scotland's wildlife is made possible thanks to the generosity of our members and supporters.
Join today from just £3 a month to help protect the species you love.
---
Preface
Our young brood of osprey chicks have been enjoying the perfect weather for the serious business of eating, sleeping, growing and of course practicing their well aimed 'over the edge …