Avian Influenza (bird flu) – how you can help
Alarming reports are coming in of wild seabirds dying in large numbers around Scotland's islands and coastlines.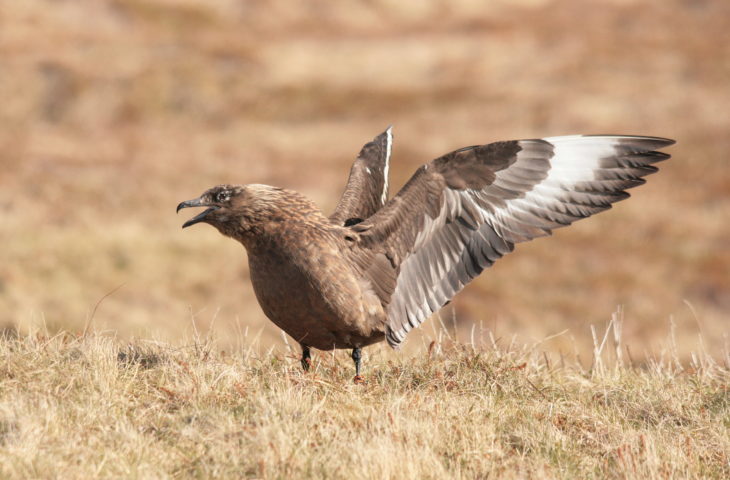 Avian Influenza (or bird flu) has now been confirmed in seabirds including terns, gannets and puffins. 
Dozens of dead great skuas (bonxies) have been seen by our team on Handa Island Wildlife Reserve and we have good reason to suspect this is due to bird flu. Sadly, this trend is being reported in other bonxie colonies on Shetland, Fair Isle, Orkney, the Western Isles, the Flannan Isles and St Kilda.  
There are already several severe pressures on Scotland's seabirds, including climate change and overexploitation of our seas. With seabird populations having halved since the 1980s, further pressure from a severe outbreak of bird flu is concerning. 
What can you do about bird flu?
Bird flu is a notifiable animal disease. If you suspect any type of bird flu in poultry or captive birds, you must report it immediately to your local Field Services Office.
For wild birds, you should call the Defra helpline (03459 33 55 77) if you find:
one or more dead bird of prey or owl
3 or more dead gulls or wild waterfowl (swans, geese and ducks)
5 or more dead birds of any species
The risk to human health from the virus is currently low but it is important not to touch any dead or visibly sick birds.
For the latest advice on how to spot and report the disease please check the Scottish Government website.  
Help protect Scotland's wildlife
Our work to save Scotland's wildlife is made possible thanks to the generosity of our members and supporters.
Join today from just £3 a month to help protect the species you love.
---
Preface
Alarming reports are coming in of wild seabirds dying in large numbers around Scotland's islands and coastlines.  Avian Influenza (or bird flu) has now been confirmed in seabirds including terns, …