Osprey Diary at Loch of the Lowes – Week 4
It's been a fairly quiet week here for LM12 and NC0, which we are sure they are both grateful for after defending their eggs and nest from repeated intrusions last week!
Whilst we estimate that we are probably still a good 2-3 weeks out from hatching, we did get a fantastic close-up on Monday afternoon during an incubation change of the precious eggs LM12 and NC0 are working so hard to protect. You can see these are a beautiful pink mottled colour, meaning they are very well camouflaged within the nest. We think the lighter egg at the front is the third egg, as it is slightly less pigmented – probably due to NC0 having slightly less pigment left in her shell gland (which produces the colouration) by the time the third egg is laid.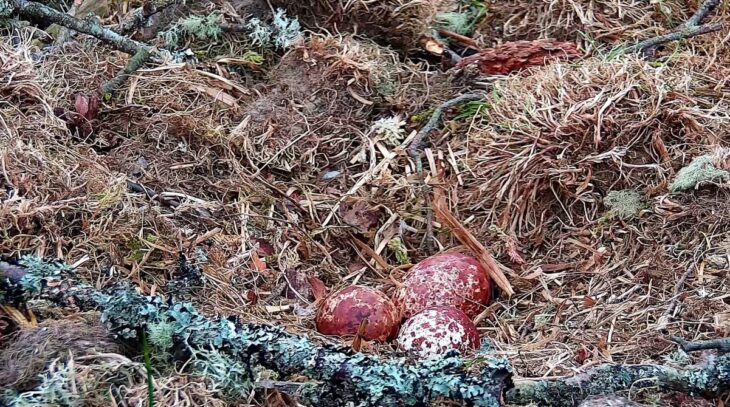 LM12 has continued to fulfill his fatherly duties – they call it 'nesting' for a reason! See the below clip for some quite amusing footage as he lands several times on the nest over the week with building materials, in quite an 'enthusiastic' manner! This may of course be his not-so-subtle way of getting NC0 to leave so he can take over incubation duties, which we know he loves to do.
Aside from this we have had fish deliveries of 2 perch and 6 brown trout to the nest this week, along with a few unknowns. On Thursday NC0 showed signs of being very hungry, her begging call ringing round the Loch to let her mate know it was time for dinner. He did not disappoint, delivering this huge brown trout just before 4pm. Ospreys are known to capable of catching fish of more than half their body weight – a truly incredible feat!
LM12 has also been amusing those of us on night shift with his near clockwork arrivals each morning – dutifully arriving at 5am almost every day to give NC0 a chance to spread her wings and take a break. Take a watch below and listen out for the fantastic Lowes dawn chorus in the background. What other elusive summer migrant can you hear?
Stay tuned to the activities of LM12 and NC0 as they continue to incubate their eggs by watching our live webcam here. Follow us on Twitter or Facebook for regular updates.
Katie Berry
Species Protection Officer
The Trust's Osprey Protection Programme at Loch of the Lowes is supported by players of People's Postcode Lottery.
Help protect Scotland's wildlife
Our work to save Scotland's wildlife is made possible thanks to the generosity of our members and supporters.
Join today from just £3 a month to help protect the species you love.
---
Preface
It's been a fairly quiet week here for LM12 and NC0, which we are sure they are both grateful for after defending their eggs and nest from repeated intrusions last …