Osprey Chick #1's First Day at Loch of the Lowes Wildlife Reserve
We are delighted to announce the hatching of our first osprey chick at Loch of the Lowes Wildlife Reserve. A small 'pip' in an egg was noticed at 22:36 on Wednesday 18th May, and as the night went on, it gradually became a small hole. Eventually, at 10:26am on Thursday 19th May, the chick emerged!
Thursday 19th May marked 37 days of incubation, which is the average for osprey eggs, with chicks usually hatching between 35 and 42 days after eggs are laid. The three eggs were laid a few days apart, so if all goes to plan we can expect to see two more chicks very soon! For now, here is a summary of Chick #1's first day at Loch of the Lowes.

Proud Parents NC0 and LM12 © Scottish Wildlife Trust Webcam
Below is a video compilation of the key moments in the hatching process. The chick chipped away at the eggshell over night, and split the shell open in what we consider a full hatch at 10:26am. The chick emerged fully from the egg at around 1pm on Thursday.
Both ospreys have been particularly present and defensive on the nest, with NC0 incubating and LM12 remaining close at all times. Thursday was a day full of intrusions, with many ospreys coming close to the nest, and LM12 and NC0 working as a team to protect their newly hatched chick and the two eggs. They had to ward off a particularly persistent unringed intruder on Thursday afternoon.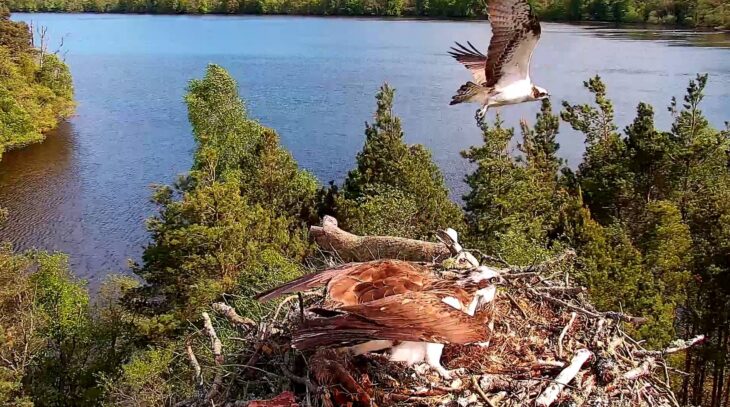 LM12 and NC0 ward off a persistent unringed intruder © Scottish Wildlife Trust Webcam
Osprey chicks reach almost full size by 5 weeks old, and by 7 or 8 weeks old they will be taking their first flights! At around 12-14 weeks, they will embark on their first migration south for the winter. To sustain this incredibly rapid growth rate, LM12 will have to up his game as primary fish provider – bringing in several fish per day. On Thursday, NC0 had to wrestle with a live perch that she just about managed to keep away from her newly hatched chick.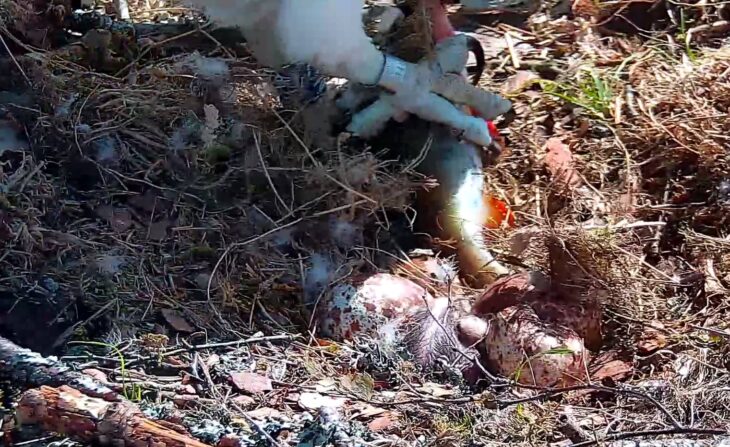 NC0 deals with a live perch on the nest © Scottish Wildlife Trust Webcam
On the day of the first egg hatching, LM12 brought four new fish to the nest. The chick received its first feeding session at 6:30pm. Watch below how NC0 tears tiny morsels of fish and delicately feeds them to her chick. You can probably hear that the chick already has a strong pair of lungs, even before it emerged from the egg. NC0 and LM12 are going to have their work cut out filling the chicks' hungry stomachs!
The chick had a second feeding session at around 8:20pm, and is already lifting its little bobble head to take strips of fish!

LM12 and NC0 during Chick #1's first feeding session on Thursday 19th May © Scottish Wildlife Trust Webcam
There is bound to be plenty more hatching action over the coming days, so stay tuned by watching the webcam here. Follow us on Twitter or Facebook for regular updates. 
Bethany Walsh
Species Protection Officer 
The Trust's Osprey Protection Programme at Loch of the Lowes is supported by players of People's Postcode Lottery.
Help protect Scotland's wildlife
Our work to save Scotland's wildlife is made possible thanks to the generosity of our members and supporters.
Join today from just £3 a month to help protect the species you love.
---
Preface
We are delighted to announce the hatching of our first osprey chick at Loch of the Lowes Wildlife Reserve. A small 'pip' in an egg was noticed at 22:36 on …