Bridge repairs at Upper Nethan Gorge
Camille Vallette is an Erasmus+ funded European Solidarity Corps volunteer on an 11 month placement in Castle Douglas with Chris Archbold (Reserves Project Officer) and at the end of February the team of four Erasmus+ volunteers (Thomas, Eduard, Xavier & Camille) spent four days working with Chris & Sven Rasmussen (Reserves Manager) carrying out work to make safe a damaged bridge at Upper Nethan Gorge. Here is his account of the trip.
This reserve is a two hour drive from Castle Douglas, so we rented an Airbnb for the week.
The job consisted of removing 30 metres of old and rotten decking boards from a bridge. This is a quite popular place, so there was a risk of injury to walkers.
There was a lot of work, as the bridge was not well maintained, which made it difficult for us. Fortunately, we were helped by Sven, who manages the reserve.
On the first day we travelled to the reserve, settled into the Airbnb and started working in the afternoon, removing all the moss and vegetation that was on the boards, which prevented us from properly visualising the work to be done.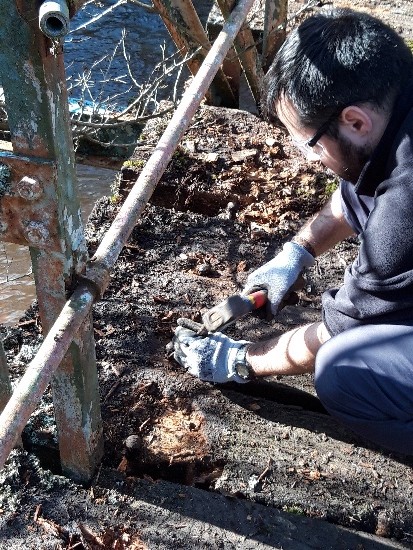 To remove the boards, we had to remove the screws, and the nails that held them so on the second day we tried to make space around the head of the screws with chisels and picks.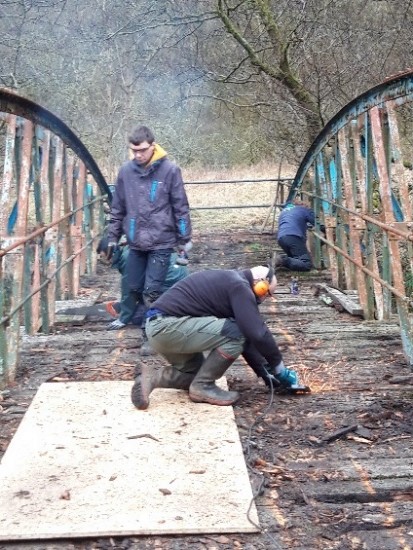 On the third day we began to cut off the heads of the screws with a grinder so that we could remove the decking boards. Sven and Chris used crowbars to pry them off, and the ESC volunteers dragged them off the bridge using ropes. It took time, and it was quite physical work, as the decking was sometimes bigger and heavier than railway sleepers!
On the last day we finished removing the decking boards and piled them on the river bank. Sven and Chris closed the access and to finish the day, we collected all the rubbish we could find around the bridge before returning to Castle Douglas.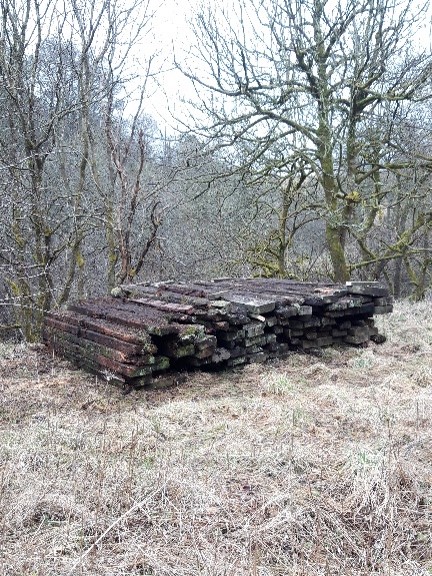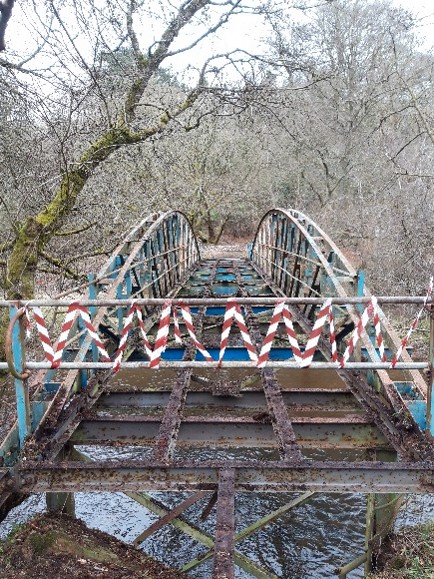 I think all the team members really enjoyed working on the bridge. It was an opportunity to travel a little further than Castle Douglas, and to see some of the Upper Nethan Gorge reserve which is beautiful.
Also, doing a big job like this was a change from the usual and it allowed us to learn how to use different tools, such as the grinder.
Finally, staying in the Airbnb in the evenings allowed us to have some fun times, like when we cooked for each other, and to learn a bit more about each other!
Camille Vallette

All images © Camille Valette
Help protect Scotland's wildlife
Our work to save Scotland's wildlife is made possible thanks to the generosity of our members and supporters.
Join today from just £3 a month to help protect the species you love.
---
Preface
Camille Vallette is an Erasmus+ funded European Solidarity Corps volunteer on an 11 month placement in Castle Douglas with Chris Archbold (Reserves Project Officer) and at the end of February …