Osprey Diary at Loch of the Lowes – Weeks 1 & 2
Here at Loch of the Lowes Wildlife Reserve, our 24-hour Osprey Watch is well underway. NC0 laid her first egg on Tuesday 12th April and her second on Friday 15th April! While highly anticipated, our first and second eggs are not the only exciting occurrences of 2022's osprey season so far. Read on for highlights from the first and second weeks of Osprey Watch.
In the days preceding laying, NC0 stayed close to the nest while Lowes' male osprey, LM12 brought in the majority of fish. He will continue to act as the main provider while NC0 does around 80% of egg incubation.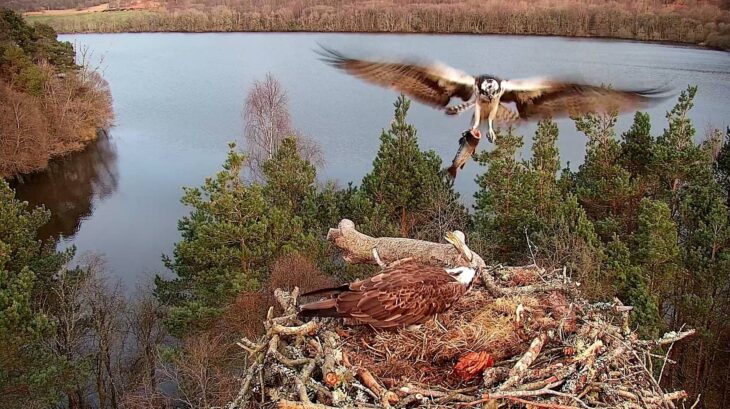 LM12 Bringing in a Large Trout © Scottish Wildlife Trust Webcam
In preparation for NC0's first egg, both ospreys continued to work on the nest, bringing in plenty of sticks and moss to support and line the egg cup. However, LM12 brought in one unusual piece of nesting material – a rubber glove! Watch the video below to see what the pair made of it.
The rubber glove hasn't been the only nuisance in the nest, though. LM12 and NC0 have fended off regular intrusions from a variety of bird species, including ravens, Egyptian geese, and other ospreys interested in the nest. Below you can see LM12 becoming increasingly irritated as he has to chase off Loch of the Lowes' resident pair of Egyptian geese four times in the space of a few hours on Monday 11th April.
Egyptian geese are a non-native species who like to nest both on the ground and in trees. They have been regularly spotted checking out the nest before and after LM12's arrival back at Loch of the Lowes on 13th March.
LM12 and NC0 are an efficient team when it comes to sharing duties of fishing, egg incubation and raising chicks. This week, their teamwork was put to the test when an unringed female osprey intruded the nest, the day after NC0 laid her first egg. This female osprey has been taking particular interest in the nest this season and is believed to have also been a regular intruder on the nest in 2021. Watch the video below to see how NC0 and LM12 worked together to drive the intruding osprey away from the nest.
After an eagerly anticipated and lengthy wait, NC0 laid her first egg on Tuesday 12th April at 6.35pm. Her second egg was laid at 16.05 on Friday 15th April. Maybe we'll get a third egg over the Easter weekend! Ospreys usually lay a clutch of around three eggs, so we can expect to see another appear in the coming days. Both birds arrived from migration earlier than in previous years, and their first successful mating attempt was recorded on 24th March, the day after NC0's return. Eggs may be laid as soon as ten days after a first successful mating attempt, but NC0's first egg arrived after 19 days this year. Perhaps she was waiting for better weather to arrive!
The eggs, and any others NC0 lays in the coming days, will be incubated for 5-6 weeks before hatching. Over this time, our four Species Protection Officers, Ranger and dedicated team of Osprey Watch volunteers will be monitoring the nest, recording the birds' behaviour and remaining vigilant for any potential human disturbances. You can watch the nest from our live webcam here. Follow us on Twitter or Facebook for regular updates.
Bethany Walsh
Species Protection Officer
The Trust's Osprey Protection Programme at Loch of the Lowes is supported by players of People's Postcode Lottery.
Help protect Scotland's wildlife
Our work to save Scotland's wildlife is made possible thanks to the generosity of our members and supporters.
Join today from just £3 a month to help protect the species you love.
---
Preface
Here at Loch of the Lowes Wildlife Reserve, our 24-hour Osprey Watch is well underway. NC0 laid her first egg on Tuesday 12th April and her second on Friday 15th …