Egyptian geese: where did they come from?
Outside of osprey season it's not unusual to have other birds or mammals investigating the osprey nest. Usually they are looking for insects, fungi or even grass to feed on.
The osprey nest has such a plentiful supply of fish throughout the summer that it is rich in nutrients. The nest has also been growing it's very own lawn for a few years now, after LM12 brought in a piece of turf for bedding material.
So it's no wonder that geese would investigate this lovely soft osprey nest full of grass for them to eat.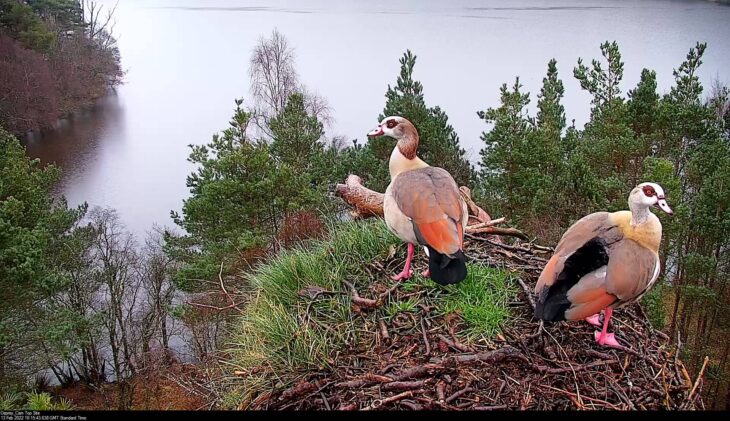 There has been an Egyptian goose sighted on the reserve since late 2019. We became accustomed to seeing her among the resident greylag population. However, since late 2021 we've noticed that our female goose has picked up a male partner. A breeding pair?
So where did these birds come from?
Native to mainland Africa, their population distribution is actually very small within Egypt compared to the rest of Africa. However they are thought to have been part of ancient Egyptian culture, even featuring in Egyptian art.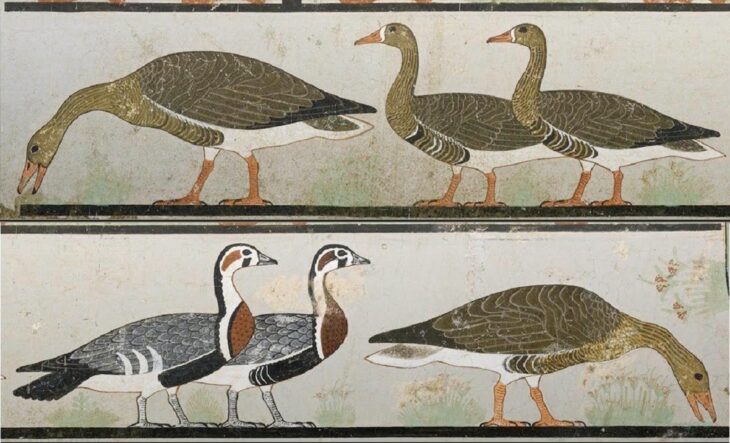 They are classified globally as least concern even though the population in thought to be in decline. They were introduced to England as an ornamental species and escaped into the wild.
The data
BTO breeding distribution data suggests the UK's breeding population is mainly in the South East of England with non-breeding individuals recorded further north but not in Scotland. However, from the BTO WeBs 2019/20 data we can see seven individuals were recorded at the Inner Firth Clyde Estuary.
In 2019 the UK government designated them as an Invasive Alien Species – EU Regulation 1143/2014. As they are considered to negatively impact native UK species, listed alongside signal crayfish and grey squirrels.
So what does that mean for Loch of the Lowes? Well, as nice as it is to see them. I think we'd all prefer that they don't take up residence on our famous osprey nest. I've heard anecdotally of conflict between ospreys and greylag geese over nests and the ospreys don't always win!
We don't typically have geese of any species on the loch in the summer. We suspect (cannot confirm) our resident greylag and Canada geese do a mini migration to Northern Scotland to breed. So maybe they will travel South to breed, maybe they will take up permanent residence at Loch of the Lowes. Either way it will be exciting to see how the season unfolds.
Help protect Scotland's wildlife
Our work to save Scotland's wildlife is made possible thanks to the generosity of our members and supporters.
Join today from just £3 a month to help protect the species you love.
---
Preface
Outside of osprey season it's not unusual to have other birds or mammals investigating the osprey nest. Usually they are looking for insects, fungi or even grass to feed on. …