How nature-based solutions can help boost gender equality
Delving further into the implications of nature-based solutions, Rebekah Strong, Nature-based Solutions Policy Adviser, looks at the possible impact on gender equality and the benefits that nature-based solutions can have on wider community empowerment.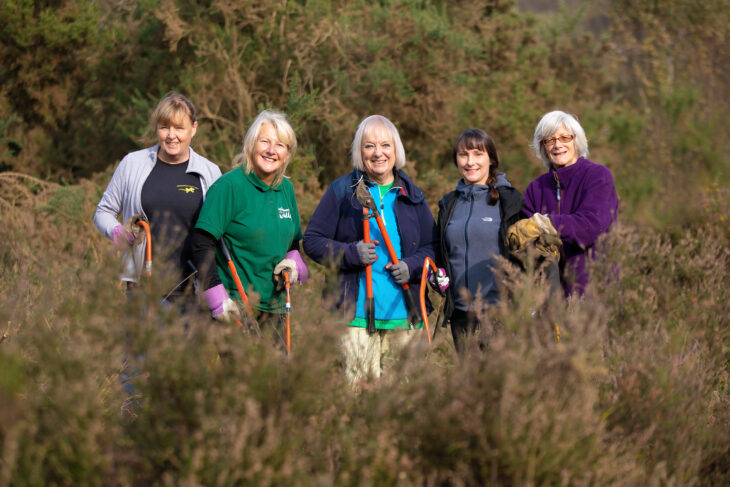 The impact of climate change will not be experienced equally by society. Those who experience economic deprivation have contributed least to the climate crisis but will bear the brunt of its effects the most. Women have also contributed less to climate change than men, but they will feel the effects to a greater degree.  
There are still serious issues of gender inequality in Scotland. Women are more likely to be in insecure employment, be the sole caregiver for children or relatives and have a lower income compared to men in the same social group. The reduced economic stability of women in Scotland has an impact on their ability to adapt to climate change, for example to afford sufficient, nutritious food as costs rise, climate proof their homes or swap a petrol-driven car for an electric one.  
Those who experience economic deprivation have contributed least to the climate crisis but will bear the brunt of its effects the most.
Nature-based solutions can help improve inequality and access to high quality natural green space, but will everyone feel welcome there?  
To implement nature-based solutions to mitigate and adapt to the climate crisis we need to consider the knock-on effects this may have for different groups in society, and ensure that inequalities are not exacerbated, but reduced by integrating nature-based solutions. 
Thought needs to be given to the perceived access barriers as well as the physical barriers to accessing green spaces. For example, if a local park hosts anti-social behaviour, is poorly lit or is in an isolated location, women may not feel comfortable. We need to ensure that those involved in the design of nature-based solutions includes a selection of people from all the demographics that may use the space.  
Data needs to be collected to best understand how nature-based solutions can benefit different people in the communities. Breaking up this data by gender will allow us to see where benefits can be gained and inequalities bridged to ensure that we can use nature-based solutions to their greatest advantage. Ignoring these differences can lead to ineffective policies and projects. 
Women often do not own or have access to the land they depend on and could significantly benefit from. Empowering women and increasing their capacity to develop or get involved in nature-based solution projects will help provide security, whether that be food, income or community. Women across the world are often deeply connected to the management of the land and they have an essential role to play if nature-based solutions are to be successful and integrated at scale.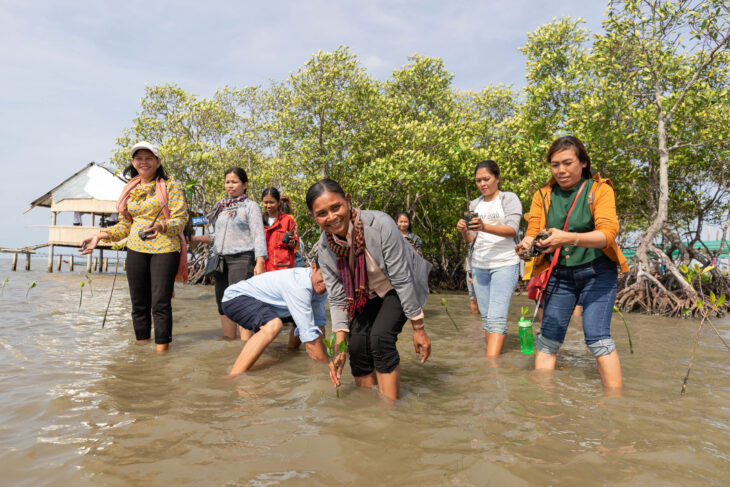 In countries including Cambodia and Kenya, conservation organisations and women's groups have come together to empower local women to plant and protect mangroves. These habitats are important for carbon capture and storm protection, as well as improving the habitat for fish. Protecting them increases food security and income potential for local people.  
Closer to home, Lauriston Farm in Edinburgh, led by Edinburgh Agroecology Coop, is a great example of a nature-based solution that is also addressing gender inequality. The plan is to transform an existing farm into an area for sustainable urban food production and a community hub that will benefit, support and regenerate both the natural environment and local communities. 
The group hopes to tackle some of the issues of access to affordable fresh and locally grown produce, lack of opportunities and environmental degradation. This project is not only jointly led by women but will directly benefit local women and their families.  
By including representatives from all groups of the community in decision making, nature-based solutions can significantly boost equality. Gender equality is being tackled by the Scottish Government in multiple ways and it is important to see how nature-based solutions can play a role.  
Women of all socio-economic backgrounds need to feel confident that all spaces and projects are for them. It is vital that projects are delivered in a way that helps to make Scotland an inclusive, safe country for all.  
Rebekah Strong, Nature-based Solutions Policy Adviser  
The Trust's Help Nature Help Us campaign aims to show how nature-based solutions can help to tackle many of the issues we face as a society. Help spread the word. 
Help protect Scotland's wildlife
Our work to save Scotland's wildlife is made possible thanks to the generosity of our members and supporters.
Join today from just £3 a month to help protect the species you love.
---
Preface
Delving further into the implications of nature-based solutions, Rebekah Strong, Nature-based Solutions Policy Adviser, looks at the possible impact on gender equality and the benefits that nature-based solutions can have on wider community …