As the days are getting longer and the weather warms up, we are delighted to notice the re-appearance of our much-loved hedgehogs.
These lovely small mammals spend the winter months hibernating in the undergrowth, log piles, piles of leaves and even in specifically build hedgehog houses in people's gardens.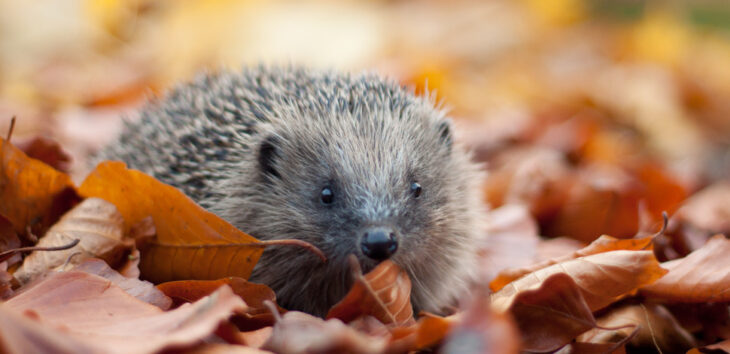 What is hibernation?
Hibernation is a state of minimal activity, lowered body temperature, slower breathing and metabolic depression. Similar to a very deep sleep!
Hedgehogs hibernate to conserve energy through the winter months whilst the temperature is colder and there is less food about for them to forage.
What do hedgehogs eat?
Hedgehogs are carnivores, which means they eat meat. Due to their small size, hedgehogs mostly eat insects and other small invertebrates. Some of their favourites include beetles, slugs and earthworms.
Where can I see hedgehogs?
Hedgehogs are found in most habitats across mainland UK. They thrive in countryside with a mosaic of woodland, hedgerows, farmland and rural gardens. Hedgehogs have even adapted to the more urban areas and can regularly be seen in people's gardens.
How can I attract hedgehogs to my garden?
There are several ways you can help hedgehogs. Firstly, it is important that they have access in and out of your garden, you can do this by cutting a small hole in your fence. As mentioned above, hedgehogs love to eat slugs so it is vital that you don't put down slug pellets. This is because when the hedgehogs eat slugs which have eaten slug pellets, the poison transfers to the hedgehogs.
You can also add some food for hedgehogs – our hedgehogs love to eat meaty cat or kitten food. Please make sure you don't leave out any cat food made from fish or milk as this can upset their tummy's. Hedgehogs drink water so leaving a shallow bowl can also be a massive help to our prickly friends. If you have a pond in your garden, it can be a good idea to install a hedgehog ramp or some rocks to help a hedgehog climb out if they accidentally fall in when looking for some water to drink.
Leaving some areas of your garden wild with leaf or log piles offers our hedgehogs somewhere to sleep. Make sure that if you ever have a garden fire that you set it up on the day, or at least move it from one area to another so that you can check for hedgehogs.
If you would prefer, you can buy or even make your own hedgehog house. You can find a guide on our website.
Discover how to help hedgehogs 
Watching hedgehogs in our garden
Hedgehogs are nocturnal (awake at night) so even if they regularly visit our garden, we often don't see them. Our visitor centre assistant, Cherry, has been having some great fun watching the hedgehogs in her garden using a camera trap.
Amy Bastow
Visitor Centre Assistant
Help protect Scotland's wildlife
Our work to save Scotland's wildlife is made possible thanks to the generosity of our members and supporters.
Join today from just £3 a month to help protect the species you love.
---
Preface
As the days are getting longer and the weather warms up, we are delighted to notice the re-appearance of our much-loved hedgehogs. These lovely small mammals spend the winter months …