On the lookout for dippers
If you have spent time at the Falls of Clyde reserve, you may have spotted this plump, handsome little bird hunting for insects and fish in the fast flowing waters.
The dipper gets its name from its habit of perching on rocks and bobbing up and down with its tail in the air. It is an unmistakable sight, and one that is representative of our riverine environment in Scotland. Beyond their distinctive reddish-brown head and underside, dark wings and vivid white throat though, dippers also have some unusual adaptations that set them apart from their other feathered friends.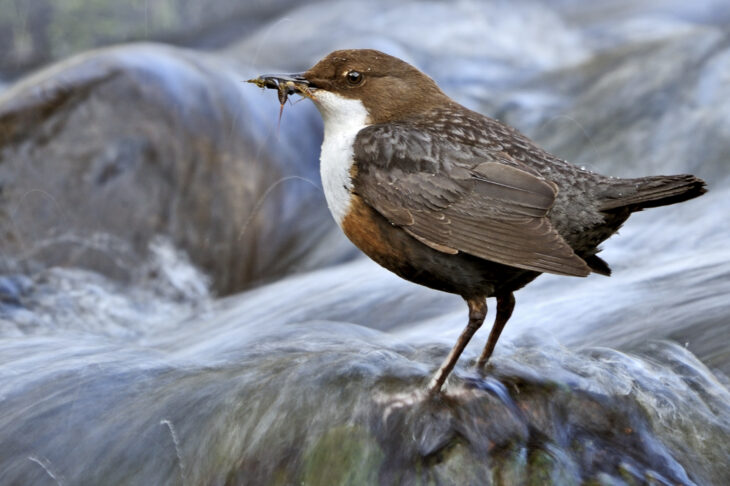 If you were an aquatic bird whose prey was mostly below the surface, what would you find useful? Eyes that can see underwater? Check. Nostrils that you can close off to the current? Check. Waterproof feathers? Short, strong wings that can act like flippers? The ability to hold lots of oxygen in your blood so you can stay underwater longer? Yes to all of the above. Not bad for a bird that looks like it would be more at home on dry land.
Seeing a dipper is always a pleasure, but their presence in our rivers can also – quite literally – reveal something deeper.
The use of animals and plants as indicators of broader ecological conditions is now well-established, and the dipper is one such animal. Studying them can give us a better idea of how clean our waterways are. As one of the top predators in this type of habitat, they rely on good numbers of aquatic invertebrates such as caddis worms, or freshwater molluscs, as well as small amphibians and fish. These creatures are very sensitive to pollutants – either dying off, thereby depriving dippers of food and forcing them elsewhere, or absorbing the chemicals and passing them on to these birds when they eat them.
This is a problem: researchers from the University of Cardiff found a strong correlation between the presence of pollution and a string of issues, such as chicks hatching underweight and growing up with chemical imbalances that cause fewer females to be born – threatening the long-term future of local populations. Conversely, these birds will thrive where the water is clean and insects and fish are plentiful – so we should keep a close eye on how they are doing to know if a clean-up is required!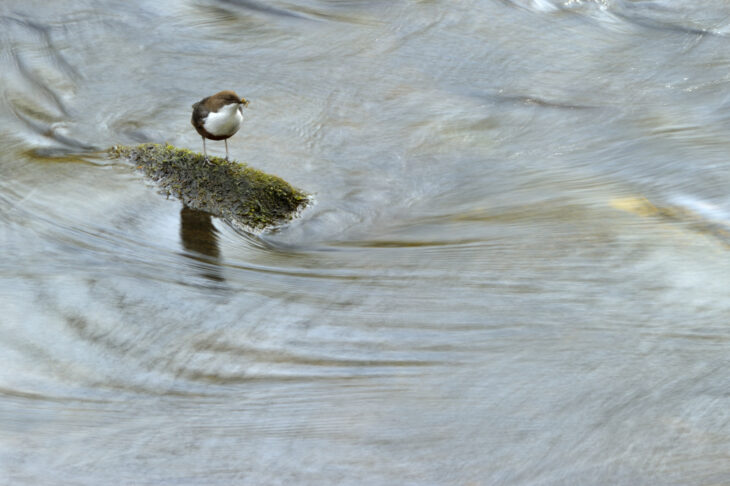 In normal years, we would run a 'dipper watch' at the reserve every weekend through the summer, but even with the Covid-19 restrictions you can still spot them yourself – either head to the dipper watch platform just down from the reserve entrance at New Lanark or look downstream from Bonnington weir after a period of rain. Happy spotting!
Patrick Endall, Falls of Clyde Seasonal Ranger
Help protect Scotland's wildlife
Our work to save Scotland's wildlife is made possible thanks to the generosity of our members and supporters.
Join today from just £3 a month to help protect the species you love.
---
Preface
If you have spent time at the Falls of Clyde reserve, you may have spotted this plump, handsome little bird hunting for insects and fish in the fast flowing waters. …