Handa Island springs into life
Since our last update Handa Island has sprung into life! The primroses, bluebells and buttercups are in full flower, and when out on the pre-laying puffin count we even spotted our first heath spotted orchid.
The fauna has followed suit and it seems we are well and truly experiencing the beginning of the breeding season. Bonxies are back in great numbers, many of which have established their former territories and defend them from intruders in quite spectacular displays of aggression and aerial agility.
That agility is surely topped only by that of the Arctic skua. The first of these was observed this year by Erika at the end of April. The unmistakable shrill call can now be heard over the bothy and throughout the middle of the island, giving us confirmation that their numbers are increasing in preparation for breeding to take place.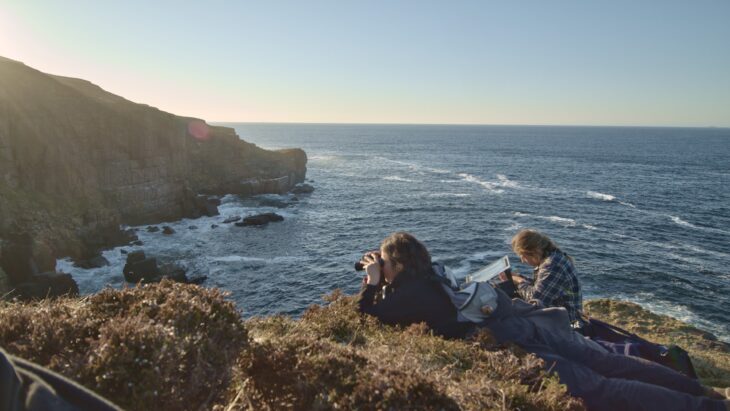 We have been observing highly fluctuating patterns of colony occupation on the cliffs, which is a phenomenon observed in auk colonies ahead of the breeding season. As the number of guillemots, razorbills and puffins swells, a cycle of mass attendance and absence develops.
Quite why this behaviour has evolved remains a mystery but it has been shown in the colony on Skokholm Island in Wales that the three species will synchronise their appearances and disappearances with one another, showing peaks every five days or so.
Puffin counts
When out filming the colony early one morning, Johnny witnessed both the 'beaking' display in a number of puffins, a display predominantly seen between pairs during courtship, and, perhaps more excitingly, the collecting of nest material by pairs of puffins. This is a sure sign they are preparing their burrows ahead of laying eggs.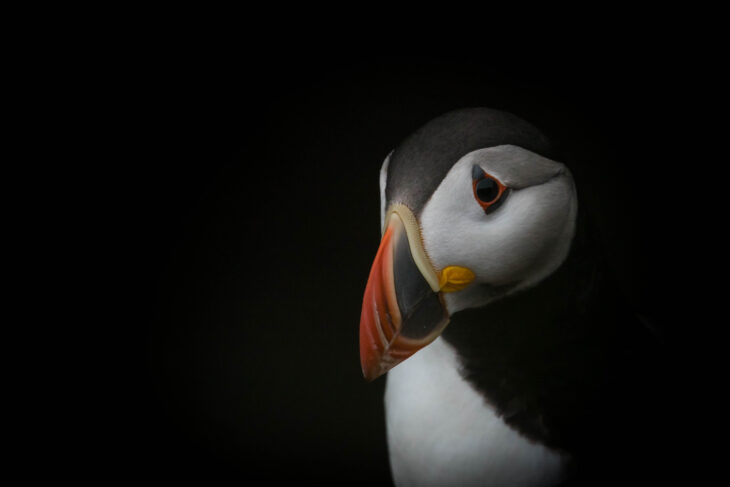 We have conducted two all island pre-laying puffin counts in an attempt to gain an estimate for the size of Handa's breeding population. These counts are carried out early in the season to minimise the chances of counting non-breeding adults and immature individuals that tend to arrive later.
Usual procedure sees us set out in two teams, two or three hours before sunset. One group counts numbers on the west and north-west cliffs and the second on the east and north-east cliffs, reconvening at sunset (when numbers are usually highest) at the Great Stack. Due to the drastically reduced number of staff on the island this year we decided to split the count over two consecutive evenings that had similar weather conditions.
This was done to try and minimise any variables between the two. Our highest count was a total of 87 individuals on the cliffs with a further 12 observed in the water. This result is lower than previous years, but the method used has fairly large confidence intervals and, as the Seabird Monitoring Handbook says, '…even at best, it may provide only a broad indication of colony size'.
Beach cleans
Beach cleans have taken up a large amount of our working hours over the last six weeks. With huge amounts of litter washing up on the shores of the island over winter. Most of it is fishing industry waste such as nets, fish boxes, fish pipes and rope but there is also lots of domestic refuse too.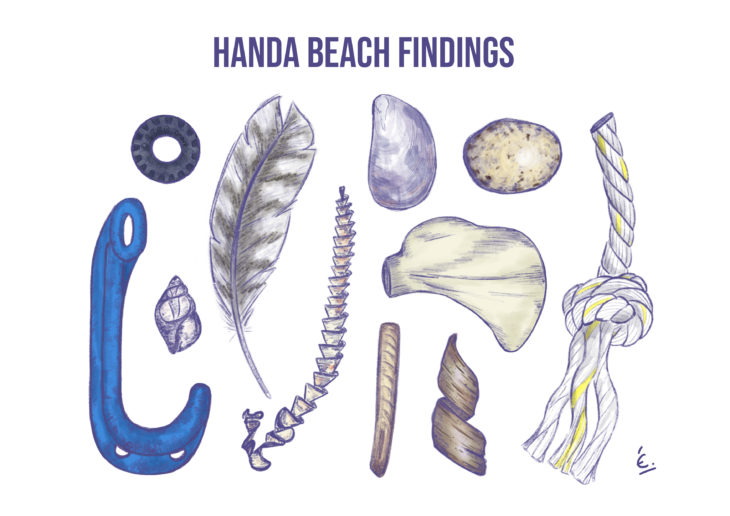 Of note was one McVities Hob-nob wrapper that after a bit of research seems to be from the 1980s. It is quite incredible and sobering that it is not only still intact, but also perfectly legible.
Another find that Johnny and Roxy enjoyed on a hot afternoon was an in-date, unopened can of Coca-Cola. Things taste much better when you've worked for them!
Through our hard work, both Traigh Shourie East and West are free of litter, as is Boulder Bay. We are currently working our way through the rubbish entangled in the seaweed on the Lochy. This is no small feat, but we are making progress.
Surprising sightings
Sightings of white-tailed eagles have remained a frequent event for the team, especially at Puffin Bay. When up at the cliffs determining puffin numbers ahead of the all-island count, Johnny saw five white-tailed eagles soaring above the cliffs, one with the remains of an auk in its talons!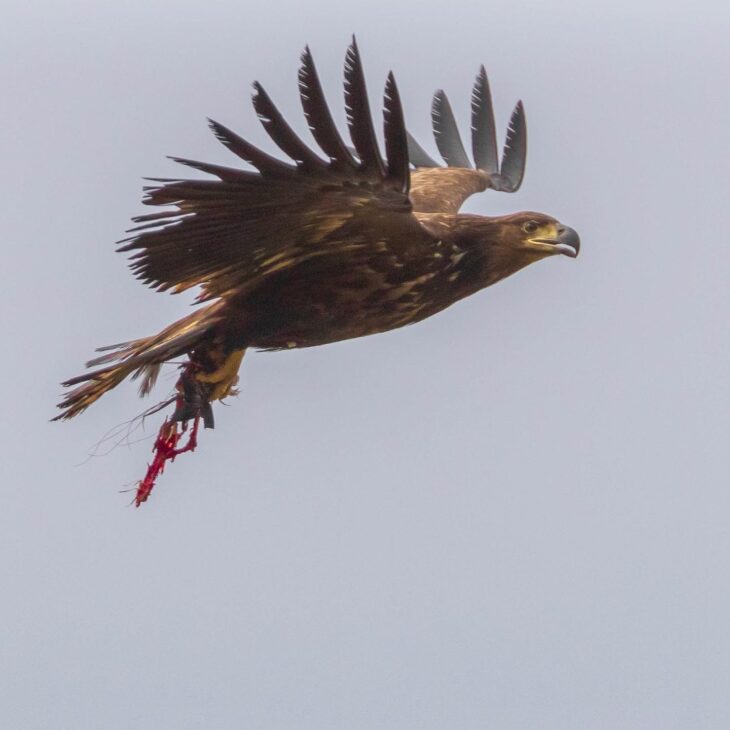 From observations of the largest winged animal in the UK to observations of some of the smallest; our moth trapping ventures have been increasing in success, with species such as the Hebrew character and clouded drab making appearances on most trap nights.
Erika, Johnny, and Roxy
Handa Ranger team
Help protect Scotland's wildlife
Our work to save Scotland's wildlife is made possible thanks to the generosity of our members and supporters.
Join today from just £3 a month to help protect the species you love.
---
Preface
Since our last update Handa Island has sprung into life! The primroses, bluebells and buttercups are in full flower, and when out on the pre-laying puffin count we even spotted our …