51st year of Osprey arriving at Loch of the Lowes
On 21st March, LM12, our 'resident' male osprey, flew back on to the nest at Lowes.
His arrival, the 9th year for this incredible bird, marked the 51st year of osprey choosing to spend their breeding season in Scots Pines beside our protected freshwater loch. As LM12 returned on 15th March last year (2019) many of the regular volunteers and staff lost any chance of a prize (there is no prize – just a certain satisfaction) in guessing his arrival date.
LM12 found the Lowes nest looking decidedly scruffy! This was immediately attended to by bringing in new twigs and branches, scraping (like a chicken) with his feet at some of the most stubborn tufts of grass or simply plonking large sticks on top of the luxuriant green growth to squash it down. Within days, he'd managed to create a slightly raised, nest shaped circle, and would lie down in the very middle, appearing to rock from side to side while his legs and talons dug out a deeper 'cup' to hold future eggs. Then came moss and clumps of dried grass to fill in amongst the uneven floor of sticks, so it was soon obvious he wasn't staggering around with sudden holes opening below his feet.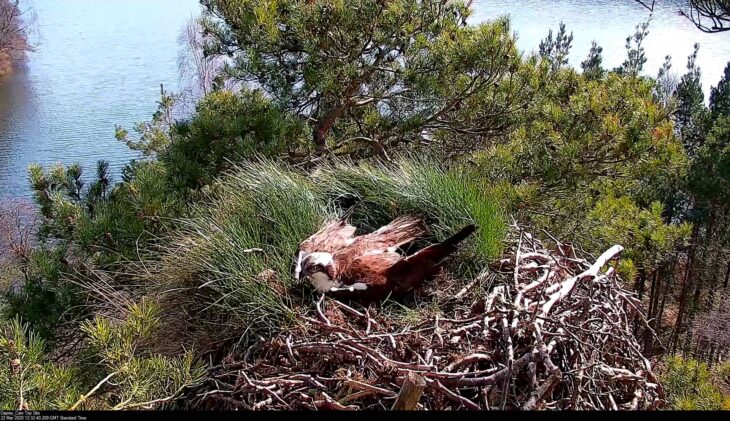 A week later, 28th March, while he was in the process of 'nestoration', a female osprey flew onto the nest! This was not his usual mate, LF15, this was a bird we had never seen before. Looking a little hesitant at first but healthy and alert, she had dark brown plumage, a very striking dark mask over her eyes and a broad brown/speckled necklace (or like a mayor's chain) across her breast. Happily, she was ringed: NC0. Our new female osprey on the loch was ringed and fledged from the Loch Ness area in 2016.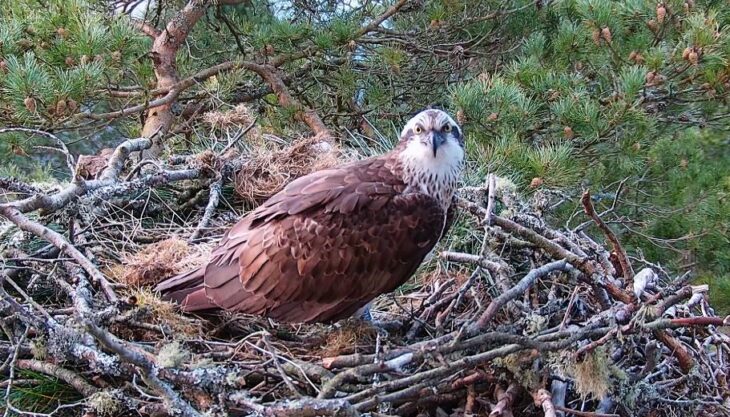 LM12 received this newcomer with mixed feelings. He would turn his back on her, mantling defensively, or ignoring her, but then, prompted by her begging calls, bring a fish in to the nest only to struggle to keep a hold of it while she tried to steal it. She is not backward in coming forward and resorted to pecking him on the head when he wouldn't let go! LM12 and NC0 have been mating, frequently, and while some attempts have clearly failed, several have been successful.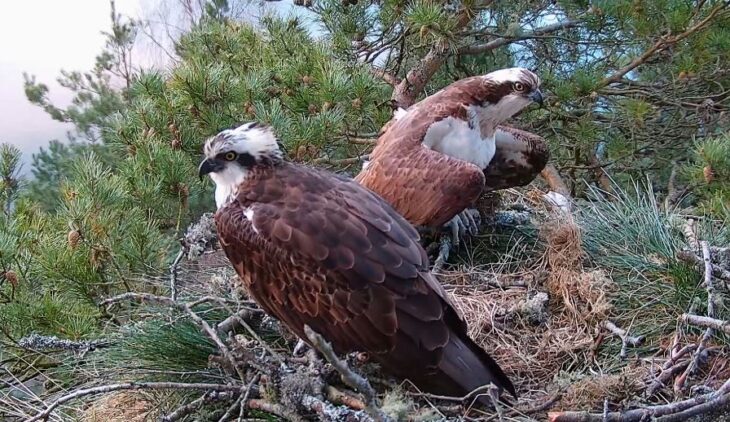 On Thursday 2nd April, it was extremely windy across Perthshire with 48 mph gusts battering the nest. This caused LM12 no end of trouble as he valiantly tried to mate with NC0, 80ft up a Scots pine with the wind pushing and blowing him and his carefully laid nest sticks all over the place!

As I write, there has been no sight of LF15, although she might still arrive on the nest. Who knows what the next few days will bring in this unpredictable season, we will all just have to wait and watch.
Please be reassured that the ospreys at Lowes are under rigorous surveillance and protection despite the current lockdown situation.
Cherry and Amy
Our Osprey Protection Programme at Loch of the Lowes is kindly supported by players of People's Postcode Lottery.
Help protect Scotland's wildlife
Our work to save Scotland's wildlife is made possible thanks to the generosity of our members and supporters.
Join today from just £3 a month to help protect the species you love.
---
Preface
On 21st March, LM12, our 'resident' male osprey, flew back on to the nest at Lowes. His arrival, the 9th year for this incredible bird, marked the 51st year of …