My internship with the Scottish Wildlife Trust in Ayrshire
My name is Jen and I graduated from the University of Stirling in 2019 with a degree in Environmental Geography degree. I applied for a Scottish Wildlife Trust internship and was delighted to be offered the placement.
Since November, I have been assisting Harry Richards, the Trust's Ayrshire Community Engagement Officer based in Irvine so far.
So far, I have been spending my time working on the Connecting Communities to Nature Project, which is funded by the National Lottery Heritage Fund. This blog will detail some of the projects I have been involved with as Community Engagement Assistant.
Wednesday Weekday Volunteers
As part of the Connecting Communities to Nature project, the Wednesday volunteer group meet every week and assist the Engagement Officer with practical conservation tasks that need completed on the reserves.
This enthusiastic group help with all kind of tasks such as the planting and maintenance of vegetation, taking down old unused fencing, and even some more physically demanding tasks such as repairing paths and bridges.
Working with this group has been the best part of my weeks, some of the members have been volunteering with the trust for years but still made me feel so welcome. Everyone has different interests too, with some members interested in moths, others plants or birds, and so we learn so much from one another.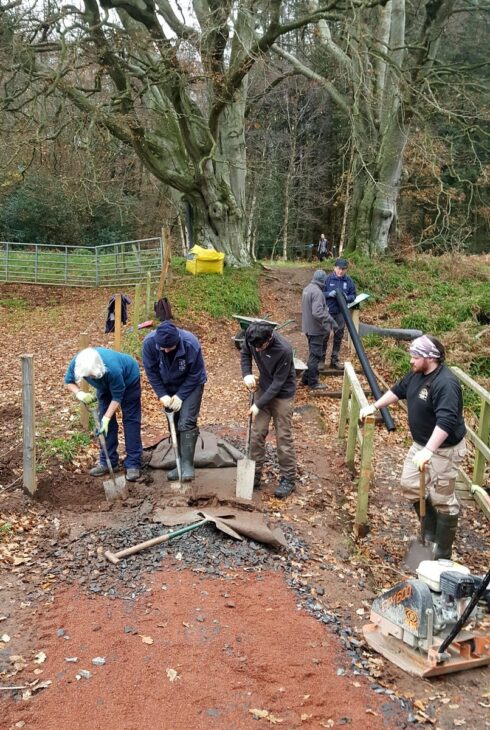 The above picture was taken at Ayr Gorge Woodlands Wildlife Reserve near Failford, one of 17 wildlife reserves maintained by the Trust in the region. One of the Scottish Wildlife Trust staff noticed that water from a field on the reserves border was running onto the footpath, making it muddy and unsafe for visitors.
Therefore, the volunteers helped us install a pipe underneath the path to allow the water to flow from the field into the reserve without flowing over the path. This was a hard and gruelling task, but filled us all with a great sense of achievement.
Since this reserve is one of the furthest from where the volunteer group meet, it isn't visited as often, so this day ended with a lovely walk where many species of bird were noted including a kingfisher flying on the River Ayr.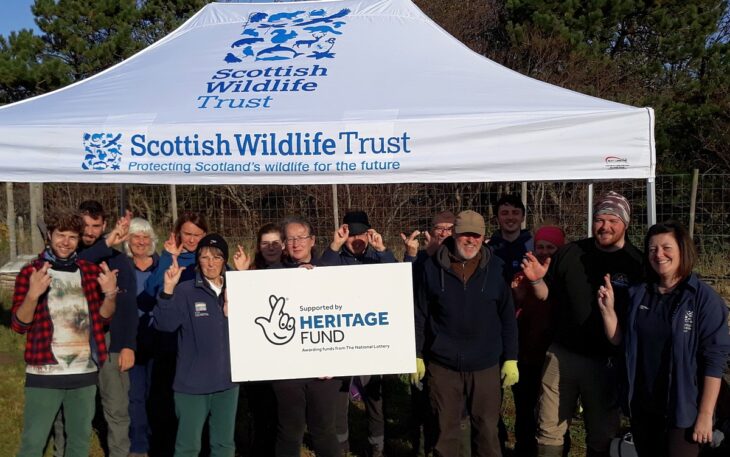 Time out Thursday
Time out Thursday is a recently set up group which is aimed at individuals who are recovering from an illness (mental or physical), or just feel the need to get outdoors away from everyday pressure. This group meets for two hours on a Thursday morning, so it does not take too much time, and it consists of some light work, such as tree tube maintenance or cutting back encroaching vegetation. In the second hour we take a short walk around the reserve and record the species seen, these are then uploaded to iRecord, a national biodiversity monitoring scheme.
I have thoroughly enjoyed meeting this group and hearing how much they enjoy these sessions. I think connecting people with nature and the environment around them is extremely important for physical and mental well-being and look forward to seeing this group growing in numbers.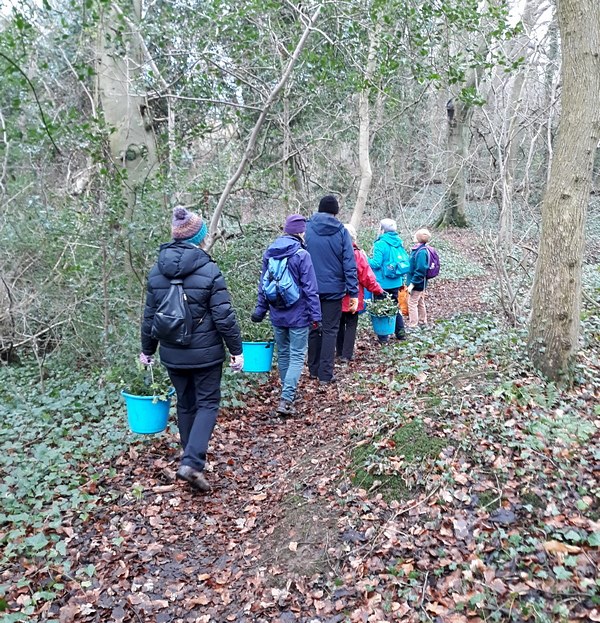 Community Involvement
Part of the Connecting Communities to Nature project is working with other conservation organisations and community groups and I am excited to work with other groups as part of my six-month internship.
With this in mind, we joined up with the Engagement Officer for The Conservation Volunteers (TCV) and her group of volunteers. They joined us at Shewalton Wood Wildlife Reserve in Irvine, one of the nine wildlife reserves that collectively are known as the Irvine Greenspaces.
We spent the morning doing some tree tube maintenance and repaired an old fence. In the afternoon, we took a walk around the reserve showing the TCV group previous work done by the Wednesday volunteers.
Monthly events
Every month there are events for the public, which I help to organise. A recent one was a guided walk around the Knockshinnoch Lagoons Wildlife Reserve in New Cumnock. Since this was the first guided walk that the Trust had done on this reserve for many years, we had to read past management plans, research the history of the area and do multiple site visits to note any points of interest.
I attended one of the site visits and we noticed there was some work that needed to be done. Therefore, the following Wednesday we brought the volunteers, where we did some tree tube maintenance, took down an old fence, cut back, and replanted willow to help stabilise one of the riverbanks.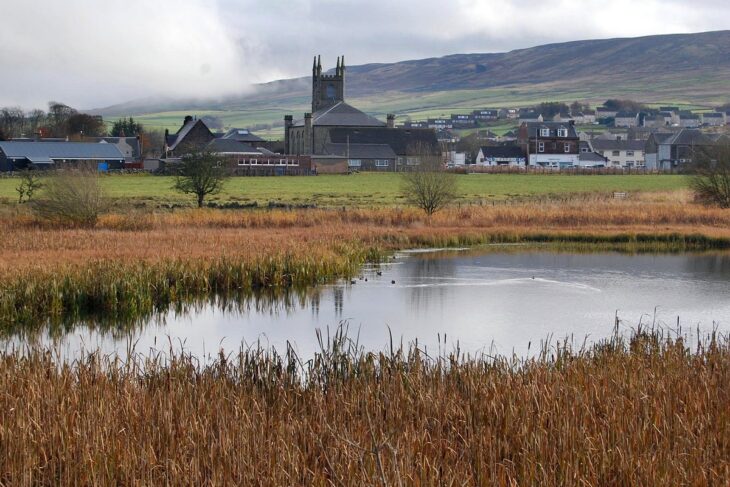 The guided walk went very well with over 30 members of the public attended on a cold Saturday morning and some of the volunteers came to help. It was great to see so many people making the effort to come out on such a chilly day to learn about local wildlife and history. We also had help from local man Dr Jimmy Begg who wowed us with his knowledge of the area, historical facts and amusing anecdotes.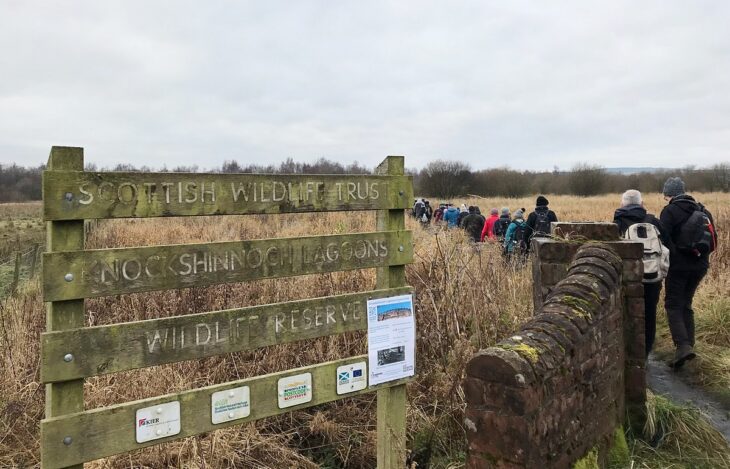 The majority of December was spent planning our Christmas wreath making workshop and children's crafts. All of the volunteer groups got involved collecting the different materials required including willow for the main foundation of the wreath and lots of different types of vegetation for decoration.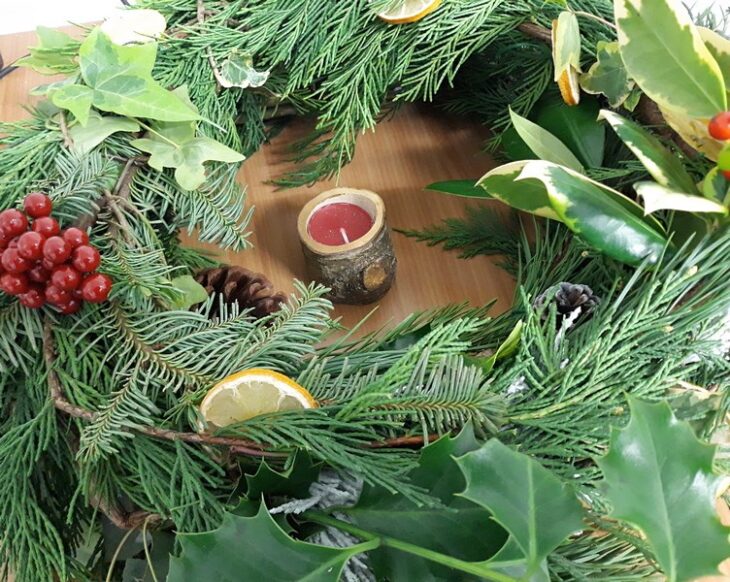 In addition to the event itself, we made sure we had enough materials so both the Wednesday and Thursday volunteer groups could also make a wreath to take home. We also visited the staff at the Children 1st charity in Irvine to teach them how to make the Christmas wreaths so that they hold their own Christmas wreath workshops with the families they work with.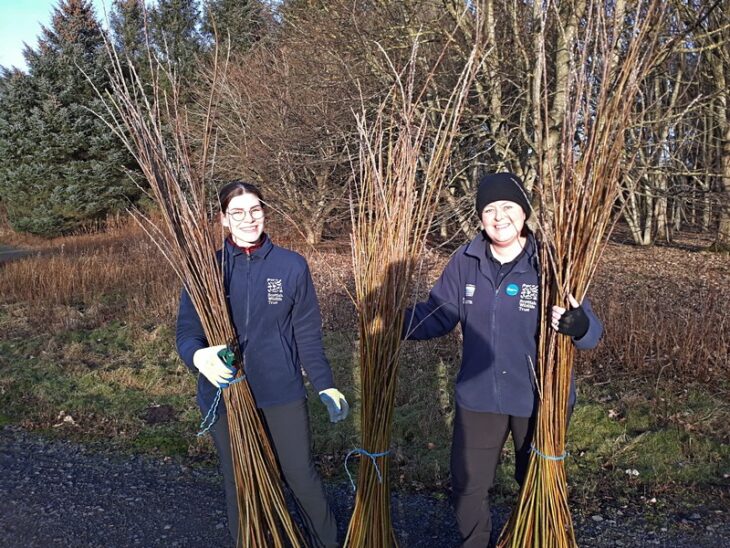 Overall, I have been thoroughly enjoying this experience. Every day is different from the last so there is always new knowledge to gain. I would highly recommend a Scottish Wildlife Trust internship to anyone wishing to pursue a career in conservation.
Jennifer Wales, Ayrshire Community Engagement Assistant
Help protect Scotland's wildlife
Our work to save Scotland's wildlife is made possible thanks to the generosity of our members and supporters.
Join today from just £3 a month to help protect the species you love.
---
Preface
My name is Jen and I graduated from the University of Stirling in 2019 with a degree in Environmental Geography degree. I applied for a Scottish Wildlife Trust internship and …