Looking Back – and to the Future!
As 2019 draws to a close, we look back on successfully celebrating our 50th Anniversary at Loch of the Lowes. Over the last twelve months we shared our history in small sound bites  of 'Facts' across social media, displayed an exhibition of special incidents in Timelines in the Visitor Centre and held open days and events.
50 Facts for Loch of the Lowes 50th Anniversary
Real people and hard work lie behind each of the 'Facts' contributing to the evolution of the reserve. It has been a pleasure for us to meet some of these enthusiastic souls face to face, knowing their early commitment set up the wildlife reserve we have today. Through the efforts of these volunteers and staff, a tree fringed freshwater loch in a Perthshire glen has become a recognised centre for watching woodland and water birds, learning about and seeing Scotland's re-introduced and naturalised beavers, discovering and identifying abundant species of fungi and sharing the lives of breeding ospreys.
Osprey
All around the globe people view the Loch of the Lowes webcam to experience the osprey family rearing young from their massive nest in a mighty Scots Pine.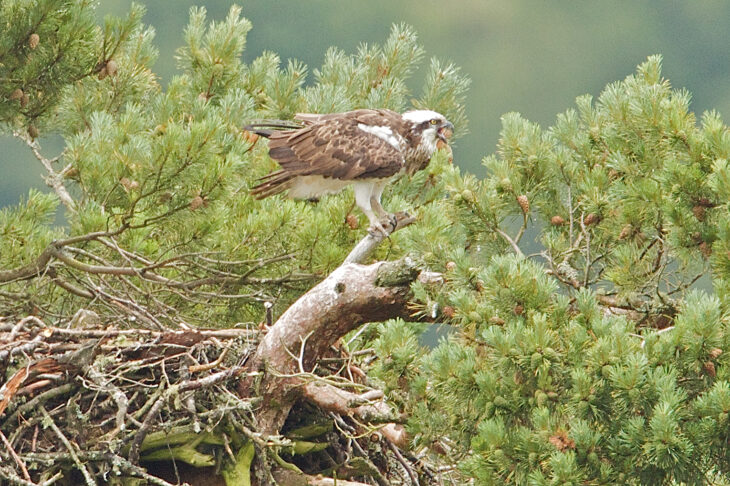 Although she was last seen over 5 years ago ( 4th August 2014), our most famous female osprey 'Lady' continues to be remembered by visitors coming to Lowes.  A whole interpretation board in the Visitor Centre is dedicated specifically to Lady's Timeline at Loch of the Lowes. During the 24 years she chose to nest here she laid 72 eggs, from which 50 healthy young chicks fledged successfully and left on migration.  What a splendid contribution to her species! During her breeding life Lady had 4 mates, and the last one, LM12, continues to return to Lowes (2019).
Will LM12 return for a 6th season with LF15 (his new mate since Lady)? The arrival dates have been getting earlier each Spring, so will LM12 make a new record and land on the nest before his 'earliest ever' on 15th March in 2019? Or will LF15 come first this year (she arrived 23rd March 2019)?
Looking forward to 2020
The start of a new decade!  After a quieter, restorative period in mid-winter, the Lowes Team will return re-energised for the challenges ahead.  In 2019 we saw awareness spread around the globe of the effects of the Climate Crisis, pollution and habitat and biodiversity loss.  It doesn't have to be like this. We hear the bad news of fires, flooding and wildlife driven to extinction, but please remember there is positive news too.  We know what has to be done to mitigate the effects. Man is a clever, resourceful species and many brilliant minds are focused on solutions.
We must just keep up the pressure for action to back up the words of politicians and corporations. We can all make changes in our lifestyles. No-one is too small to make a difference: every personal choice to recycle, repair and reuse is vital, along with switching to renewable energy in our homes. There is still time, as Jane Goodall and David Attenborough (and hundreds of others) are stating, but we must act now.
We have a beautiful planet, let's take care of it.
We hope this finds you as warm and well fed as the red squirrel below and wish everyone a very Happy Hogmanay and 2020!
Cherry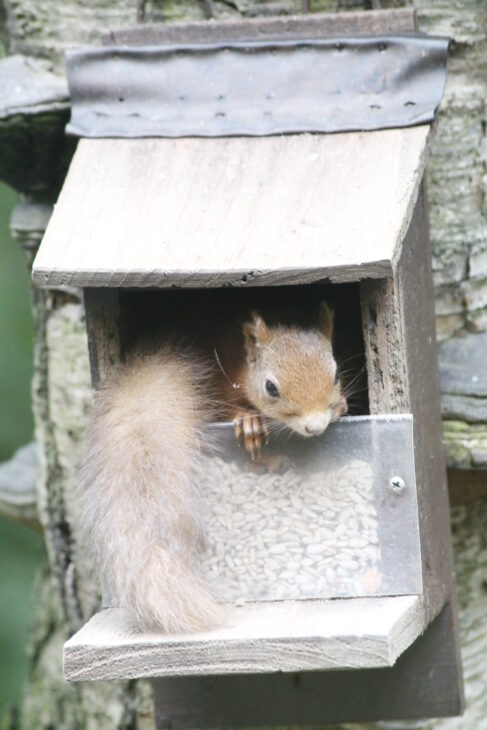 Help protect Scotland's wildlife
Our work to save Scotland's wildlife is made possible thanks to the generosity of our members and supporters.
Join today from just £3 a month to help protect the species you love.
---
Preface
As 2019 draws to a close, we look back on successfully celebrating our 50th Anniversary at Loch of the Lowes. Over the last twelve months we shared our history in …