Fifty Years of Volunteer Support at Loch of the Lowes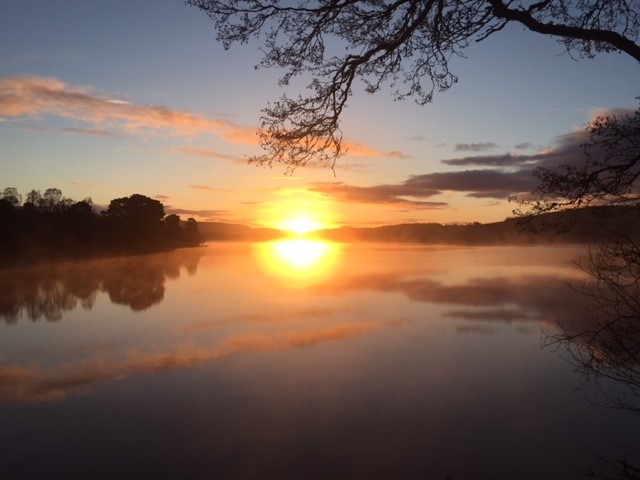 Volunteering at Loch of the Lowes covers a wide and varied choice of roles. In the early years, 1970s-1990s, nearly all the work was carried out by volunteers, guided by a Volunteer Committee. Nowadays, we have a small team (3) of core staff at Lowes and truly appreciate the dedication of our wide range of volunteers.
In the Visitor Centre they assist us in the shop, manning the Till, informing the public of our projects, answering multiple questions, welcoming coach parties and running events – and, of course, the everyday, gritty, 'has to be done' hoovering, washing up, cleaning etc!
There are also those who lend their carpentry/outdoor skills to keep on top of repairs and maintenance of the buildings, continuing the good work of the late Jeff Anderton, 'handyman extraordinaire'. Deep friendships are formed through a shared interest in protecting our natural world and we come together in regular social evenings. Inevitably, as the years roll on, we lose members of our 'community'. Most recently Ruth Anderson passed away; a regular volunteer and supporter of Lowes for over 25 years.
During our 50th Anniversary year we have looked back to archives to see reports and photos of past volunteers sharing the same care and passion for Loch of the Lowes as those of today.
The photo below: a gathering of Lowes' volunteers and staff June 2019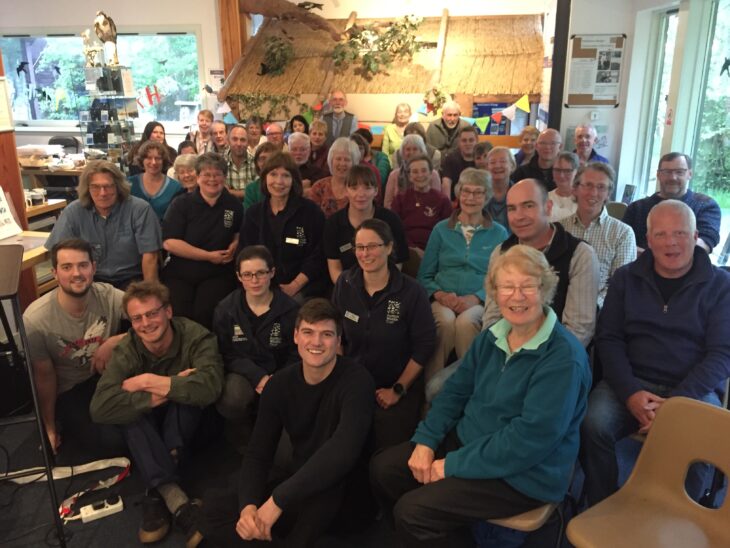 A few words from current volunteers
Vicki (Hide Guide/Osprey Watch): "I think what's so lovely about Lowes is that everyone wants to be here. It's such a friendly atmosphere, where there is time to learn about and enjoy wildlife and share experiences. I find it so rewarding, gaining knowledge every day in such a beautiful place."
Albie Sinclair (Osprey Watch/Visitor Centre) "It's good to play a small part in helping Scotland's wildlife survive and I also enjoy talking to the public about the work of the Trust and the challenges facing wildlife."
Before volunteering, Brian and Carolyn Taylor were regular visitors to the reserve and followed the Lowes ospreys on the webcam. They have now worked with us for many years, once a week, every week. From his mountaineering background it gives Brian "the chance to work with dedicated and knowledgeable staff and volunteers, and to deploy my knowledge purposefully" in the role of Hide Guide. "Lowes has a diverse array of wildlife, so I've had many memorable moments. One which comes immediately to mind is watching a female goosander showing her chicks how to dive under the water. She sat facing them, as they sat in a semi-circle, then dived under the water. Then, it was their turn: she gave a brisk nod of her head, and this was their cue to dive, in unison. She repeated this several times. It was great to see the youngsters successfully put their training into operation over the summer."
Carolyn volunteers in the Visitor Centre and both take part in Osprey Watch (protecting the osprey eggs throughout incubation) "The sheer beauty of the Loch, and the peace and tranquillity that anyone who visits the hides feels as they sit looking over it, is far better than any medicine for anyone who feels in need of solace and peace in a troubled world." Of her time in the hides she recalls, 'I was thrilled to see a beaver swim across the loch one Sunday afternoon to feed (audibly) on pond weed right beside the double hide. A magical moment!" In her Visitor Centre assistant role, "The viewing window is an absolute magnet for photographers hoping to get a 'wow-factor' shot of a rare bird, or of one of our beautiful red squirrels sitting obligingly still as they feed on the peanuts."
Lindsay Easton (Osprey Watch): "I was first at Lowes in '70, a star-struck teenager, breathlessly excited to be near Ospreys …didn't see one… but for logistical reasons, I volunteered at Garten, not at Lowes, until, some lifetimes later, I lived in Coupar Angus in the '90s and was able to come occasionally, as I still do . . . the best thing the Ospreys and those who protected them have achieved is the contribution to the change in public attitudes towards wildlife. We are lucky that the rarity George Waterston & Co found was so striking, so big, so easy to see and so, so dramatic with its diving. One wonders if, had it not been an Osprey but some obscure invertebrate that they found would we today have Sea Eagles and Kites, so many Peregrine and Buzzards, and so on? Of course, protecting and developing Ospreys helps obscure invertebrates into the bargain, but I doubt if it would have been so successful the other way around."
Alwyn Ferguson (Hide Guide/Visitor Centre and Osprey Watch): "Lowes means tranquillity, beauty, solitude, fresh air, feeling alive, a connection with nature, excitement, friendships, laughter and Ospreys!" Read her account of being a guide in the hide from 2017.
Friendships are formed while volunteering and there will be many reading this who knew the late Dennis Buchan (once met, never forgotten) whose natural humour, rib achingly funny stories and deep attachment to 'all things countryside' made him very popular with visitors and the Lowes' team. Several people shared memorable moments with Dennis, as Alwyn describes a "best moment – sitting on a winter's day in the upper hide with Dennis as he explained to me how to tell a tufted duck and a golden eye apart from hundreds of metres away!"
Sue (Visitor Centre) "I love meeting the visitors. You just never know who will walk through the door. We see so many different nationalities, all ages, all walks of life and with their own news, views and experiences to share."
For the last 8 years, a stream of Duke of Edinburgh Award students, 14-17 years olds, have worked on their Volunteering section at Loch of the Lowes. As well as learning about wildlife, they give a welcome hand with office admin, cleaning, painting fences, washing windows, helping on our stalls at the local Highland Games and the annual Dunkeld Santa Day.
Freya (Duke of Edinburgh Bronze Award) at Birnam Highland Games.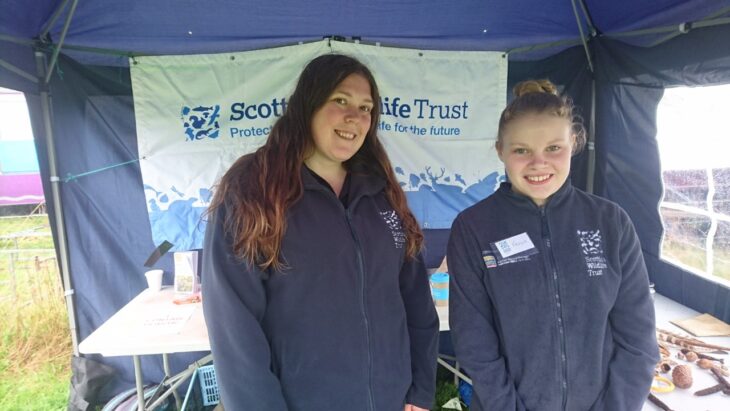 We have a Bothy on site to accommodate up to 4 volunteer residential rangers who carry out conservation work on Lowes and other Scottish Wildlife Trust reserves led by Raz, our Perthshire Ranger. Between early April and May we have Osprey Watch, a 24/7 project when the ranger team are ably supported by a large band of volunteers to guard the osprey nest against man-made disturbance or theft of the eggs. This can provide idyllic moments of watching crimson sun rises, crepuscular wildlife and views of ospreys sky-dancing, or a battle to keep from freezing in late Spring snow storms!
Janice describes her role on Osprey Watch Being on Osprey Watch
Loch of the Lowes has been cared for by the Scottish Wildlife Trust for the last 50 years and we look forward to the next 50 years and beyond. There will be serious challenges ahead but there will always be new generations of staff and volunteers to protect and care for it, allowing it to do what it does so well; provide a safe, healthy home for our glorious Scottish wildlife.
Cherry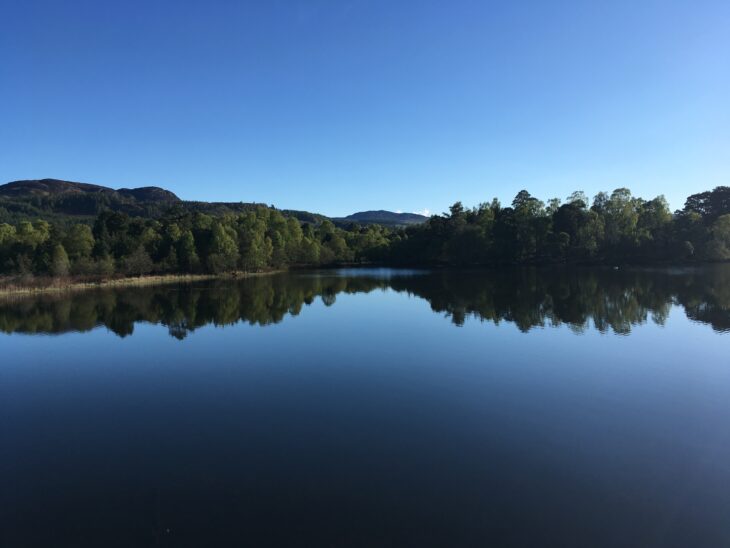 Help protect Scotland's wildlife
Our work to save Scotland's wildlife is made possible thanks to the generosity of our members and supporters.
Join today from just £3 a month to help protect the species you love.
---
Preface
Volunteering at Loch of the Lowes covers a wide and varied choice of roles. In the early years, 1970s-1990s, nearly all the work was carried out by volunteers, guided by …