A little break while volunteering
Scotland, what a wonderful country! I always find ways to be amazed by this country, people and landscapes.
I've been volunteering with the Scottish Wildlife Trust for six months now through the European Voluntary Services (EVS). I have walked, observed and learned about the different natural reserves of Scotland in the Dundee area, passing through the scenery of the country side and cities. With my work, I have learned so much about wildlife's preservation and conservation habitats in many ways. It has truly been an inspiring time.
It isn't all work though, we are given time off to explore and myself and Camille Mongis (also an EVS of Dundee's project), wanted to take full advantage of this and discover more about Scotland. Therefore, we decided to take two weeks to travel by bike around the Western Hebrides, the Highland coast and finish on Orkney.
September is actually a really nice month to travel and sleep in a tent! We started at Oban with a five-hour ferry to reach Barra. It was the beginning of an adventure! We were welcomed to an untouched beach brightened by an unbelievable sunset.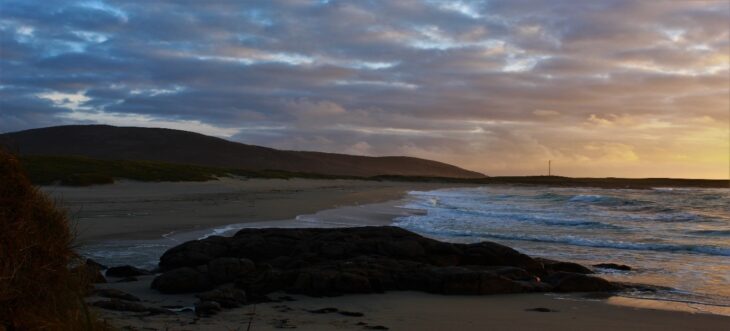 Throughout our journey, we've been amazed by these scenery's, even while people told us about the beauty of secluded beaches (sandy or shingly), the secret creeks and especially the mountains. Each vista was always more beautiful every time.
Indeed, on Harris, two gorgeous mountains (well felt like they were when cycling them) stand on the middle of the island. I guess the constantly patchy fog is part of these big hills which really add some mystery. Riding down through the valley with gentle streams finishing in a loch surrounded by mountains was really splendid!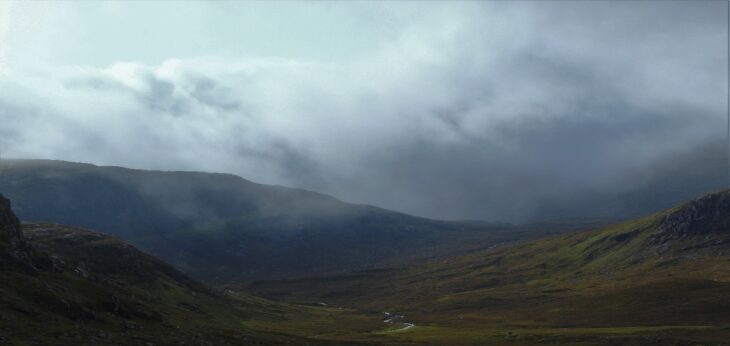 One of the most remarkable things about Scotland is that wild camping is totally legal. As long as you leave no trace you can pretty much sleep anywhere. When you travel you meet local people, you immerse yourself in lores, traditional wisdom and their way of thinking. You also meet other travelers who have the same idea and you can end up swapping tips about hidden places. In Ullapool, someone recommended that we take the bus to Lochinver and cycle part of the route 500.
All along we've been riding in hills, up and down until Bettyhill. On this route from the clifftops we could see the clear water changing with the weather. The well-known North West Highland Geopark offers different widespread geological formation. It was really interesting to see the difference between The Foreland, Lewisian Gneiss (which at about 3 billion years is the oldest rock in Britain), through the Durness Limestone to the Northern Moine Thrust Belt.
In Shapinsay, one of the Orkney Islands, a Scottish Wildlife Trust reserve (Holm of Burghlee) is the sanctuary of endemic wildlife species like Heather, Calluna vulgaris as well as Lichens, Melaspelea interjecta, growing on a 5000 year old standing stone.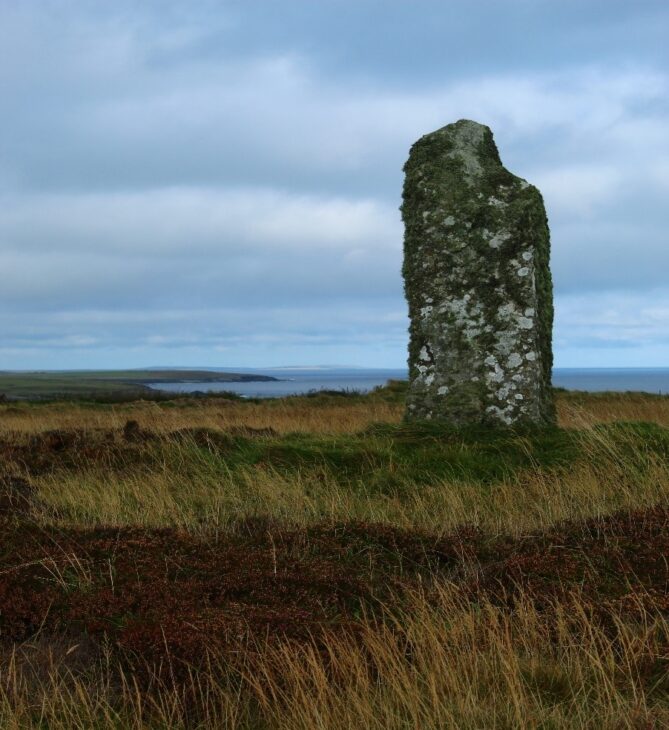 Through my volunteer placement I was lucky enough to embark on this remarkable adventure and discover a different Scotland, and I continue to be amazed by the history, wildlife, landscapes and people of this wonderful land.
By Aurélien Dumas-Roussel, European Voluntary Service Volunteer with Duncan Budge, Reserves Project Officer in Dundee

Help protect Scotland's wildlife
Our work to save Scotland's wildlife is made possible thanks to the generosity of our members and supporters.
Join today from just £3 a month to help protect the species you love.
---
Preface
Scotland, what a wonderful country! I always find ways to be amazed by this country, people and landscapes. I've been volunteering with the Scottish Wildlife Trust for six months now …