Wild Lives – guest blog by Claire Hubbard
Illustrator and designer Claire Hubbard completed a month-long residency at Rahoy Hills Wildlife Reserve in March 2019, in partnership with Ardtornish Estate. She reflects on the experience in this guest blog.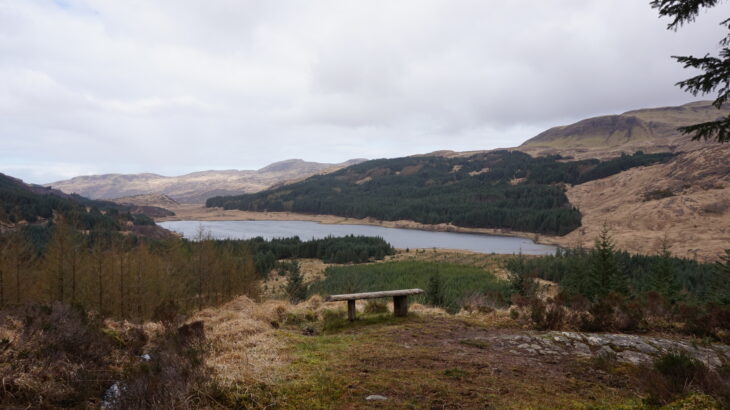 On the first day of my residency at Rahoy Hills Wildlife Reserve, I had driven 160 miles from Edinburgh to Morvern in a hire car packed full with my computer, art supplies and zoological reference books. Initially relieved that I had survived both the rush hour motorway traffic at the start of the journey, and the high-altitude single track roads at the end, the glory of my new surroundings began to sink in. The untamed landscape, vast lochs and inviting woodland made me feel like I had arrived on a different planet.
However apprehensive I was about spending a whole month with patchy mobile reception and no WiFi, I knew the residency was just what I needed: my usual routine had become far too busy and left me with very little time or headspace to create new work. This was an opportunity to reset myself creatively in a more natural space.
During my first outing into the reserve with the Rahoy Ranger Steve Hardy, we spotted a white-tailed sea eagle, a common toad and a stag. Over the next few weeks, we returned to various parts of the reserve to spy on golden eagles, inspect badger setts and discuss conservation.
It really is easy to forget how peaceful and therapeutic a stint in the wilderness can be; the sense of achievement felt after ascending a hill, the sound of traffic replaced by the squelch of marshland underfoot; and the complete lack of phone signal blocking all notifications. It put me in a wonderfully different place, mentally as well as physically, than I was accustomed to.
My thoughts turned to the resident mammals, insects, birds and reptiles, all playing their part in a complex ecosystem founded upon ancient geological formations and untamed plants. I considered what it was like to be born, eat, sleep, hunt and survive here. There were unfathomable differences – how a pipistrelle bat detects its prey using echolocation is totally alien to us; and striking similarities – the single-purpose "rooms" that a mole constructs in its burrow are a bit more relatable. I was surrounded by fascinating creatures who lived their lives in different but surprisingly similar ways to me, and I was inspired to explore that further.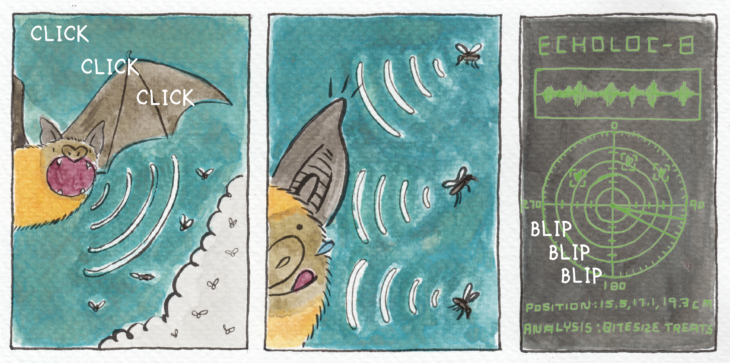 I was adamant that my time spent in Rahoy Hills resulted in something that could educate others on the importance of wildlife conservation. I also wanted to tell stories, because by giving people a brief insight into these animals' lives on an individual level I believed I could deliver a greater understanding of our country's native animals and encourage a desire to help protect them.
I also wanted my work to be welcoming and accessible to all – young people and children in particular, and those who might not consider themselves art or nature lovers. For these reasons I knew that comics, as an engaging visual method of storytelling that spans age groups and interests, was the perfect medium.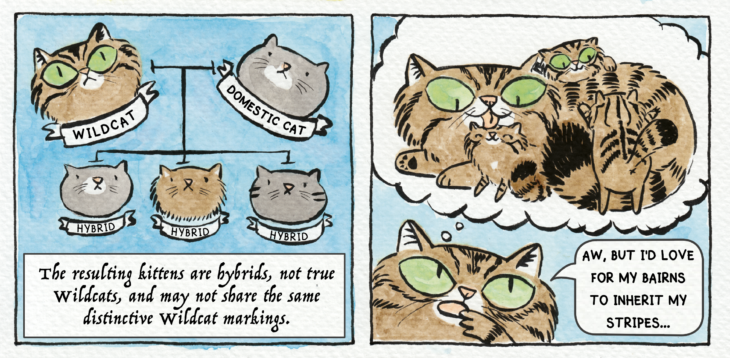 During the course of the residency I began to write and illustrate Wild Lives – a book of six short comics based on the animals native to the area, ranging from the common mole to the much rarer Scottish wildcat. Some of the stories are light-hearted and heavily embellished (what if an otter hosted a cooking show?) – and some are more factual, touching upon serious issues such as the ecological effects of the extirpation of the grey wolf.
The book aims to educate and entertain, and hopefully inspire readers of all ages to take some time to explore and appreciate the wilderness that's on our doorstep and beyond.
Claire Hubbard's book Wild Lives is in development and due to launch on Kickstarter.com in Autumn 2019, where you can pre-order a copy. For updates please visit her website or follow @emseeitch on Instagram.
Help protect Scotland's wildlife
Our work to save Scotland's wildlife is made possible thanks to the generosity of our members and supporters.
Join today from just £3 a month to help protect the species you love.
---
Preface
Illustrator and designer Claire Hubbard completed a month-long residency at Rahoy Hills Wildlife Reserve in March 2019, in partnership with Ardtornish Estate. She reflects on the experience in this guest …