Are hatcheries the future for Scotland's lobster stocks?
In this guest blog article, Lesley Scott from the Firth of Forth Lobster Hatchery explains how this innovative project is working to help conserve local stocks.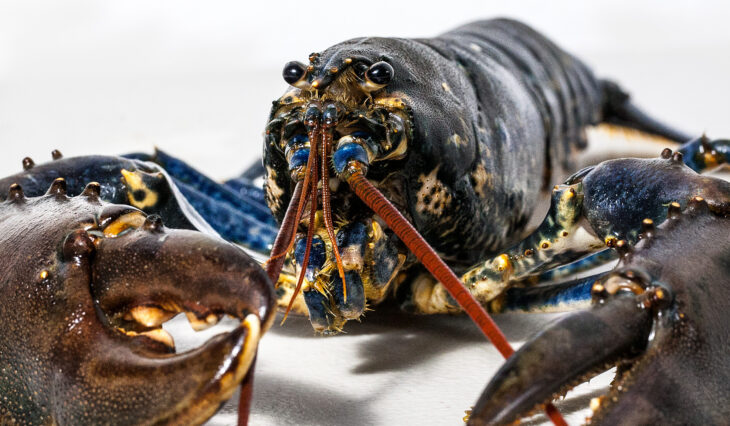 European lobster stocks across the UK are being fully exploited and are at risk of collapse. This is something the Firth of Forth Lobster Hatchery wants to change through its captive breeding programme. Since 2009, our hatchery based in North Berwick has been working to increase the numbers of lobsters in the Firth to support local fisheries and marine ecosystems. Tens of thousands of juveniles have been released through our work.
Why a lobster hatchery?
Lobster fisheries are important to local economies and in particular, inshore fishermen, across Scotland. European lobster landings have been increasing over the years (from 290 tonnes in 2001 to 1.2 thousand tonnes in 2017) but in terms of landings in Scottish waters, it is still a relatively small fishery. Despite this, the species is of very high value, making it disproportionately important to local fishing communities and some coastal economies.
As well as having social and economic importance, lobsters fulfil ecological roles in marine ecosystems including transfer of energy and materials through the food web and maintenance of healthy and biodiverse marine ecosystem, which makes it important for us to ensure the future of this species.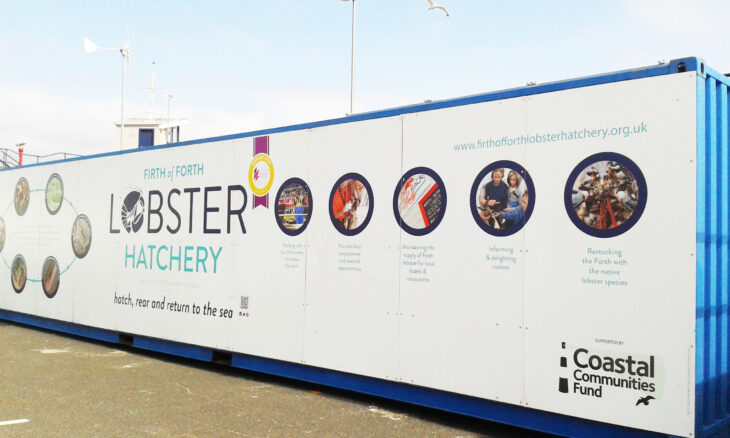 However, Marine Scotland's most recent review of the stock demonstrated that lobsters across Scotland were being fished at an unsustainable level. A good way in which to restore wild populations can be through the establishment of hatcheries. Captive rearing and reintroduction of lobsters have been shown to be valuable mechanisms for increasing lobster populations, therefore contributing to making the local fishery more sustainable in the long-term.
Scientific data on lobster life histories is limited and patchy making it hard to understand current populations and predict responses to change in the future. Nevertheless, being based at North Berwick harbour we can see that lobster physiology, phenology and seasonality is changing.
This uncertainty around the health of the local lobster populations was the main reason for starting the Firth of Forth Lobster Hatchery, as it is a tool that can be used to recover stocks and increase the sustainability of lobster fisheries. The Hatchery acts as an insurance policy and as a long-term investment into sustainable lobster fishing as the hatchery provides a mechanism to replenish diminished stocks, therefore allowing fishing activities to continue and to help keep local marine ecosystems healthy.
The Hatchery Process – Hatch, Rear, Release
The Firth of Forth Lobster Hatchery at North Berwick Harbour is an integral part of ensuring the local fishery is socially, economically and environmentally sustainable. The Hatchery works to educate people about our lobsters (and marine life) and to prevent stock collapse in the local fishery by hatching, rearing and returning lobster juveniles to the sea.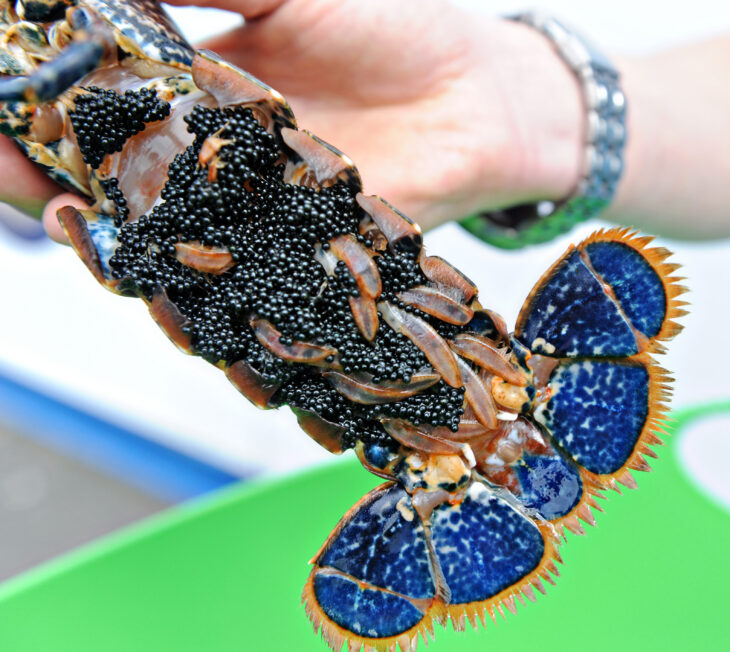 Step 1 Finding the females – Lobster fishermen donate and sell the females with eggs (called berried hens) to the Hatchery during the summer season. The males caught by fishermen go to local seafood restaurants (including the Lobster Shack in the harbour) making a high protein, low carbon footprint seafood more accessible to the general public.
Step 2 Spawning – When the female spawns, thousands of larvae hatch each night, which are transferred into a series of 16 incubation tubs that separate the individuals (to deter cannibalistic tendencies!). At this stage in the wild, the juveniles would be most vulnerable to predation, but in the hatchery they are protected until they have a better chance at sea. The juveniles are about 250 times more likely to survive and reach a catchable size in captivity.
Step 3 V notching – The female is marked with a V notch for identification and returned to sea for further breeding. If a fishermen catches a marked hen (identifiable by the V notch), she will be put back in the Firth.
Step 4 Rearing the juveniles – Juveniles are fed a high protein diet of krill or frozen copepods up to four times a day. Whilst at the hatchery, they go through several moults until they reach a stage where they look more like the benthic adult lobster and start to behave like one by stopping free swimming. These newly moulted lobster-looking juveniles are transferred to our specially designed aquahives, essentially multi-storey blocks where each juvenile has its own apartment, until their release.
Step 5 Release – We then release the juveniles at stage 4 into the local waters either by scuba diving, or from the shore on an ebbing tide of the Firth of Forth. Since 2015, the Firth Lobster Hatchery has released over 25,000 juveniles to supplement the wild stock.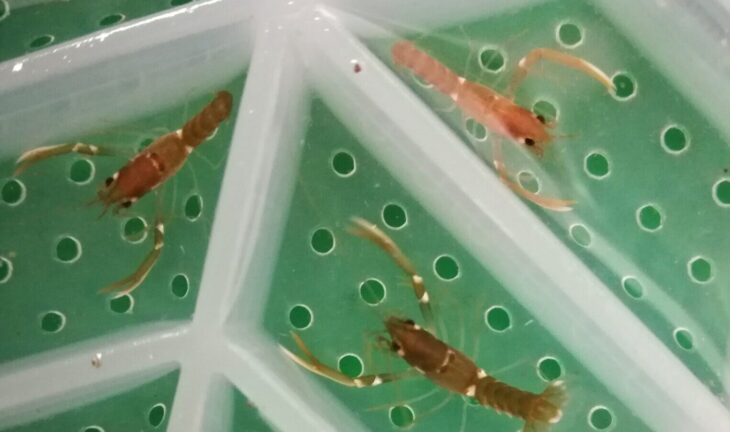 Keeping the Hatchery going
Looking after lobsters isn't like keeping fish in water! Finely balanced aquaculture systems need to be tested and monitored to keep the conditions right for the residents! Our trained staff and annual interns (usually marine biology students) undertake this work throughout the summer. We welcome interns each season (this summer from Le Cnam-Intechmer in France) to get unique and invaluable hands-on experience at the Hatchery
Visiting the Hatchery
We welcome thousands of visitors each summer, who come to see the lobster larvae or to gets hands-on by helping us to return female lobsters back to sea. We also provide educational talks to a variety of people on the Hatchery from the science behind it, right through to the social implications of our work.
What next?
Hatcheries can be important tools for the restoration of lobster populations, which in turn can support marine ecosystems and local fisheries. We rely on members of the public and interested individuals to keep running, so please do come and visit to hear more about our work! We're always keen to hear from you and answer any of your questions whether you're a student or a like-minded individual who'd also like to set up a hatchery.
If you'd like to support us or get in touch, please do! You can read more about the Firth of Forth Lobster Hatchery on our website firthofforthlobsterhatchery.org.uk or contact us by emailing info@firthofforthlobsterhatchery.org.uk
Help protect Scotland's wildlife
Our work to save Scotland's wildlife is made possible thanks to the generosity of our members and supporters.
Join today from just £3 a month to help protect the species you love.
---
Preface
In this guest blog article, Lesley Scott from the Firth of Forth Lobster Hatchery explains how this innovative project is working to help conserve local stocks. European lobster stocks across …