Ranger Round-Up; Invasives, Thunderstorms and Poldark!
No two days in the life of an assistant ranger are the same. Each day throws something new at us which means it never gets boring! We've spent a lot of time at the Tummel Shingle Island reserves working against the clock to control invasive species before they seed.
The first task was to control the encroaching lupin which is threatening to stabilise the unique and dynamic shingle banks. Dead heading the flowers and digging up the fully grown plants in the shingle was manageable, but still tough work. Thankfully we had some help from the public on a couple of our open conservation days which was greatly appreciated.
More recently we've been tackling Himalayan Balsam, again working to try and pull out all the plants before the seed pods explode and spread throughout the reserve and downstream. We've been successful in clearing some big pockets, again with help from local volunteers.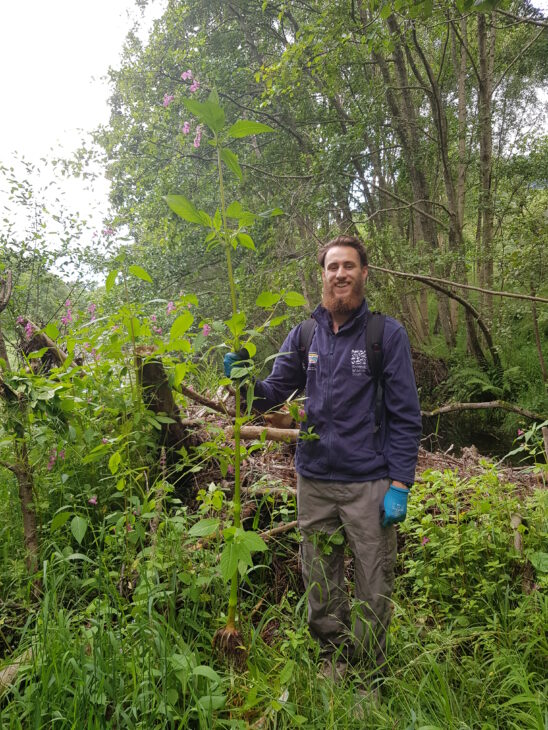 Along with invasive species we've also been tackling bracken on the wildflower meadow at Keltneyburn and in the woodland of Balnaguard Glen, where we had help from a corporate group from SSE. With Bracken we're playing the long game, each year it grows and each year it gets cut back. By continually cutting the plant year after year when it is growing vigorously the bracken roots become weaker and weaker, until the plant eventually fails to grow again. At Keltneyburn we're doing this to make sure the bracken doesn't overrun the wildflower meadow, whilst at Balnaguard removing the plant allows light to reach the forest floor encouraging trees and juniper to regenerate.
Last Wednesday we had a day with the John Muir Trust at the foot of Schiehallion, part of the Heart of Scotland project, of which the Scottish Wildlife Trust is a member. We had a go with a couple of Austrian scythes again for knocking back bracken, which made an interesting change to our usual grass hooks. It was super fun and we felt like Poldark for the day!
We also learnt how to survey tree plots and record data that will enable the value of timber and composition of the woodland to be calculated. Fortunately, we finished up for the day just in time before another thunderstorm rolled in.
This month has also been great for our identification skills. We've learnt so much as we've been round the reserves. Many tasks have taken longer than expected due to us stopping to ID and take pictures of interesting plants and butterflies.
We're looking forward to the next couple of months- keep an eye out for our regular ranger round-ups!
The Assistant Ranger Team
Help protect Scotland's wildlife
Our work to save Scotland's wildlife is made possible thanks to the generosity of our members and supporters.
Join today from just £3 a month to help protect the species you love.
---
Preface
No two days in the life of an assistant ranger are the same. Each day throws something new at us which means it never gets boring! We've spent a lot …