Basking on the west coast
The west coast of Scotland is a magnificent and visually spectacular region. Marine vistas, rugged cliffs and coastal landscapes give a sense of awe, inspiration and excitement to those fortunate enough to spend time there.
Key to the beauty of Scotland's seascapes is its diversity of marine wildlife. With skyscraper high colonies of seabirds, as well as the chance of seeing orcas, white-tailed eagles and minke whales, it's no wonder that many wildlife enthusiasts place Scotland on their bucket list.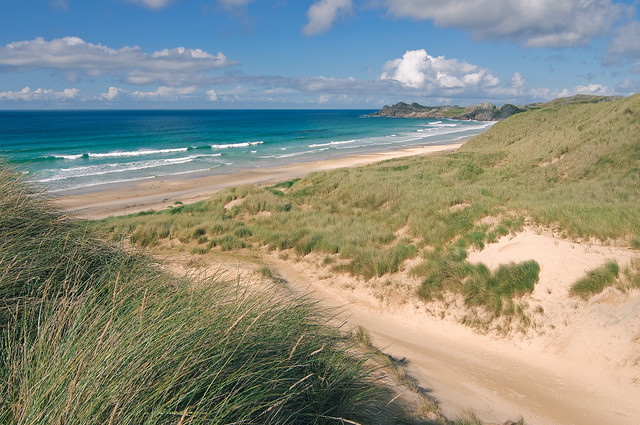 Among Scotland's diverse catalogue of marine life, there is one species that stands out from the others due to its sheer size: the basking shark. These often-overlooked seasonal visitors are true ocean giants that measure in as the world's second largest fish. Every summer, they congregate in Scottish waters in their hundreds to enjoy the plentiful supply of plankton that proliferates on the west coast. But despite their annual visits to Scotland, we know surprisingly little about the lives of basking sharks.
Sighting and tracking data collected by the Hebridean Whale and Dolphin Trust and Marine Conservation Society (among others) clearly show that the Sea of the Hebrides – in particular the waters around Arran, Coll and Tiree – is an important area for basking sharks. Many of these sharks make the long voyage from the warm waters off the Azores and Canaries every year, highlighting the importance of Scottish waters to them.
In the past, basking sharks were hunted in Scotland primarily for the oil in their livers, but also for meat, cartilage and fins. The industry peaked in 1947, when 250 sharks were landed. However, the number of landed sharks began to decline until its end in 1994 due to a scarcity of shoaling sharks and the emergence of other sources of oil.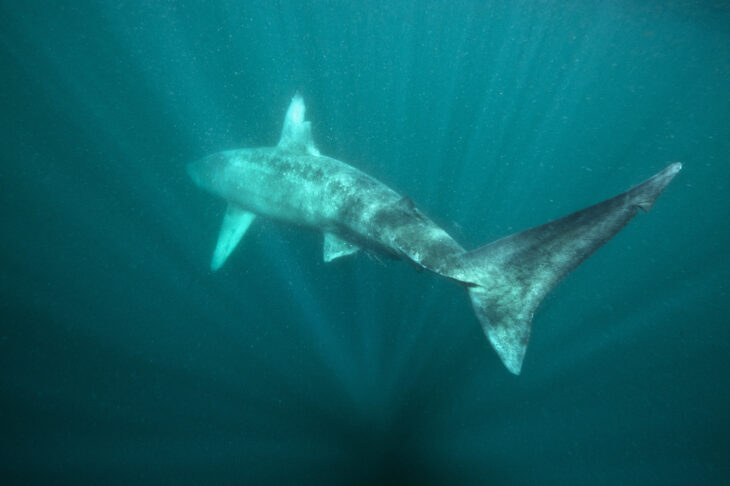 As a result of the significant decline in numbers, basking sharks are classified as 'vulnerable' on the IUCN Red List. Since 1998, basking sharks have been fully protected under the Wildlife and Countryside Act and are also recognised as a 'Priority Marine Feature', meaning that they are considered to be of conservation importance. Because of their low numbers and their vulnerable status, it is vital that efforts are made to ensure basking sharks are protected when they visit Scottish waters.
Basking sharks only visit Scottish waters for a few months during the summer, when the waters are warmer, yet while here they are exposed to a number of threats. Entanglement in fishing gear, boat strikes, harassment from recreational and wildlife-watching vessels, and bycatch are just some of the known pressures. To provide basking sharks with meaningful protection, it is imperative that measures are put in place to relieve these threats.
In recognition of the concerning conservation status of basking sharks and the importance of Scotland's west coast in their life cycle, the Scottish Government have recently launched a consultation on four new Marine Protected Areas (MPAs) which would protect some large mobile species such as minke whales, Risso's dolphins and indeed basking sharks.
The designation of these four MPAs, along with the necessary management measures, would not only reinforce Scotland's commitment to improving the health of its seas by expanding the current network of MPAs, but would also provide the required mechanism for ensuring these large mobile species are adequately protected.
The Trust, along with many other environmental NGOs, has been advocating for these four new MPAs for over five years so the current consultation is most welcome news, but there is still more to be done. In partnership with the Marine Conservation Society, the Trust has launched a campaign to build public support for the designation of these MPAs.
Show your support by 31 August 2019 by taking another two minutes and visiting baskingsharkmpa.co.uk
Sam Collin
Living Seas Planning Manager
Help protect Scotland's wildlife
Our work to save Scotland's wildlife is made possible thanks to the generosity of our members and supporters.
Join today from just £3 a month to help protect the species you love.
---
Preface
The west coast of Scotland is a magnificent and visually spectacular region. Marine vistas, rugged cliffs and coastal landscapes give a sense of awe, inspiration and excitement to those fortunate …