Grey wagtails, Motacilla cinerea, are a daily sight here at Falls of Clyde.
They are more colourful that their name suggests, with distinctive lemon yellow belly and underparts, to contrast with their slate grey head and wings.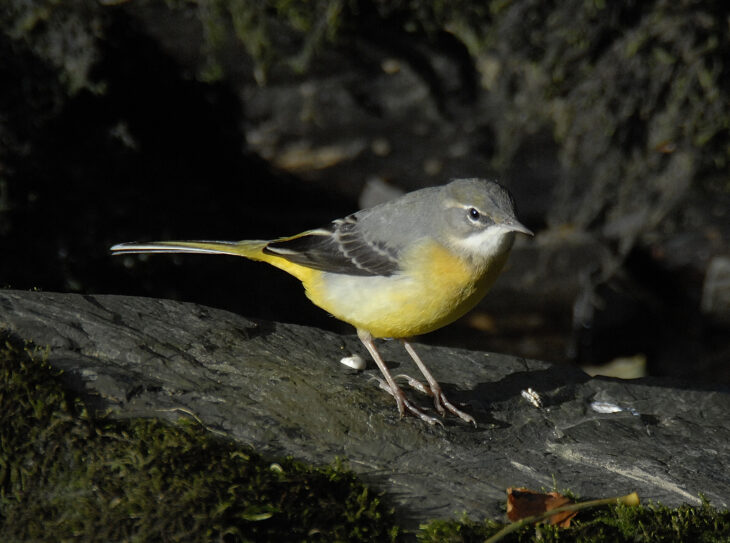 Grey wagtail female © Steve Waterhouse, @Olesnapper
They are resident throughout most of the UK, preferring fast flowing upland rivers in summer, moving to lowland streams in the winter.
They mainly eat flying invertebrates found around the waterways, but may also eat tadpoles and snails. If you spend some time watching them you will notice not only do they walk along picking their prey off the ground, but they also fly acrobatically, zig-zagging to pluck them out of the air and using their long tails to act as a rudder.
When standing or walking about they display a characteristic tail wagging behaviour, as can be seen in the following video.
There are a number of theories as to why all three species of wagtails we have in the UK (the others being pied, Motacilla alba, and yellow, Motacilla flava) and in fact other animals exhibit a similar type of movement. Moorhen, Gallinula chloropus, also flick their tails and dippers, Cinclus cinclus, have their habitual bobbing and tail movements.
One theory is that the wagging tail helps to flush out insects. As wagtails wag their tails when preening, this would not seem like a likely function.
It is thought that the tail wagging may have a social function with individuals signalling to potential mates about the quality of their condition. However, as all ages and genders exhibit this behaviour and it does not appear to alter with differing interactions, again, this would not seem a likely function of tail wagging.
A third theory is that tail wagging is a signal to potential predators to signify their vigilance level, saying that "there is no point chasing me. I am alert and you can't catch me!" There are a number of studies supporting this hypothesis in other animals, as they reveal that tail movement frequency increases with the presence of predators. So it would be sensible to assume that this would also be the function of the wagtail's wagging.
Perhaps next time you are out watching wagtails, you could try out some citizen science, counting their tail wags and see if it does indeed increase when predators or even people approach.
Dipper watches are starting soon at Falls of Clyde. This is a free drop-in event, 12:00-16:00, running on Saturdays and Sundays from 29 June to 11 August: People's Postcode Lottery dipper watches. Come and find us next to the river and we can do some counting together!
Clare Toner, Clyde Valley Ranger
Help protect Scotland's wildlife
Our work to save Scotland's wildlife is made possible thanks to the generosity of our members and supporters.
Join today from just £3 a month to help protect the species you love.
---
Preface
Grey wagtails, Motacilla cinerea, are a daily sight here at Falls of Clyde. They are more colourful that their name suggests, with distinctive lemon yellow belly and underparts, to contrast …