It could be argued that there is no finer sight than an osprey successfully catching a fish.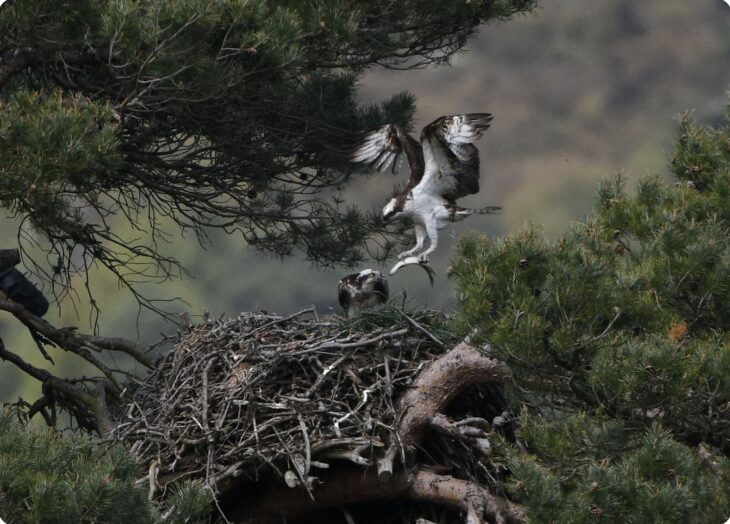 We would love to have seen LM12 catch yesterday's whopping trout, one of the largest he has brought to the nest to date. LF15 knew lunch was on its way a good minute before we saw the male approach, although we could tell he was nearby due to the way the female backed off her chicks and began her persistant begging call.
Sure enough LM12 approached from a high spiral in the sky above the nest, the fish held in the classic osprey style; headfirst, one foot in front of the other. Reversible rear toes and spikey, rough protrusions on the underside of the talons called spicules help prevent the fish from slipping out.
On this occasion LM12 even presented the fish with the head on, a delicacy usually reserved for himself.

LM12 brings in a whopper of a trout for his growing family
The chicks are noticeably growing each day and are now becoming strong enough to shuffle (well maybe 'weeble') their way forwards to get into a better feeding position.

The chicks line up for food – please Mum can we have some more?
If you follow our livestream regularly you will have observed how carefully the female feeds each chick in turn. One moment tearing the fish apart with her sharp beak and the next using it as a precise tool to gently present the food in a position each chick can reach.

The wee chick manoevers into pole position for food
Once each chick has had its fill, indicated not just by a popping belly, but a bulging crop (the expanding muscular gullet pouch), the young osplets collapse in pile to digest. It's hard work growing after all!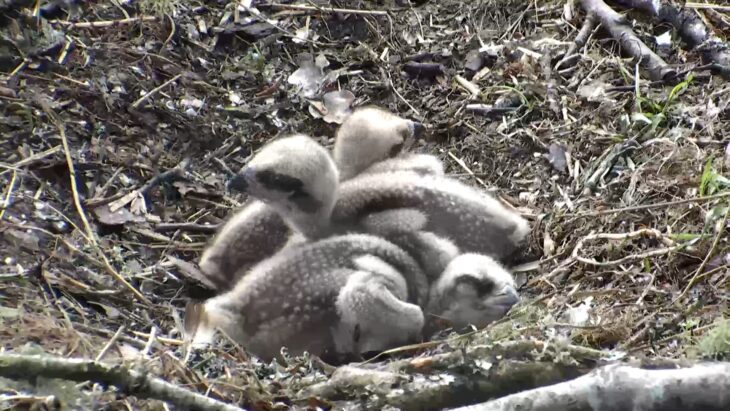 STOP PRESS
We couldn't post this blog without adding this incredible bit of footage of an even bigger and very much alive trout delivered to this nest on Tuesday morning. What a whopper!!
Sara 'Raz' Rasmussen
Perthshire Ranger
Help protect Scotland's wildlife
Our work to save Scotland's wildlife is made possible thanks to the generosity of our members and supporters.
Join today from just £3 a month to help protect the species you love.
---
Preface
It could be argued that there is no finer sight than an osprey successfully catching a fish. We would love to have seen LM12 catch yesterday's whopping trout, one of …