Aerial battles, defensive moves and a crash landing!
It's been a hectic three days at the nest for our breeding pair of ospreys.
As outlined in our previous blog, Friday and Saturday proved to be an intense time for LM12 and LF15, with mutiple ospreys seen in the area, attempted landings on the nest, the dissappearance of the male LM12 for up to 20 hours and the brief return of the prodigal son PH1.
Things have continued in a similar vein throughout the duration of the Bank Holiday weekend. A timeline of key events as they unfolded is outlined below.
Friday 3rd May
+ Skydancing observed of an unidentified bird at first light
+ LM12 last seen 9:44am chasing an intruder bird away from his territory. Possible sighting that evening, but unconfirmed.
Saturday 4th May
+ 5:30am male osprey lands on nest, first thought to be an intruder. On closer inspection the bird appears to be LM12 returning, but miscalculating his approach he lands on LF15's back. He is greeted with a stern admonishment and wing beating. LM12 attempts to move in to incubate, but is driven away with a 'flea in his ear'. As hatching time approaches it is not uncommon for LF15 to become defensive over incubation duties.

LM12 mistimes his approach, landing on LF15's back and recieves a stern telling off!
+ Throughout Saturday there are dozens of intruder incidents, with pairs of ospreys flying together and up to 6 ospreys sighted at one time. LM12 is observed taking on an osprey in a nearby tree. As the number of birds circling and calling increases, more birds are drawn into the area. This phenomenon is often seen on osprey migration stop off points or at regular feeding sites.
LM12 involved in territiorial battle, knocking an intruding osprey off the perch of a nearby failed 'frustration' nest.
+ PH1 (LM12 and LF15's son from 2017) makes a brief landing on the nest. Positive ID of leg ring from hide. Not met with agression from female. Flies off to preen on the favourite nearby 'split birch' perch before leaving the area. Has not been seen since.
+ LM12 returns to the nest in the early afternoon and incubates. Leaves and returns with a fish at 2pm. He eats the head before giving the rest to LF15 at 14:50. As of 17:30 Monday 6th this is the last observed meal for LF15. Female returns to incubate.
Sunday 5th May
+ LM12 puts in a morning appearance on the nest, before taking off. A dominant female osprey makes several aggressive passes over the nest
+ LF15 briefly leaves the nest to chase off the intruding female, but beats a hasty retreat as the bird shows no signs of giving up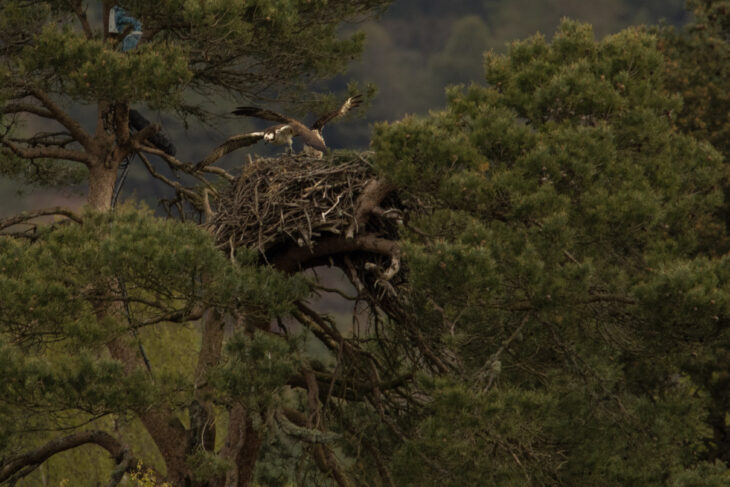 + LM12 not seen for the rest of the day. LF15 begins to make begging calls for food.
Monday 6th May
+ Things appear to be returning to normal. No other osprey intruders sighted. LM12 returns mid-morning to to incubate, allowing the female to stretch her wings and preen for half an hour. He spends time throughout the day on the 'frustration nest' perch also preening and holding the territory. No other sightings of the large female are recorded.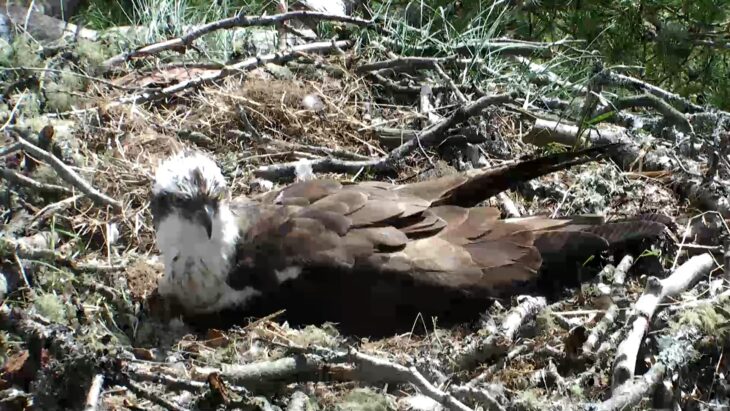 + LM12 flies off mid-afternoon, presumably to hunt.
So peace and quiet seem to have returned to the Loch (for now).
Young birds, or those without territories will regularly try and oust breeding pairs from their nesting sites. This is a test of the strength and dominance of the breeding pair, so it is great to see that they are holding strong, managing to defend their territory and exert their dominance. It also indicates that the osprey population in the area is in fine fettle and that the habitat is condusive to both nesting sites and good hunting grounds.
Whilst it can be emotional to watch these aerial duals, hear the alarm calling of the birds and observe long absences of the male, it is useful to remember that we are but privileged witnesses of normal osprey behaviour.
We will keep you updated as events unfold throughout the week.
Sara 'Raz' Rasmussen
Perthshire Ranger
Help protect Scotland's wildlife
Our work to save Scotland's wildlife is made possible thanks to the generosity of our members and supporters.
Join today from just £3 a month to help protect the species you love.
---
Preface
It's been a hectic three days at the nest for our breeding pair of ospreys. As outlined in our previous blog, Friday and Saturday proved to be an intense time …