Living Cities: The Magnificent Eleven
The Trust's Living Cities publication outlines practical actions that can be taken to embed nature into the urban environment. In this guest blog, Catherine Watt, Secretary of Glasgow Ramblers explains how The Magnificent Eleven, a new walking route through the south side of the city, is creating links for people to explore diverse green spaces.
Origins…
Glasgow is one of the UK's greenest cities. We have a great variety of woodlands, parks and other green spaces to explore in our 'dear green place', but unfortunately opportunities to explore them in a linked way are limited.
In 2008 Gary Linstead, the Countryside Ranger for South Glasgow, came up with the idea for a new walking route. One that would encourage local residents to not just visit their nearby parks, but to then walk further on and 'connect' with other local parks and green spaces.
This route would take people well away from built up areas and traffic, to discover the pleasures of natural woodland, streams and wildlife. It would provide opportunities to experience nature and fresh air, and to maintain healthy walking spaces close to an urban environment.
Our plan was a circular walk that includes three local nature reserves, two city parks, two farms and a Site of Special Scientific Interest.
And as a wee topper, it takes in Glasgow's highest point. From 624 feet above sea level a breath-taking panoramic vista is revealed. You can look down on to all of green Glasgow from west to east, and then to the hills and the mountains beyond.
Just seeing this on the map, we knew this was a walk that had to happen.
Early years…
 Much walking and route finding followed as the Countryside Ranger looked to establish optimal urban walking links in the first half of this walk, then the same for the second half and open green spaces. In the open spaces, desire lines, existing paths where people already walk, have been found and followed.
By 2012 it had become obvious that trying to maintain and take forward an eleven mile walk route was essentially beyond the capacity of one ranger. So the regular walks had to be shelved for a while.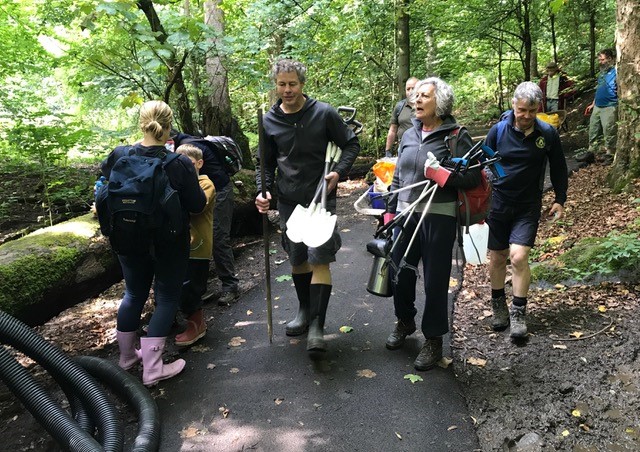 Partnership….
In 2015, Glasgow Ramblers, part of Ramblers Scotland, heard about the route. We asked Gary if we could walk it with him. Our remits dovetailed wonderfully. We both aim to encourage people to walk in a living city, to seek out Glasgow's green spaces, and to enjoy the health and well being benefits this affords.
Notably 'The Magnificent Eleven' sits well within Ramblers Scotland's 'Out There' campaign and its focus to help more people enjoy Scotland's world-class landscapes and access rights.
Soon a partnership was established to take forward the project. Representatives of The Rural Access Committee of Kinross-shire (TRACKS) and Paths For All, both of whom have expertise in developing new paths, were asked to walked the route with us. They both affirmed the route's potential, both for locals and as a route that visitors from further afield could enjoy.
We were underway, albeit in small steps, to map, improve and way-mark the route.
Next steps…
Beyond the hard work provided by volunteers we have limited resources, but the partnership has a determined aim to turn this route into one that Glasgow can be truly proud of. In the last few years, led by our Countryside Ranger and supported by volunteers from a diverse range of groups, we have made a number of major improvements.
A flight of 117 steps leading up onto the Cathkin Braes LNR has been installed and in the SSSI, a further 39 steps leading directly down to the White Cart river. Other enhancements are four new stiles, a short bridge and a float-board walkway. Cutting back overgrowth, opening blocked culverts and clearing path side ditches, is an ongoing task.
In 2019 our target is to way-mark the four sections of the Magnificent Eleven to help people find their way along this beautiful walking route.
Many of the local 'Friends of' groups have been rebuilt and they help contribute to the path. Friends of Linn Park LNR and Carmunnock Heritage Society regularly participate, and soon the Friends of Fernbrae Meadows LNR and Friends of Castlemilk Park will share their own input. Other volunteer days have also included staff of People's Postcode Lottery, The Conservation Volunteers, and most recently, Paths For All, as well as other Ramblers groups.
In all this, we have had fun, both in learning how to safely use loppers, saws and mels to knock in posts, and also spades and mattocks for the art of ditch digging. Mind you, this is all while experiencing the benefits of working outdoors in lovely locations and our Ranger's Kelly Kettle. The only downside being suffering his silly jokes – but then our ranger does spend a lot of time with kids!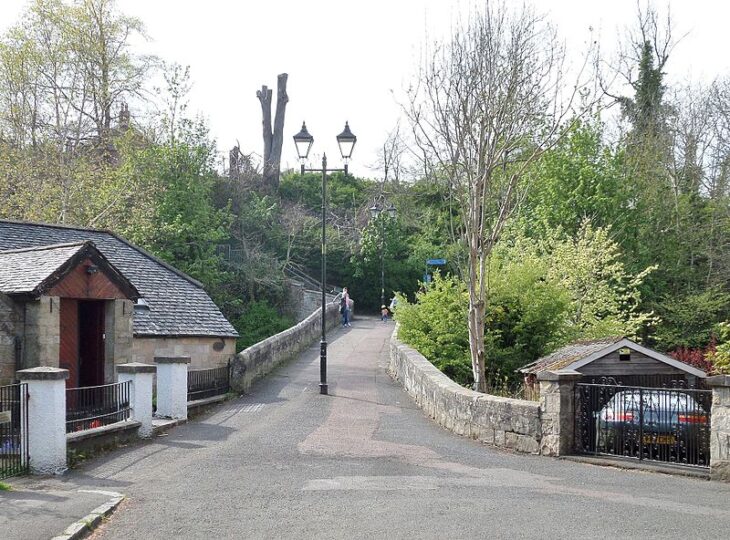 Explore The Magnificent Eleven
The Magnificent Eleven is an 11-mile circular walk that explores some of Glasgow's green spaces and wildlife as no other.
The route is split into four almost equal sections. Each one has ready access at the beginning and end, with a nearby bus link. Full details including maps of the route through our 'living city' are available on the Ramblers website.
Section 1 – Linn Park to King's Park
From Linn Park, the walk follows the White Cart Walkway with its own spectacular linn (Scots for a waterfall) along a wooded gorge walk which is alive with wildlife. The Snuff Mill Bridge, Cathcart Castle and the Court Knowe add some interesting history.
Section 2 – King's Park to Castlemilk
This section leads into King's Park; an altogether more formal park, with large specimen trees. Then across a former golf course, a wildlife corridor and then into the woodlands of Castlemilk Park. This short steep woodland glen and waterfall is a haven for many species of birds, in spring the snowdrops followed by bluebells and wild garlic are a joy.
Section 3 – Castlemilk to CarmunnockThe trail leads up through Fernbrae Meadows onto the Cathkin Braes. Past Queen Mary's Seat wondrous panoramic vista is revealed across Glasgow to the mountains beyond. From here the walk continues through an open expanse of diverse habitats, including the imaginatively titled Big Wood, species rich grasslands and Windlaw Marsh. To the south lies the Scottish Wildlife Trust's Cathkin Marsh Wildlife Reserve.
Section 4 – Carmunnock to Linn Park
The walk continues through Windlaw Farm, to emerge into Carnbooth Park, to enjoy the heifers of Glasgow's famous Pollok Fold of Highland cattle. Passing through farmland the walk drops into woodland, and thenfollows the river through Linn Park to return to the start.
Catherine Watt is secretary of Glasgow Ramblers, part of the Ramblers' Association.
Help protect Scotland's wildlife
Our work to save Scotland's wildlife is made possible thanks to the generosity of our members and supporters.
Join today from just £3 a month to help protect the species you love.
---
Preface
The Trust's Living Cities publication outlines practical actions that can be taken to embed nature into the urban environment. In this guest blog, Catherine Watt, Secretary of Glasgow Ramblers explains how The Magnificent …