Working with nature to produce sustainable food in the Cairngorms
Guest Blog from Lynbreck Croft
Lynbreck Croft is located in the Cairngorms National Park. At 150 acres it's substantially larger than most other crofts but with a mixture of hill ground, woodland, grassland and bog it resembles many other 'marginal land' holdings in Scotland.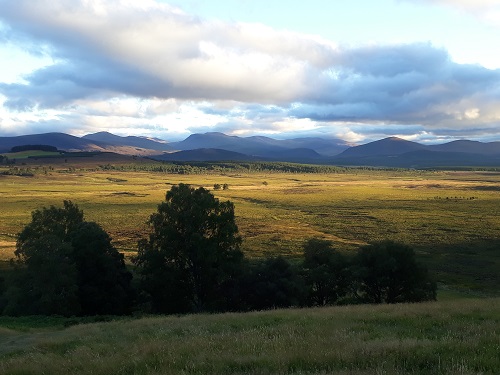 We bought Lynbreck in March 2016 with a vision to live closer to the land and in harmony with our environment. We decided to develop a croft business model based on farming with nature.
Weather extremes are becoming the rule, rather than the exception.
In our short time here, we have become increasingly aware of how our climate is changing. Weather extremes are becoming the rule, rather than the exception. We have experienced acute periods of prolonged rain, snow and drought. We can no longer rely on seasonality averages and norms, we have to plan for the worst allowing us to enjoy the best when it comes.
Incorporating more trees on our croft is the best way for us to 'future proof' our business. We have planted 1km of new native hedging and are expanding our existing woodlands with more trees. For our agricultural business, these much needed 'living barns' are possibly the most valuable resource we have. We're also planning to use trees to provide feed for our animals. With annual hay cuts becoming increasingly difficult to plan and costlier to purchase, we've planted 5,000 trees as part of an agroforestry project where we can feed freshly cut branches and dry others to make tree hay for the winter.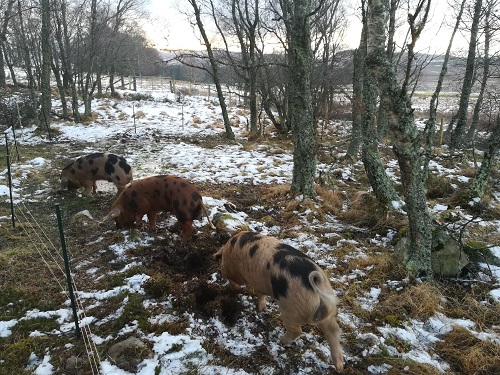 In the meantime, while our planting becomes established, we are using our animals to help restore and regenerate our croft in other ways. We believe in choosing the animals that are suited to our land, rather than trying to change the land to suit our choice of animal. We have a mixed herd of Highland Cattle and flock of Jacob Sheep which we use to build soil and add diversity to our grasslands. In the growing season, we move them daily into new paddocks, mimicking their natural instinct to always be on the move, avoiding the danger of predators and on the search for fresh, tasty forage. We try to make sure they never take too much grass, never staying long enough in one place to overgraze, but always depositing the important natural fertiliser we need to keep our land healthy.
"Cheap food delivers cheap health which only ever costs all of us more in the long term."
We use rare breed Oxford, Sandy and Black pigs to break up dense, tussocky vegetation and open up niches for other plants to have a chance to seed and grow. With regular, weekly moves, they never stay in one place long enough to root up and expose large swathes of bare soil. We have hens that live in mobile houses in our hedgerows and field, their job to keep back weeds and scatter and clean up grubs in cow pats. And then we have our native Scottish Black Bees, a flying squad of pollinators, hungry for nectar and spreading natures goodness as they stop to feed.
We believe in happy, healthy animals that are able to express their natural behaviours and we offer high quality produce direct to the consumer. Our goal is to sell all of our goods to a local market. We work hard to engage with our community on social media and through the local newspaper and other channels.
Through education, we want to empower people to make better informed food buying choices. One where cost is not the only factor, but the environmental and animal welfare impact is just as, if not more, important. At the end of the day, cheap food delivers cheap health which only ever costs all of us more in the long term. To date, selling our produce, has not been a problem. Our first meat boxes sold out in a handful of weeks. We sell eggs by the roadside and to local members of our Egg Club – a venture where we ask for a monthly or annual subscription fee in return for a weekly box of fresh, free to range, organically fed hens eggs.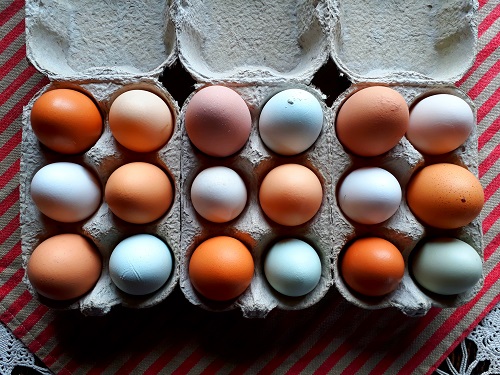 And of course ultimately, we need to pay the bills. We believe that creating a business based on positive social and environmental outcomes will deliver economic return. And so far, we are right. In just 3 years we are debt free, have increased the value of our landholding by a 1/3 and have reduced our combined weekly off farm jobs from 50hrs to 25hrs. We made a conscious decision on day one, as business owners, to not take basic payment subsidies (BPS), the delivery and future of which are unreliable. Instead we set out to build a business that would succeed or fail on its own merits. It means we have had to learn farming as well as marketing, sales, accounting, public speaking, networking and a whole range of different skills. It's not been easy and we have a lot of progress and profit to make, but we feel positive about the future of our farming business.
In June last year we joined the Nature Friendly Farming Network – a community of farmers who believe like us that nature means business. Our membership includes individuals who are not farmers, but who support what we do and want to see it as a model for our future food, farming and environmental system. If you like what we do and would like to support us, you can join the Nature Friendly Farming Network for free online.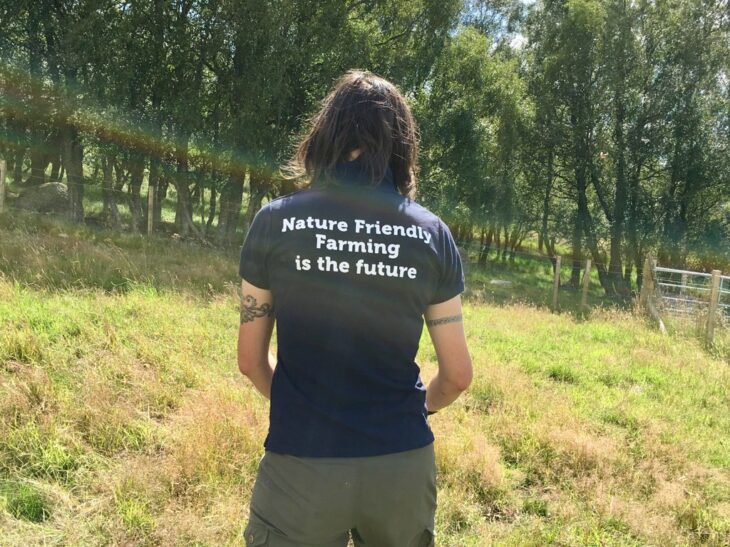 At Lynbreck, we're beginning to see that people like what we do, like how we farm and like what we produce. We want to make Lynbreck a positive and bright shining light where an ecologically intensive farming system delivers for our business, for our land and for our community.
You can stay up to date with news from Lynbreck online and @lynbreckcroft. You can also keep up with the Nature Friendly Farming Network online and @NFFNUK. Find out here how the Scottish Wildlife Trust are working to ensure our food systems work with, not against, nature; providing sustainable, healthy food while protecting the life-support systems that provide it.

Help protect Scotland's wildlife
Our work to save Scotland's wildlife is made possible thanks to the generosity of our members and supporters.
Join today from just £3 a month to help protect the species you love.
---
Preface
Lynbreck Croft is located in the Cairngorms National Park. At 150 acres it's substantially larger than most other crofts but with a mixture of hill ground, woodland, grassland and bog …