Aubrey Manning: A lifetime in conservation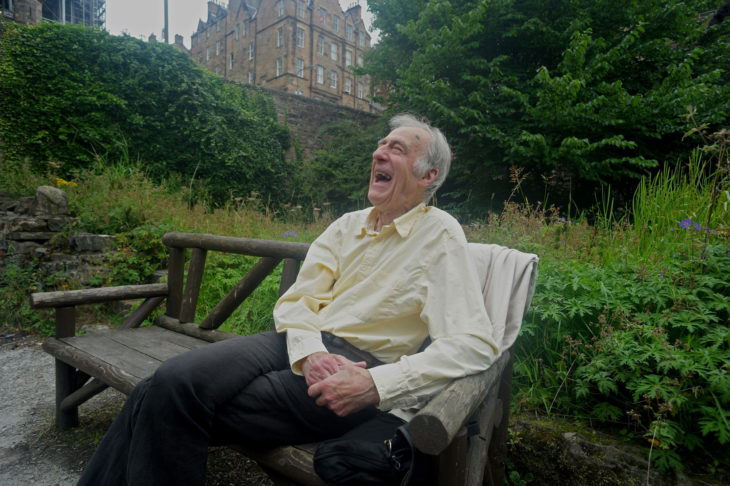 The Trust is sad to hear of the death of our former chair, the author, academic and broadcaster Aubrey Manning. In 2013 nature writer Jamie Grant travelled to our Johnston Terrace Garden reserve in Edinburgh to discuss a lifetime in conservation. 
Aubrey Manning's love of the natural world was first sparked when his family moved from London into the countryside during the Second World War to avoid the Blitz. Aged 10, he spent long days exploring the fields, woodlands and hedgerows around Englefield Green in Surrey.
It was the beginning of a lifetime love affair with conservation, from reading Zoology at Oxford to eventually becoming Professor of Natural History at Edinburgh University between 1973 and 1997.
Whilst most people see their retirement as an opportunity to relax, for Manning it was just the start of a distinguished writing and broadcasting career, including the BBC series, 'Unearthing Mysteries: Sounds of Life's Origins'.
Perhaps best known for his seminal book 'An Introduction to Animal Behaviour,' Manning has since focused his formidable intellect on human behaviour and the vexing question of how we can find an equitable balance with our planet's resources.
He is at heart a human ecologist, happy to cross disciplines and take a controversial stance on issues like population control to further the understanding of our immensely complex relationship with the natural world.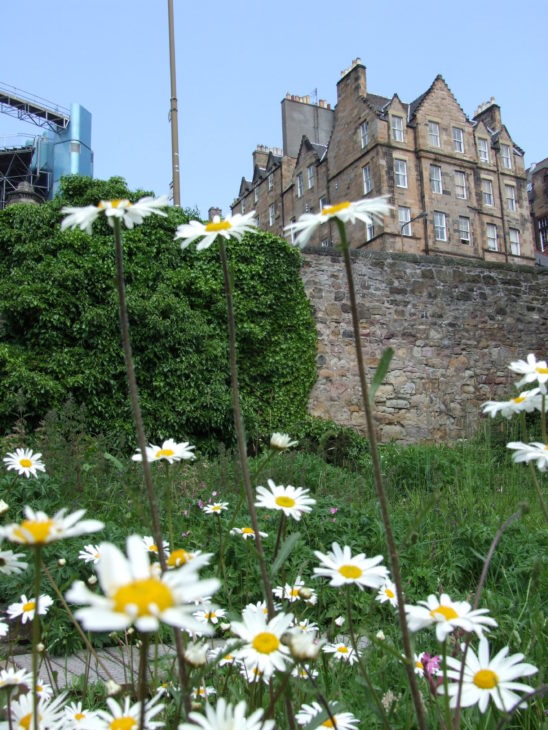 I meet up with Manning in the Scottish Wildlife Trust's smallest reserve, Johnston Terrace Garden, in the heart of Edinburgh. With the Trust's old offices just round the corner, it seems a fitting setting for a wide ranging discussion on the organisation as it approaches its 50th birthday.
Manning has followed the Trust ever since it was first formed by Sir Charles Connell in 1964, and was the Trust's chairman between 1990 and 1996.
When he first became Chairman, Manning remembers the Trust being mainly focused on its wildlife reserves and compares their acquisitions to being "a bit like stamp collecting."
"Encouraging people to experience the natural world brings an awareness that we are sharing the planet with everything else on it, and from there comes concern."
"We often raised the money to buy a reserve but struggled to manage the costs of maintaining them," he comments. "The Trust is now more discerning about buying new reserves and I think we should only be acquiring extremely rare habitats to protect groups of species."
The purpose and use of Trust reserves has also shifted. Rather than being fenced off and 'protected', they have become much more public spaces for people to visit and connect with the natural world.
The reserve at Johnston Terrace with its tiny meadow and rockery is just one example. People wandering up to the Tattoo in summer can peer over the wall and see wild geraniums, bumblebees and a pond with newts in it.
"Encouraging people to experience the natural world brings an awareness that we are sharing the planet with everything else on it, and from there comes concern." says Manning. "As population and development pressures grow, the wilder places where nature can be seen are going to become more and more precious."
With the planning system still heavily weighted against environmental concerns, the Trust is keen to highlight the economic value of finite natural resources. Manning is convinced society should be taking this concept of 'natural capital' much more seriously.
"In the past, conservation has undersold itself, seeking to protect rare species and habitats without pointing out that these sites are also extremely economically important," he tells me.
Manning would like to see the debate around the environment's delivery of 'natural service systems' taken one step further. With his biologist's hat on, he argues that we should be planning for the next 200,000 years of man's tenure on Earth; particularly how we can keep our life support systems going.
"The fact is that without the biosphere we don't have an existence on the planet because we rely on it for food, water, oxygen and the circulation of water," he comments. "In the end it comes down to our very survival as a species."
Manning advocates moving from a throughput economy where resources are gobbled up and thrown away as waste, to an economy without material growth.
"We can take a sustainable crop from the energy provided by the sun but we can't afford to carry on consuming the nuts and bolts of Gaia," he says. "It is very simple really. Just look at this garden and you can see that there is no waste – everything goes around."
Manning would like the voice of the conservation movement to be much louder in the circles of power.
"I am not suggesting that conservationists run the country, but we ought to have an input in the matter of constraints that many economists underestimate."
"You only have to give nature a little space and it moves in straight away. Nature is always pushing up against the boundaries.
A practical and positive approach to conservation is essential to this. While there are plenty of bad news stories around, Manning remains "a fan of the human species" and is convinced that we can find a better balance with nature.
"I always think of the words Plato ascribed to Socrates: 'Without love there is no wisdom, only learning', and we have to learn to love the natural world," he says.
"There are some ways forward and the natural world is extremely forgiving," Manning adds, parting the reeds by the pond to see what lies beyond.
"You can see that in places like Johnston Terrace, where you only have to give nature a little space and it moves in straight away. Nature is always pushing up against the boundaries."
At 83 years old, he has somehow managed to keep in touch with that inquisitive, daring and irreverent boy who once explored a Surrey countryside more than 70 years ago.
This article was published in the Autumn 2013 edition of Scottish Wildlife. 
Help protect Scotland's wildlife
Our work to save Scotland's wildlife is made possible thanks to the generosity of our members and supporters.
Join today from just £3 a month to help protect the species you love.
---
Preface
The Trust is sad to hear of the death of our former chair, the author, academic and broadcaster Aubrey Manning. In 2013 nature writer Jamie Grant travelled to our Johnston Terrace …