Finding Fungi at the Falls
Recently my eye has been caught by the many fungi that are adorning the reserve with their unusual colours and textures. In fact, it's been difficult for me to walk for more than five minutes without stopping to take pictures of them.
Now that they are appearing in such numbers, I thought I should take the opportunity (much like the fungi themselves) to absorb as much as I can about these interesting organisms while they stick around!
At home fungi are commonly thought of as the button mushroom you have with dinner, or the unfortunate patch of mould spreading in your garage – and this is what makes them so interesting! They can be deadly poisonous, or delightfully flavoursome and to this day even the experts don't know everything about these organisms.
In nature fungi play an important role in decomposing dead materials and returning nutrients into the soil, this is why we see them in more abundance between summer and autumn.
At Falls of Clyde I see a new fungus every day and I'm slowly managing to identify them. Here are a few of my favourites so far…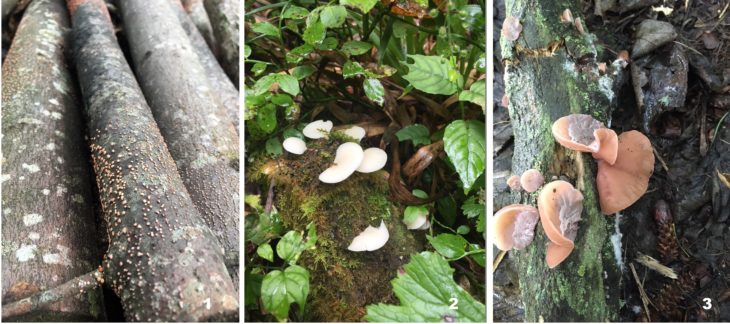 1: Coral Spot Nectria cinnabarina – this fungus can infect weakened trees and cause cankers, but isn't as deadly as other tree pathogens. Here at the reserve we found it on dead wood.
2: Flat Oysterling Crepidotus applanatus – this milky coloured fungus caught my eye and really is a beautiful sight. It's not an edible species, but some of its larger relatives are!
3: Jelly Ear Auricularia auricula-judae – a wobbly, rust-coloured, and edible fungus. There's not much taste to this one, but it is commonly used in eastern cooking, predominantly to thicken soups.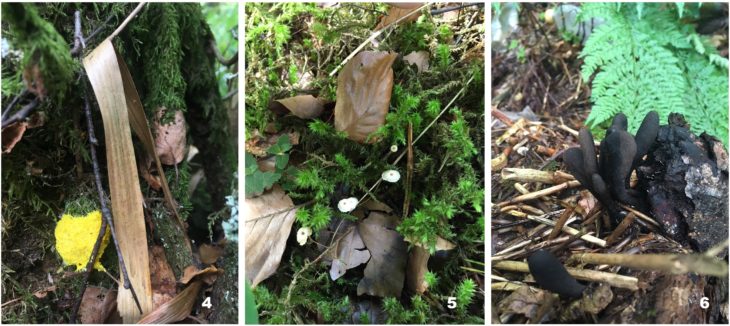 4: Flowers of Tan Fuglio septica– also known as "dog vomit slime mould", this is commonly seen after heavy rainfall, so there's no wonder why I spotted it last week!
5: Collared Parachute Marasmius rotula – a tiny white fungus that decorates the forest floor. They almost resemble flowers against the mossy ground.
6: Dead Moll's Fingers Xylaria longipes – this took a while to identify as it could be the similar Dead Man's Fingers Xylaria polymorpha, both species grow from dead wood– I'm still not completely settled, but that's the fun of the ID process!
With my newfound interest in fungi, I'm excited to see what species will be showing later in the year.  In the meantime I will continue to gawk at each fungus I see during my patrols… but one thing's for sure, with all those strange colours I'll still be getting my mushrooms from the supermarket this week!
Jenny Mann, Falls of Clyde Assistant Ranger
Help support our vital work and join us today!
Help protect Scotland's wildlife
Our work to save Scotland's wildlife is made possible thanks to the generosity of our members and supporters.
Join today from just £3 a month to help protect the species you love.
---
Preface
Recently my eye has been caught by the many fungi that are adorning the reserve with their unusual colours and textures. In fact, it's been difficult for me to walk …