5 Reasons to Become a Member
It's the best time of year to become a member of the Scottish Wildlife Trust. Eggs have been laid and are starting to hatch, the sun's coming out, and everything is blooming to life. For those of you who aren't already members of the Scottish Wildlife Trust, here are 5 quick reasons to join:
You can make the most of Scottish nature
The Scottish Wildlife Trust manages over 120 wildlife reserves, each bringing something unique and exciting for you to explore. With a membership you get unlimited access to our nature reserves and 4 visitor centres (Loch of the Lowes, Montrose Basin, Falls of Clyde and Jupiter Urban Wildlife Centre), giving you the freedom to enjoy wildlife whereever you are in Scotland. When becoming a member, you will receive a membership pack which includes a handy "Exploring Reserves" guide, which tells you what you can see and where. By keeping this in the glovebox in your car, you will be able to make the most of our reserves by stopping off at one of our sites whenever you feel like connecting with nature.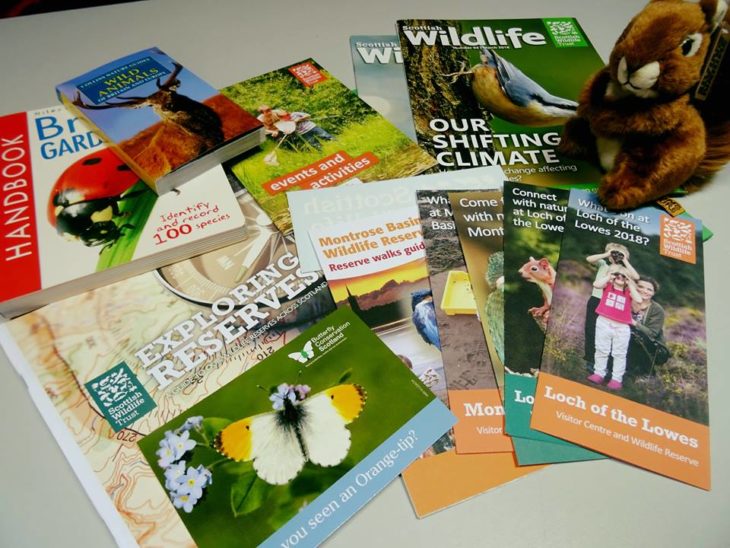 2. Be part of supporting the Scottish Wildlife Trust projects and goals
The Scottish Wildlife Trust runs on the support from our members and visitors. This allows us to strive to achieve our vision of a connected network of healthy, resilient ecosystems supporting Scotland's people and wildlife. By becoming a member, you are pledging to donate to achieve this vision, including our long term projects, such as Saving Scotland's Red Squirrels and Scottish Wildcat Action. If you care about Scottish wildlife and want to help restoring and maintaining Scotland's biodiversity, you can rest assured that becoming a member of the Trust will be a great way of doing so. If you want to read more about our projects and aims, check out our website: https://scottishwildlifetrust.org.uk/our-work/our-projects/
     3. Enjoy reduced costs at our visitor centres
Not only does becoming a member reduce your costs by allowing you to have unlimited enjoyment the visitor centres, but you also get 10% off our shop items. This makes buying all your bird feeding supplies a lot cheaper, as well as any souvenirs you may want to buy. In addition, you get reduced entry to our events, including our People's Postcode Lottery Beaver Watch. At only £47 a year for a joint adult membership, or just £24 for a joint concession, this makes becoming a member even better value for money.
     4. You receive a magazine subscription
With your membership you receive subscription to our Scottish Wildlife magazine. You will receive 3 magazines per year by post, as well as the latest magazine in your membership pack. Those of you with family or watch memberships receive the Watch magazine quarterly for the younger generation. Scottish Wildlife brings you exciting and important updates, including reserve recommendations and species specials. So by becoming a member you are not only supporting the great work that the Trust does, but also get to read about it and learn where your money is going!
     5. Being a member makes everything more convenient
As the osprey eggs hatch and excitement increases, our visitor centre innevitably gets busy! Make your day easier and get through to the hides quicker by just showing us your membership card. The other benefit of having a membership card is you can just pop by whenever you fancy a quick stop to check in with our ospreys and you can do so at no extra cost. So whether you are someone who likes to stay from dawn to dusk, or someone who visits for 5 minutes once a week, everything is much easier by being a member.
We hope to see you soon at Loch of the Lowes, hopefully as members of the Scottish Wildlife Trust!
Thanks for reading,
Olivia Cooper
Visitor Centre Assistant
P.S. If you become a member at one of our visitor centres, you get a free gift with your membership, depending on availabilty.
Our membership minimum donations:
Adult Membership: £40 annually/£3pcm
Joint Adult Membership: £47 annually/£3.75pcm
Concession Membership: £18 annually/£1.50pcm
Joint Concession Membership: £24 annually/£2pcm
Family Membership: £57 annually/£4.50pcm
Watch Membership (Under 16): £18 annually/£1.50 pcm
Help protect Scotland's wildlife
Our work to save Scotland's wildlife is made possible thanks to the generosity of our members and supporters.
Join today from just £3 a month to help protect the species you love.
---
Preface
It's the best time of year to become a member of the Scottish Wildlife Trust. Eggs have been laid and are starting to hatch, the sun's coming out, and everything …