Woodland wildflower trail and singing birds
Walking around the reserve at this time of the year is a wonderful experience as it seems to be coming alive as the birds sing, the bees buzz and the leaves slowly start to appear in the canopy. At ground level it is also starting to look a lot more lush and green and after the winter it is always a nice feeling to see all of the plants and wildflowers appearing too. This week the day finally came to take away Laura's wonderful winter tree trail and replace it with a woodland wildflower trail.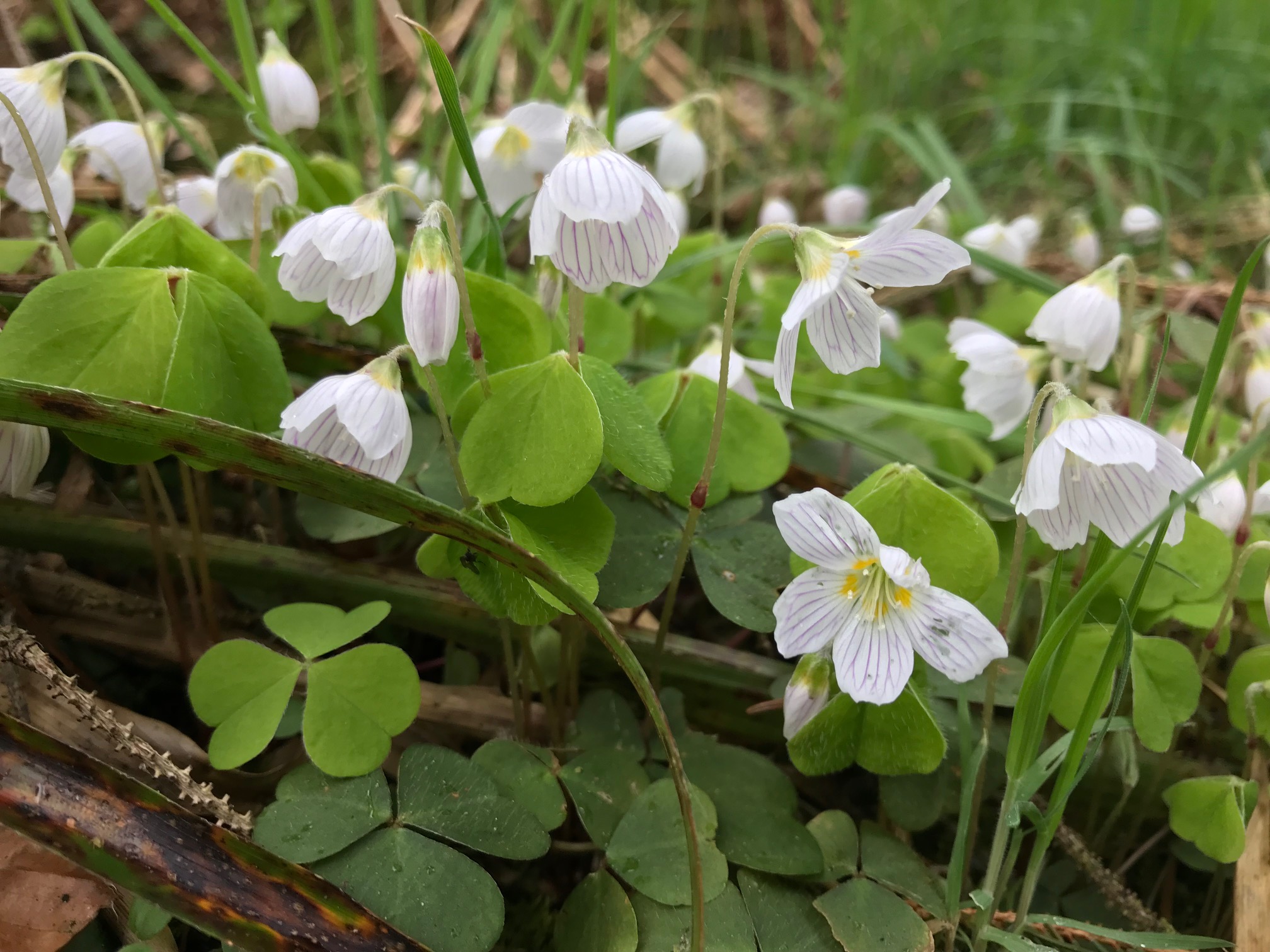 The trail will point out different species of wildflower throughout the spring and summer and will be updated when later flowering plants start to appear and early flowers start to disappear. At this time of year we have lots of wood anemone, lesser celandine, alternate and opposite leaved golden saxifrage, wood sorrel, marsh marigold and flowering great wood rush. The signs also have some interesting facts about the flowers too and can help you brush up on your ID skills. The trail runs along the length of the boardwalk directly beside the beautiful river Clyde.
A flower that I have always found very pretty is Wood Sorrel. It has distinctive trefoil leaves that look like three hearts joined together at the bottom and small white flowers that open with the arrival of light.
In the past couple of weeks we have also started hearing more of our migrants returning to Scotland to breed. They have been singing to attract females and also to warn other males that this is their patch. We have been hearing Blackcap, Willow Warbler and Chiffchaff along with resident species such as Song Thrush, Robin, Great Tit and Wren. Many of our nest boxes have also been filling up with a lot of nesting material too, and I recon there could be some eggs the next time I check the boxes. I will write a blog about our nest box monitoring at a later date. Meanwhile, I hope you all manage to get outside and explore what your area has to offer, it really is a wonderful season.
Darran Dixon, Falls of Clyde Assistant Ranger
Help support our vital work and join us today!
Help protect Scotland's wildlife
Our work to save Scotland's wildlife is made possible thanks to the generosity of our members and supporters.
Join today from just £3 a month to help protect the species you love.
---
Preface
Walking around the reserve at this time of the year is a wonderful experience as it seems to be coming alive as the birds sing, the bees buzz and the …