Time for change in Scottish salmon farming
Salmon farming in Scotland has been under the spotlight for several years now, with worrying reports of mass salmon mortality and damaging impacts on marine life.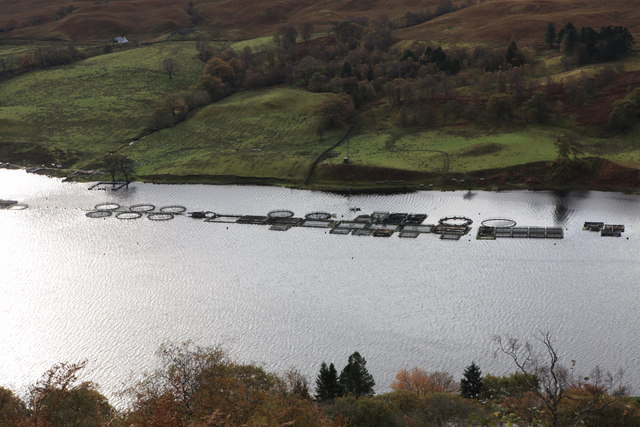 In response, the Scottish Parliament launched an inquiry into the salmon farming industry in Scotland and its impact on the marine environment. Although we are still in the middle of the inquiry, some key concerns have already come to the surface.
Salmon farming in Scotland began in the early 1970s and is considered a relatively young industry. The production of salmon grew steadily over the first couple decades but in the mid-1990s the industry experienced a rapid expansion and doubled its production in 20 years from 83,000 tonnes in 1996 to 162,000 tonnes in 2016. Salmon farming is now widespread along Scotland's west coast and Western and Northern Isles, and has become Scotland's second biggest food export with an estimated value of £600m in 2017.
Looking at these figures, it is easy to see why the salmon farming industry promotes itself as a symbol of industry growth in Scotland, and why the Scottish Government and the salmon farming industry have both proposed ambitious growth targets – of 210,000 tonnes by 2020, and 300,000 – 400,000 tonnes by 2030.
However, as eye-catching as these figures are, this story of rapid growth comes with a worrying caveat: the cost to our marine environment.
Salmon farming is an intensive activity. Open-net pens are placed in inshore coastal waters, each of which can hold tens of thousands of fish at a time. The open design of the pens is good for the farmed fish as it allows for fresh water to enter the pen, but it also allows for fish faeces, uneaten food, chemical treatments, and medicines to enter directly into the surrounding waters – effectively disposal of untreated waste which would not be tolerated if it was on land. The high volume of pollutants released into the marine environment is a concern as they threaten the health of our coastal waters and the wildlife that lives there.
Salmon farms also act as breeding grounds for diseases and pests (namely sea lice). The high density of salmon kept in the cages makes them vulnerable to disease outbreaks, which can, in some cases, lead to high mortality of farmed fish and pose a risk to wild fish in the vicinity.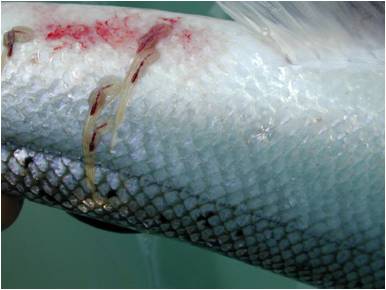 Sea lice in particular pose a significant threat to wild sea trout because they live in coastal waters near salmon farms. Sea trout are regularly exposed to high concentrations of sea lice larvae coming from the farms, which attach to the sea trout and, if in sufficient numbers, can cause death.
Other areas of concern include the genetic mixing of wild and escaped farmed salmon, which can have serious implications on the health and stability of wild populations; the unmanaged harvesting of wild wrasse for use as cleaner fish to control sea lice numbers; and the challenge of finding sustainable sources of fish meal and fish oil to feed a rapidly expanding industry.
Concerns over the environmental impacts of salmon farming in Scotland have been repeatedly raised for many years:
Despite these concerns and a growing body of supporting evidence, the salmon farming industry has expanded hugely and has been encouraged by the Scottish Government to grow even further.
The Scottish Parliament's inquiry into salmon farming began in February 2018, with the Environment, Climate Change and Land Reform (ECCLR) Committee's investigation into environmental impacts. The investigation included commissioning a new report by the Scottish Association of Marine Science (SAMS) to complement their 2002 report, two public sessions for oral evidence (which included evidence from the Scottish Wildlife Trust's Marine Planning Officer, Dr Sam Collin), and a public call for written evidence.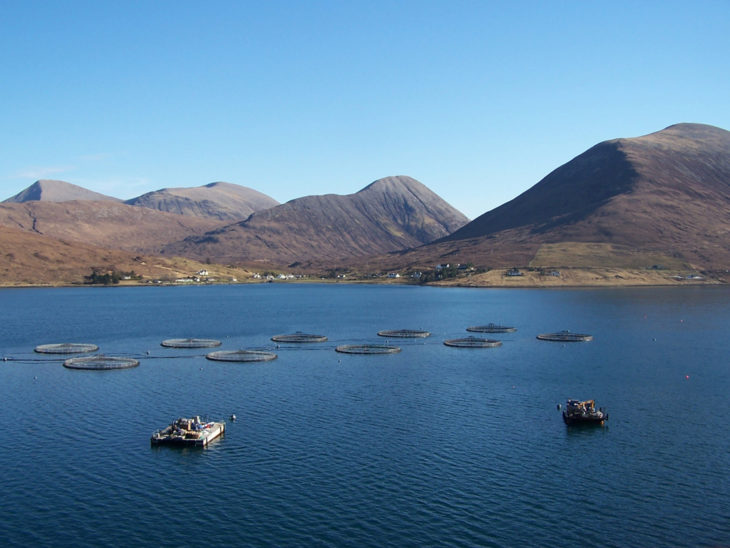 The ECCLR Committee's concluding report was published in March and highlights the committee's key concerns, most notably:
Industry growth targets do not consider the capacity of the environment to farm such a large quantity of salmon and, unless current issues are addressed, this expansion will be unsustainable and may cause irrecoverable damage to the environment
The development and growth of the sector is taking place without a full understanding of the environmental impacts
There are significant gaps in knowledge, data, monitoring and research around the adverse risk the sector poses
Further development and expansion must be on the basis of a precautionary approach and must be based on resolving the environmental problems. The status quo is not an option
The Trust welcomed the ECCLR Committee's report and their robust response to the findings of its inquiry. It is clear that the salmon farming industry has been allowed to grow too rapidly without full consideration of the impact it has on the health of the marine environment.
The ECCLR Committee's inquiry is now being followed up with a further investigation by the Rural Economy and Connectivity (REC) Committee, who so far have carried out three public sessions for oral evidence and are currently collecting written evidence.
The Trust hopes that the REC Committee's inquiry will build upon the work of the ECCLR Committee and ultimately lead to radical reforms in the way salmon farms are managed.
We would like to see stronger regulations on chemical and medicinal treatments, better guidance and enforcement for the location of new salmon farms, and incentives for operators to move away from current practices and towards new technologies that reduce and eventually negate environmental impacts.
If you wish to contribute to the REC Committee's inquiry, written evidence must be submitted before Friday 27 April. Find out how to have your say.
Sam Collin and Jonathan Hughes
Sam Collin is Marine Planning Officer at the Scottish Wildlife Trust and the convenor for Scottish Environment Link's aquaculture sub-group. Jonathan Hughes is Chief Executive of the Scottish Wildlife Trust.
Help protect Scotland's wildlife
Our work to save Scotland's wildlife is made possible thanks to the generosity of our members and supporters.
Join today from just £3 a month to help protect the species you love.
---
Preface
Salmon farming in Scotland has been under the spotlight for several years now, with worrying reports of mass salmon mortality and damaging impacts on marine life. In response, the Scottish …