Sustainability: What Efforts are we Making?
We wanted to tell you about the sustainability efforts we are making in the visitor centre here at Loch of the Lowes. Please feel free to give us feedback or suggestions of changes you think we could make!
An exciting change we have been able to make recently is switching to 100% compostable hot drinks cups. A lot of hot drinks cups have a plastic layer that makes them unable to be recycled, so we are happy to have made this change. Additionally, in our refreshement area we are proud to stock Divine chocolate, which is Fairtrade and palm oil free. Reducing palm oil use in products is important in maintaining biodiversity through reducing the deforestation that takes place for palm plantations. Divine chocolate also avoids using a plastic wrapper and is instead wrapped in recyclable foil and paper.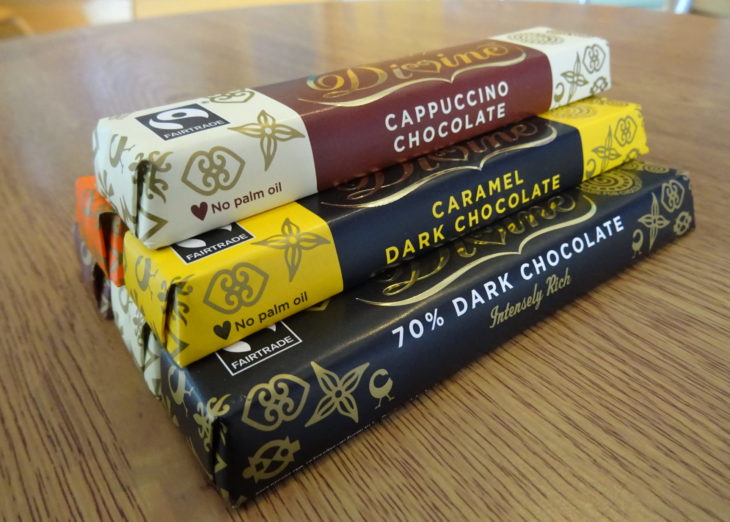 We have also made changes to our chilled drinks section. We do not sell any drinks in plastic bottles, instead we only stock recyclable cans and glass bottles. We are looking into alternatives to our juice cartons as they use plastic straws, so hopefully we will be changing them soon. We have a recycling bin for plastic, cans, paper, and glass, to avoid as much waste as possible.
In our shop we stock a wide range of reusable, 100% biodegradable jute bags. We love to see that people are switching from disposable plastic bags to resuable bags such as these. We stock our bags from Shared Earth, an organisation that supplies ethical, eco-friendly, recycled/remade products. Our visitors are brilliant at bringing their own bags when it comes to buying products from our visitor centre, but for when they do need a bag, we supply paper bags at 5p.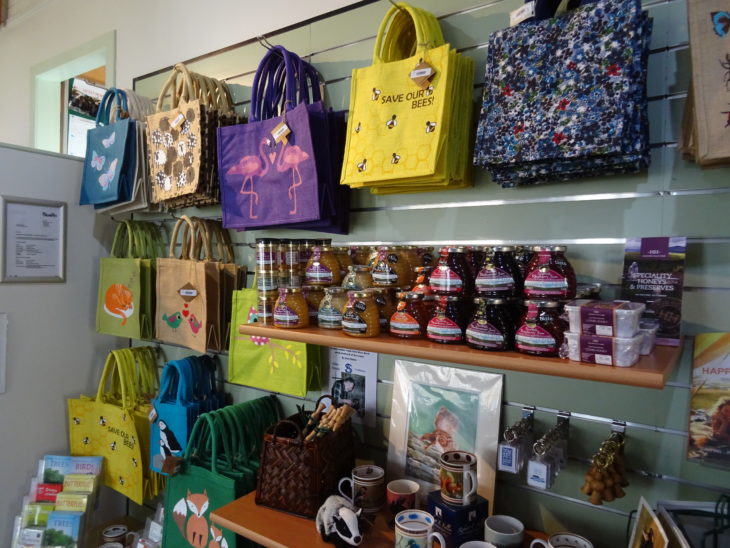 Our honey and jam is stocked locally from Heather Hills Honey Farm. The honey is harvested from c.1300 bee hives that are rotated seasonally around the Perthshire and Deeside countryside. The farm has 52 million honey bees, which is wonderful for pollination in our local countryside.It's important to us to be supporting local businesses as it helps reduce the miles that the products have to travel to get to us, thus saving fuel. We are happy that our ice cream is also sourced locally from Stewart Tower Dairy outside Bankfoot.
If you are visiting us soon and looking to improve your consumer sustainability, try investing in one of our jute bags, or buy one of our larger seed bags to save plastic! We are making an effort to reduce the amount of plastic used in the children's toys section, which involves working with suppliers to see where changes can be made. If you have any suggestions for alternative and ethical toys you think we could sell then let us know! We are grateful for your ongoing support of our changes for sustainability and look forward to seeing you soon.
Thanks for reading,
Olivia Cooper
Visitor Centre Assistant
---
Help protect Scotland's wildlife from just £3 a month
Help protect Scotland's wildlife
Our work to save Scotland's wildlife is made possible thanks to the generosity of our members and supporters.
Join today from just £3 a month to help protect the species you love.
---
Preface
We wanted to tell you about the sustainability efforts we are making in the visitor centre here at Loch of the Lowes. Please feel free to give us feedback or …