With the incubation well under control of our Osprey parents-to-be there is seemingly not much else happening on the Loch but do not get fooled. Species Protection Officers and the Osprey Watch volunteers have been kept busy providing 24/7 monitoring of the nest . During the day our hides provide endless views of wildlife of all varieties. Like our pair of nesting Swans fearlessly guarding their precious clutch, Great crested grebes displaying gracefully on the Loch or the morning and evening appearances of a Beaver or two. If luck is on your side you might even see one of our Ospreys fishing on the Loch or washing its talons in front of the hide.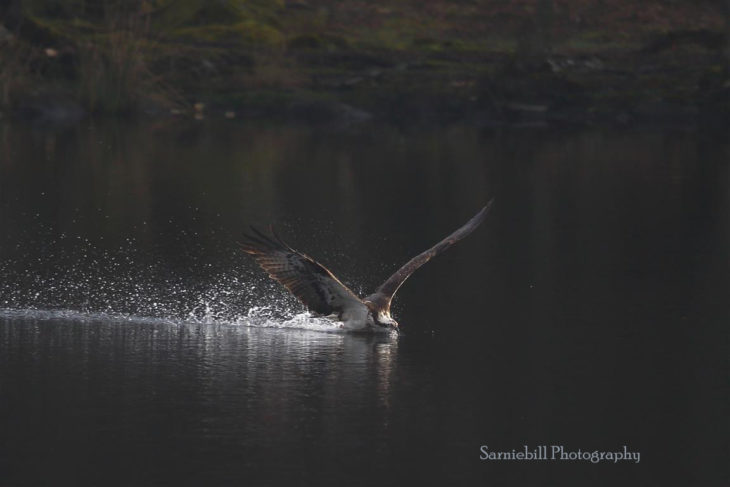 Osprey fishing © Nigel Wedge
So that is the day watch for you… but what about the night? With the female Osprey soundly asleep keeping her clutch cozy (only occasionally turning the eggs around or stretching her wings) and the male perched in a close proximity of the nest snoozing away, the night watches can sometimes appear very quiet. However, barely a night goes by without some exciting sighting on one of our cameras. And those are the ones that keep us awake and excited.
The most night time commotion seems to be in front of the visitor centre. The cheeky fallow deer have been nimbly stealing the seeds from the bird feeders on regular bases. More recently we had a multiple amazing sightings of one of our resident Tawny owls on the camera in front of the visitor centre and one evening even a wee Hedgehog joined the scene foraging round under the bird feeders. The Tawny gave the Hedgehog a wee glance but didn't seem too bothered. We took a recording of this for you to enjoy.
This just goes to show that the nature never sleeps and that the night watch on the reserve can be almost as exciting as the day one. We are certainly not spending much time sleeping at night and won't be for another 6 more weeks. However, all the little night time stories and the safety of our ospreys are more than worth it.
Keep your eyes on our blog to see more of the night life on the reserve.
We will keep you posted.
Tereza
Species Protection Officer
Did you know that tawny owls are so fiercely protective over their nest that bird ringers have to wear protective goggles and crash helmets when ringing the young? Famous wildlife photographer Eric Hosking actually lost an eye to a tawny owl while retrieving his equipment at night after a photo-shoot.
Help protect Scotland's wildlife
Our work to save Scotland's wildlife is made possible thanks to the generosity of our members and supporters.
Join today from just £3 a month to help protect the species you love.
---
Preface
With the incubation well under control of our Osprey parents-to-be there is seemingly not much else happening on the Loch but do not get fooled. Species Protection Officers and the …