Spring into our reserves!
After what feels like a long wait this year spring has finally sprung! The days are becoming much longer, our gardens and countryside are becoming greener by the day, and summer residents such as ospreys are starting to arrive at their nesting sites.
Thanks to supporters including players of People's Postcode Lottery the Trust manages 120 wildlife reserves across the country. Here are just a few of our top places to explore this spring.
Kilminning Coast, Fife
This stretch of Fife coastline has species-rich grassland, salt marsh and coastal scrub where rare grassland and wetland plants grow  including purple milk vetch and northern marsh orchid.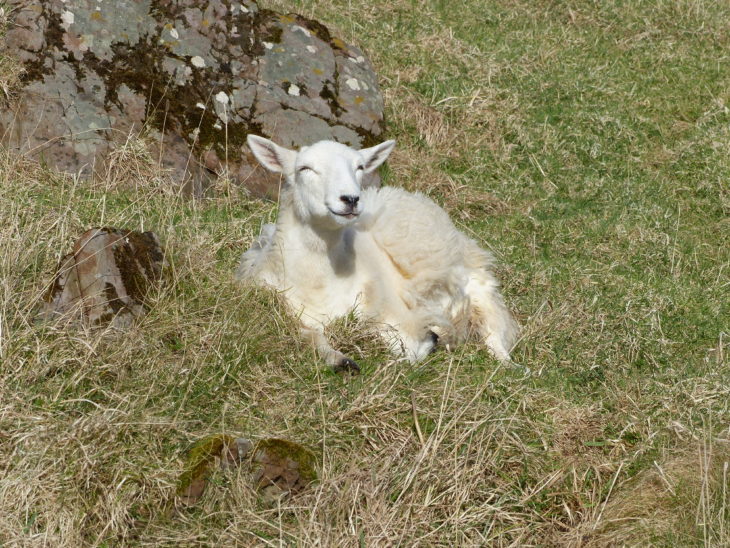 The scrub provides nesting sites for whitethroats, stonechats and linnets. Listen out for the stonechat, which has an call like two pebbles being banged together. Kilminning coast is also a popular site for migrating birds such as the Eurasian wryneck, bluethroat and Lapland bunting as well as seabirds including shag, eider, cormorant and guillemot.
Early in the spring the Trust's Flying Flock of shetland sheep can be found grazing part of the reserve.
Also look out for the white flowers of the scurvy-grass which, despite its name, is not a grass at all! Scurvy-grass gets its name from the leaves, which because of their high vitamin C content, were widely eaten on ships to prevent scurvy.
Pease Dean, East Lothian
Pease Burn and Tower Burn flow through the two steep valleys or 'deans' that make up Pease Dean, which meet before flowing out into the North Sea at Pease Bay. From the paths that loop around the deans there are good views of the Berwickshire coast.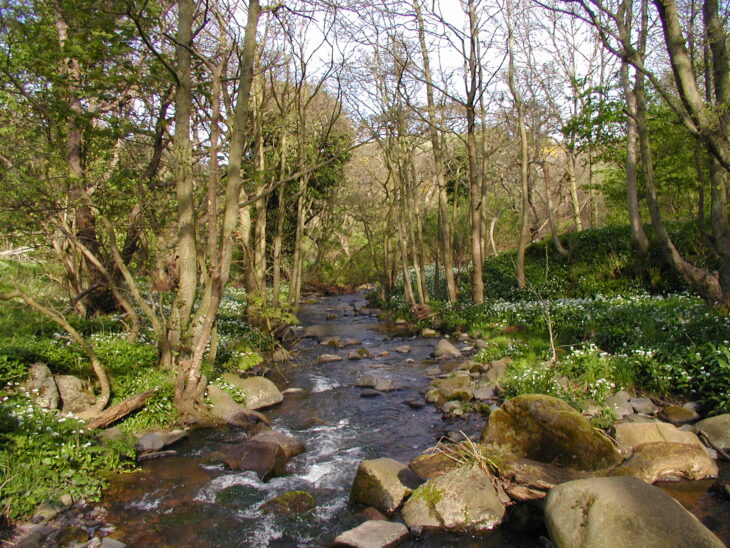 The reserve is an important fragment of semi-natural ancient woodland. Oak, ash, hazel and the occasional Elm. Wetter areas support good stands of alder. In spring the woodland floor is carpeted with bluebells, wood anemone, wild garlic and great wood-rush. Damp areas support large stands of a 'living fossil' called giant horsetail. As an Equisetum this is the only living genus of a class of plants which for over hundred million years were much more diverse and dominated the understory of forests.
Dippers breed in the reserve and can be seen feeding along the burns where they feed on invertebrates such as caddis flies under water. Summer visitors such as Whitethroat and Lesser Whitethroat can be seen in the scrubby areas dominated by Gorse. The distinctive "yaffle" of the green woodpecker is sometimes heard. Marsh tits have bred in the reserve,  which is near the northern limit of its range in Britain."
Carstramon Wood, Dumfries and Galloway
Well known as one of the best bluebell woods in Scotland, Carstramon Wood clothe the slopes beneath the Doon of Carstramont, the site of a vitrified hill fort. Half ancient woodland, half old plantation, this oak wood is a fantastic place for wildlife, supporting red squirrels, nuthatch, wood warbler, pied flycatcher and redstart.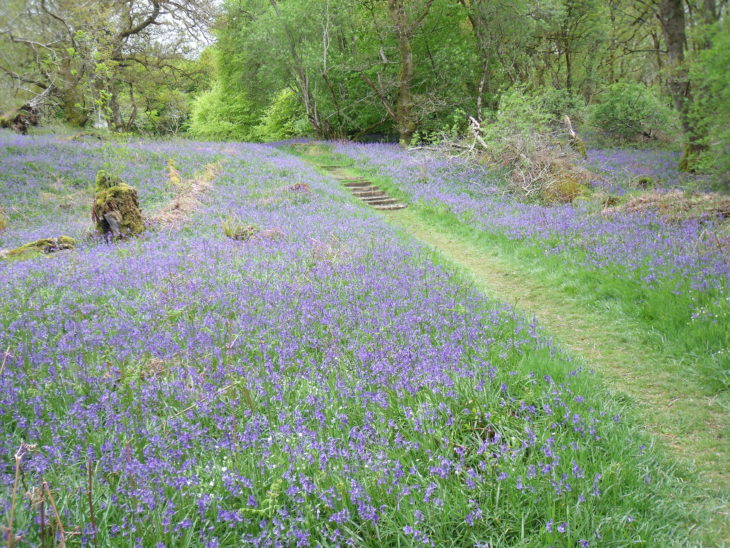 Veteran beeches, pines and oaks are found throughout the wood, along with a range of woodland wildflowers including cowslip, early purple orchid and sanicle. Big multi-stemmed old coppice stools and grassed over charcoal platforms remain as evidence of the long history of management for supplying wooden bobbins, timber, charcoal and tan bark to Gatehouse of Fleet and the local area.
The footpaths allow visitors to explore the reserve, with the chance of spotting red kite, roe deer, butterflies and dragonflies with moths and bats emerging in the night. The best time to catch the bluebells at their best is normally the second and third weeks of May.
Falls of Clyde, South Lanarkshire
The reserve has an abudance of wildflowers from the common marsh marigold and lesser celandine to the more specialist woodland species including wood anemone, guelder rose and alternate-leaved golden saxifrage. A self-guided wildflower trail along the river helps you learn how to identify these amazing plants.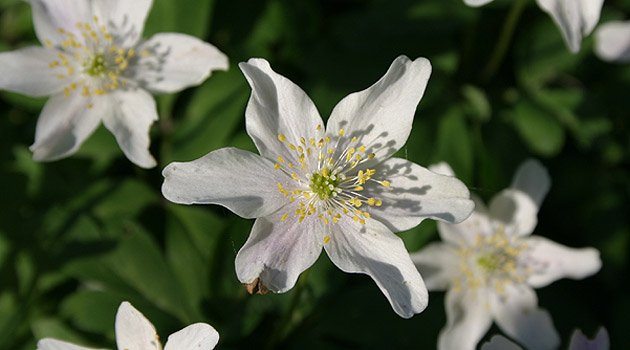 The advent of spring heralds more signs of life on the reserve. Migratory birds begin to return in March – listen out for chiff chaff, garden warbler, willow warbler and blackcap as you walk through the woodland. See common sandpiper and sandmartin at the south end of the reserve as you look out over the river.
Remember to watch for our nest boxes alongside the footpath and take a minute to see birds taking food to their young.Try our new Woodland Animal Trail to learn how to spot the signs of some of our common, yet sometimes elusive wildlife. Including otter, badger and roe deer. Our self-guided trail is suitable for all but aimed towards families, it starts at the entrance to the reserve.
Cumbernauld Glen, North Lanarkshire
The ancient woodland of Cumbernauld Glen is a haven for wildlife and provides an important, relaxing environment for local people.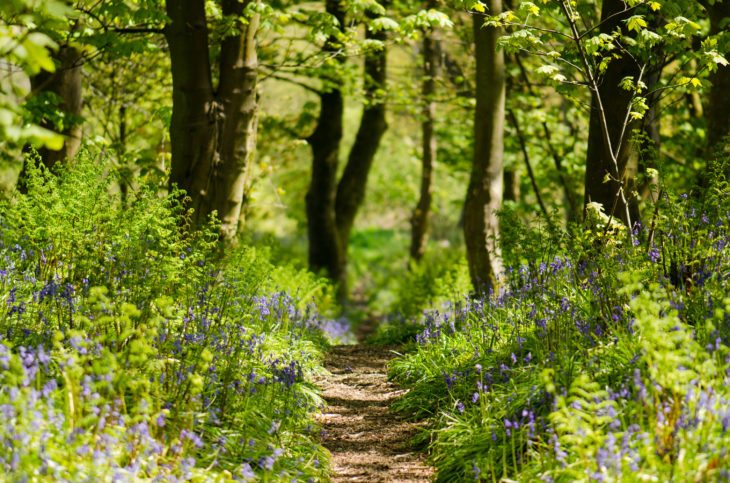 Early spring sees pockets of snowdrops appearing and May sees a profusion of bluebells. The meadow attracts butterflies, including ringlet, meadow brown and small pearl bordered fritillary. The stunning carpets of bluebells are joined by the soundtrack of returning summer birds, including pied flycatcher, redstart and wood warbler.
Help protect Scotland's wildlife
Our work to save Scotland's wildlife is made possible thanks to the generosity of our members and supporters.
Join today from just £3 a month to help protect the species you love.
---
Preface
After what feels like a long wait this year spring has finally sprung! The days are becoming much longer, our gardens and countryside are becoming greener by the day, and …