Alba and the artificial lodge
On a quiet wee loch in the middle of Knapdale Forest, a beaver is busy modifying the habitat to suit her needs. She was released in October after completing a two-week quarantine process. Following the successful release of two beavers the previous week, it was SBB01's (or Alba, as named by the keepers who cared for her) turn to go into the wild.
Due to the time of year and the fact she is a captive bred beaver, it was decided that we would provide her with some additional support on release. This included a temporary artificial lodge constructed from four straw bales and a sheet of wood.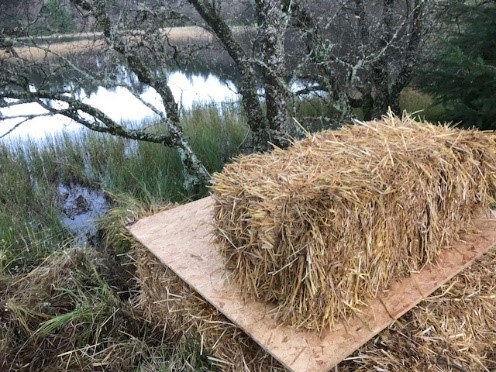 Although there was no evidence of beavers utilising these makeshift homes during the Scottish Beaver Trial, we felt it was important to provide Alba with some initial shelter – accepting that she may or may not have chosen to use it.
Following release, Alba rested in natural burrows under rocks around the loch and initially didn't take to the lodge. It didn't take long for traditional beaver field signs to show throughout the loch. A dam was constructed which saw the water level rise and a few trees were felled.
However, several weeks after her release mud started appearing at the artificial lodge, Alba had decided that the location was actually a good one, and proceeded to build on top of the straw bales.

In this series of photos you can see the artificial lodge and how it looked on day one. It remained in this state for over a month before our monitoring contractors – Heart of Argyll Wildlife Organisation – noticed a dramatic change in week five. By week eleven the straw bales had become difficult to see.
It is interesting to see that Alba has engineered a home from this man-made structure because it is believed to be the first time this has been witnessed within the UK. The next step in the project is to release a male beaver in the vicinity of the loch in the hope that he meets and pairs up with Alba.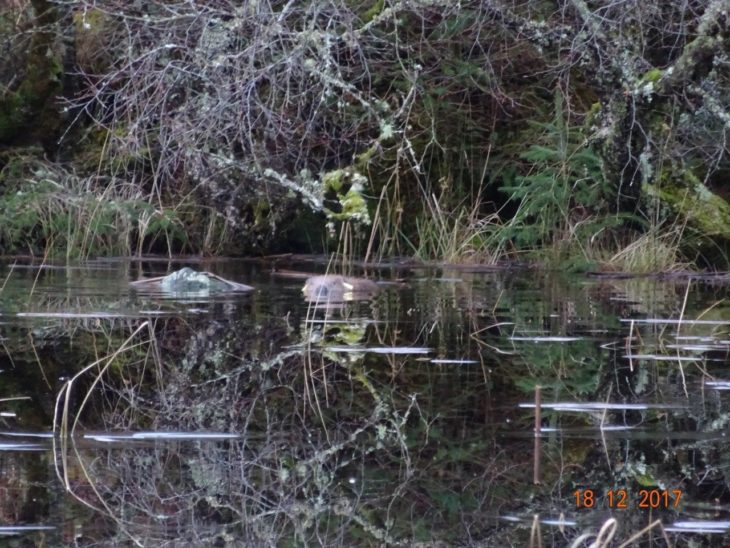 Whilst carrying out routine conservation work in December, a Forest Enterprise Scotland staff member took this photo of Alba. She looks healthy and it's great to see her adapting so well to her new home in Knapdale.
Watch this space for updates on further beaver releases and to find out if Alba will find a partner!
Ben Harrower
Scottish Beavers project manager
Help protect Scotland's wildlife
Our work to save Scotland's wildlife is made possible thanks to the generosity of our members and supporters.
Join today from just £3 a month to help protect the species you love.
---
Preface
On a quiet wee loch in the middle of Knapdale Forest, a beaver is busy modifying the habitat to suit her needs. She was released in October after completing a …