A day in the life of a European volunteer
Volunteer Paula Sánchez Zulueta from Spain completed a year-long Erasmus+ funded European Voluntary Service placement with the Trust. She outlines a typical day during her placement. 
Hi, my name is Paula. I am Spanish, and I have always had a keen interest experiencing living abroad. Scotland caught my attention with its stunning landscapes, the variety of ecosystems, and for being a place where you can easily spot wildlife. I studied Biology followed by a Masters degree in Environment Management.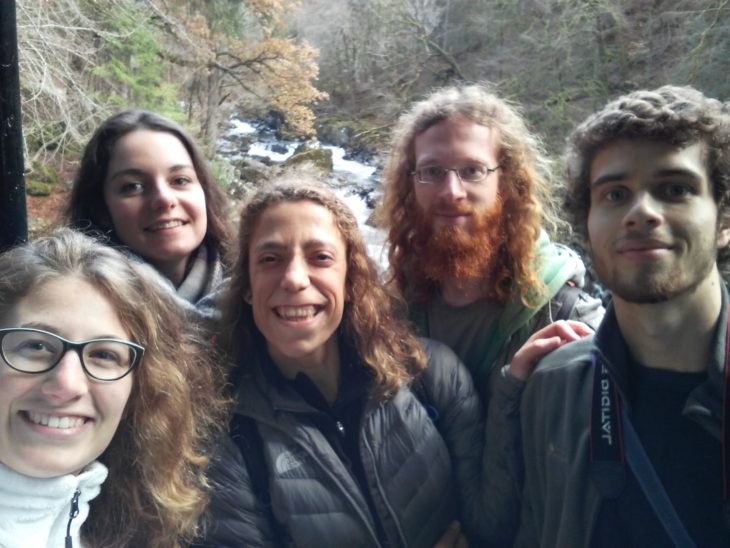 Among other things, I wanted to develop my knowledge in conservation, know more about Scottish culture and meet new people. That is why I have been volunteering with the Scottish Wildlife Trust through the European Voluntary Service.
Fortunately, this voluntary service gave me the chance to live with four more volunteers, two from France called Chloé and Sylvain, one from Portgual, Guilherme, and another from Spain, Maria. They have been my family for the last nine months. We were living and working in the same team, so as you can imagine we spent 24 hours a day together.
My alarm clock rings every morning at 7:45 from Monday to Thursday. I wake up as fast as I can, pick out working clothes – easy to choose because they are almost the same every day with a few exceptions depending on the weather, I wash my face and then go to the kitchen. As usual Maria is there, heating up the food for everybody, Guilherme takes the yoghurt and adds some seeds, Sylvain pours the milk into the bowl and Chloé toasts the bread.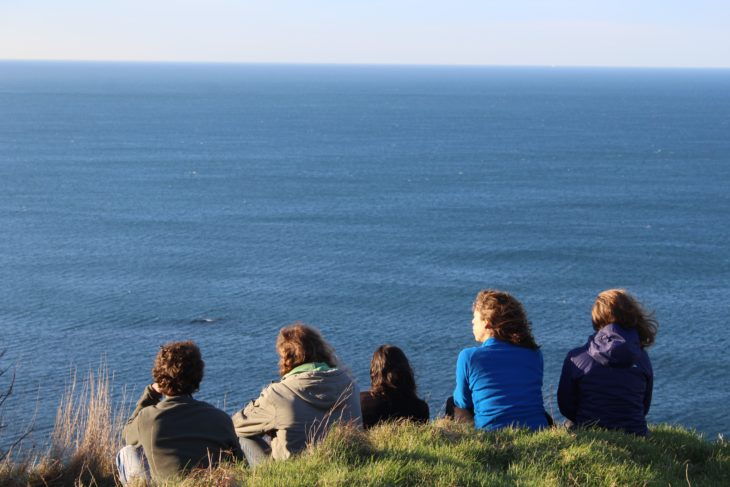 One hour later we walk to the base where our supervisor Duncan Budge and some other local volunteers (Nory, Samy, John, Nick) are waiting for us. Duncan explains the plan for the day and shows us the tools that we are going to use. We put them inside the van and Sylvain attaches the trailer.
After a while, everything is done. Let's go! Everybody has their own place in the van. Duncan talks over Radio 2 in the background. He drives us to the place where we will work. Somewhere in Dundee and Angus. Every time the place is different.
In autumn and winter, we are freezing from the cold even though we wear two pairs of socks, thermal trousers underneath and lots of layers. To warm up we fell non-native trees, we chop wood with axes, and we repair fences and boardwalks. Once we have finished our work, we eat warm meals outside – with one hand in our pocket and the other holding the food!
In spring and summer, we learn how to use brush-cutters so we can clear the paths, cut grass or remove invasive species. This time of the year we take off one pair of socks and the thermic trousers but we don't forget to carry our raincoats and fleeces. We have learned that in Scotland you can experience all four season in one day.
Furthermore, as part of European Voluntary Service we had the chance to go to Handa island, one by one. My turn was on July. But this is another amazing experience that I will have to share with you later.
After work we come back to Dundee. Some of us take a nap while Duncan drives, put the tools back in their place and says, 'see you tomorrow'. It's time to go home where we can relax, have a cup of tea, take a shower… and then it is time to cook dinner as well as lunch for the next day.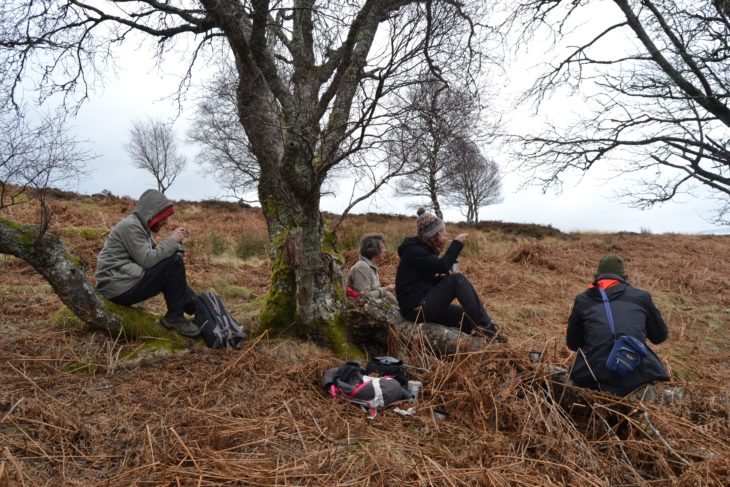 Imagine all of that laughing and joking. Doesn't it sound great? For me it has been an amazing experience that I won't forget and I will miss it. I just can say, thank you everybody 🙂
Help protect Scotland's wildlife
Our work to save Scotland's wildlife is made possible thanks to the generosity of our members and supporters.
Join today from just £3 a month to help protect the species you love.
---
Preface
Volunteer Paula Sánchez Zulueta from Spain completed a year-long Erasmus+ funded European Voluntary Service placement with the Trust. She outlines a typical day during her placement.  Hi, my name is Paula. …